STUFF nominated for Mascot Hall of Fame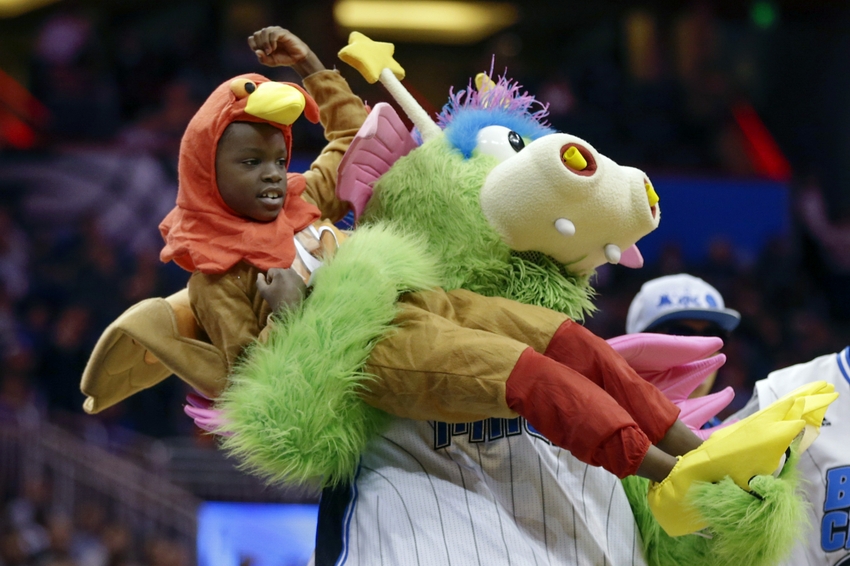 Orlando Magic mascot STUFF has been nominated for the Mascot Hall of Fame. He needs fans help to get in on this round after winning NBA Mascot of the Year.
Orlando Magic mascot STUFF accepted the latest of his mascot awards at center court during opening night last week. The furry green dragon was named the NBA Mascot of the Year by his (its?) peers at the annual mascots meeting.
Magic CEO Alex Martins met him at midcourt to present the trophy.
STUFF then got back to work. Spotting a Miami Heat fan in the crowd and receiving a pie from one of his Dragon Keepers, STUFF threw the pie directly into the fan's face. Another day at the office.
The Magic's mascot will be up to his usual shenanigans around the Amway Center for the remaining 40 home games.
STUFF though is working on another honor. One that the lovable green dragon needs some help to achieve.
The Mascot Hall of Fame has nominated STUFF to enter its hallowed halls along with Bennie the Bull of the Chicago Bulls, the Nittany Lion of Penn State and Hairy Dawg of Georgia. Induction will be based partly on a fan vote, being conducted on the Mascot Hall of Fame's Web site.
The Mascot Hall of Fame exists solely online at the moment, but groundbreaking for the hall of fame took place in Whiting, Ind., last weekend. The hope is for the actual mascot museum and hall of fame to open next fall.
STUFF certainly needs our help to get elected in over this intense competition. STUFF currently has just three percent of the vote and less than 500 votes as of Sunday night. The NBA's top mascot needs a ton of help to get in.
STUFF has entertained Magic fans ever since he was hatched in 1989. There have been a few different iterations of STUFF, but the latest one is a bit more acrobatic but keeps up the slapstick antics famous for mascots.
Among the many things STUFF does every year is host mascots from around the country for the Celebrity Mascot Games. The Olympic-style mascot competition raises money for New Hope for Kids.
STUFF is certainly worthy of entering the Mascot Hall of Fame. Hopefully Magic fans can help him do so.
More from Orlando Magic Daily
This article originally appeared on