Studs and Duds: The Best and Worst Nuggets Through Seventeen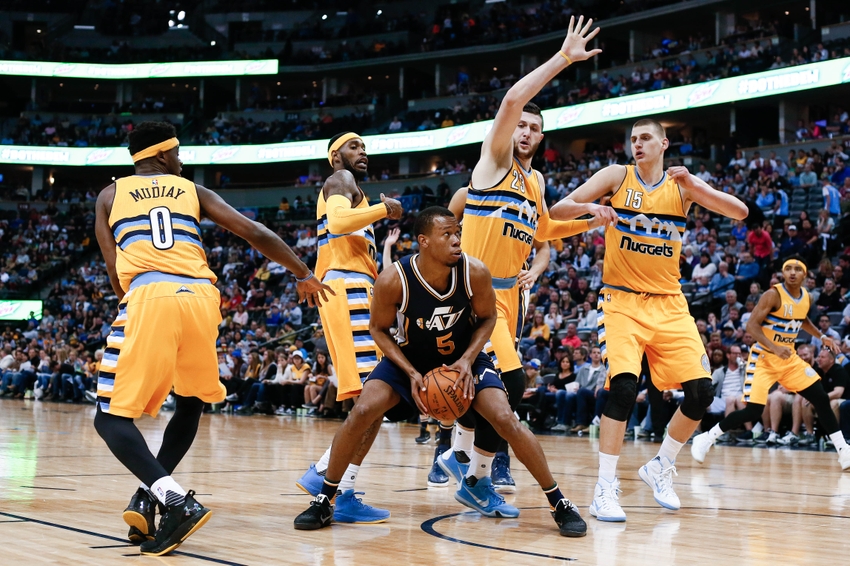 The Denver Nuggets are an excellent team, and through seventeen they have seen several players excel and several struggle; here are those players.
7-10 and 10th in the West is where the Denver Nuggets currently sit. They are set to begin a moderately easy next ten games in which they can hopefully win six or seven. As they prepare to play the Suns tonight, let's reflect on the first seventeen games went and acknowledge those that have put in work and or the lack of there of.
The struggle has been real for this team as the injury bug has hit them hard. Even Coach Malone notes that the Nuggets have yet to be at full strength as they have already been hit with several key injuries, but just how terribly has this impacted them?
Danilo Gallinari- 3 games missed, 2015-2016 Nuggets leading scorer
Will Barton- 11 games missed, 2015-2016 Nuggets second leading scorer
Gary Harris- 12 games missed, key defender and 2015-2016 Nuggets fifth leading scorer
Darrell Arthur- 12 games missed, versatile defender and three point threat
This injury-plauge has caused havoc in the Mile High, but it has given several players opening to step up.
Want your voice heard? Join the Nugg Love team!
Our first stud, Wilson Chandler, has been a beneficiary of the injury-plague that has shaken the Mile High.
Stud #1: Wilson Chandler (Also known as Ill Will)
Wilson Chandler, who has been the Nuggets MVP through seventeen, has seen an uptick in minutes due to the injuries by Will Barton and Danilo Gallinari.
Chris Dempsey of the Denver Post wrote this concerning Chandler's style of play:
"Offensively, Chandler's deadliest actions are spot-up, transition and isolation. He's above a point per possession, shooting a combined average of 52.1 percent in those three. They make up half of all of the actions he's involved in and Malone has gotten comfortable running numerous plays for him. When Emmanuel Mudiay's recent assist binge started, a large chunk of the helpers were going to Chandler."
Chandler is having a career-rejuvinating season as he has averaged 18.3 points per game and 7.7 rebounds per game coming off of the bench. He is tied for second most in rebounding, and he is one of the few Nuggets with a positive +/-.
Chandler's success has come from what he said in his postgame interview after the a win against the Suns.
"(I'm) just trying to be aggressive and play off of my teammate," Chandler said.
This is the best basketball that he has played since his trade to Denver, and it will be exciting to see how Coach Malone uses Chandler when Barton, Harris, and Gallinari return from injury.
Watch for Ill Will to be in contention for Sixth Man of the Year and even possibly an All-Star spot.
Stud #2: Jamal Murray
BSN Denver's T.J. McBride did this fantastic article on Jamal Murray's playmaking in which he said this (full article can be read here):
Denver Nuggets: DFS Picks for the Season Opener against the Pelicans
"Murray is looking more and more like the combo guard that Michael Malone and Connelly described in the press conference after drafting the Kentucky sharpshooter. His silky shooting stroke in combination with his plus passing ability separates him from the rest of the rookies in his class."
Murray has finally found his stroke, and it is a thing of beauty.
In his first four games, Jamal Murray scored 2 points in 65+ minutes. Murray has scored more than that in every other of his NBA games. Murray has scored 18 or more points in four of his last five games, and he has also shown the ability to take over games.
69.9% of Murray's shot are either pull ups or catch and shoots which helps exemplify his style of play. Murray lives off of momentum, and it was seen during his second quarter of the Chicago Bulls game in which he exploded as the Nuggets went on a 24-0 run.
Even after an 0-16 start to the season, Murray has bounced back to achieve a 53.3 true shooting percentage. Along with that, he has been able to elevate his usage rate because of his efficiency on the court. He now has a 21.6 usage rate which is fifth on the Nuggets team.
Jamal Murray has exploded, and for that reason, he is our second stud of the this Denver Nuggets squad. Now with two studs out of the way, it is time to dissect our duds.
While still firmly behind Joel "This should be my third year" Embiid, Jamal Murray could eventually make a case for Rookie of the Year.
Stud #3, Dud #1: Emmanuel Mudiay
The evolution of Emmanuel Mudiay has one that, at times, has been hard to watch. The second-year point guard from Zaire has caused havoc among the Nuggets organization. While the very next game, Mudiay will have his haters sing praises to him because of his outstanding play.
Per 36 minutes Emmanuel Mudiay has seen an uptick in points but a more alerting downtick in assists. Mudiay needs to concern himself with starting and maintaining the offense while limiting turnovers. But people do need to keep in mind, he is not even 21 yet, and he will make mistakes.
Mudiay's game log tells a lot about his inconsistency. He has games like the season opener where he had 11 points and 6 turnovers and games in which he 15 points and 0 turnovers. His inconsistency plagued him last year, but the positive is that he inconsistency shows his potential.
Emmanuel Mudiay usage rate stands at 24.8. This is between the 70-80th percentile for point guards. But, when talking about his 40.3 eFG%, that ranks between the 0-10th percentile which is obviously horrible. Mudiay's game needs to evolve, and it could be an easy fix as Malone has started to figure out the lineups in which Mudy thrives.
Luckily for Mudy, the Nuggets have a moderately easy next 10 games.
Dud #2: Nikola Jokic
Coming into the season, Nikola Jokic also known as Big Honey, the Joker, or the Serbian Sensation had extremely high expectations put on him. His silver medal run in the Olympics created a buzz around the Mile High that it had not seen since the cruel departure of Carmelo Anthony.
This season has so far seen a disappoint in Nikola Jokic. To start the season, Coach Malone played the first several games with the twin towers (Nikola Jokic and Jusuf Nurkic) as the starting PF and C. After that experiment failed, Malone put Jokic on the bench, which has hurt his productivity even more.
After his 10.0 points and 7.0 rebounds per game in his rookie season, Nikola Jokic is averaging just 8.1 points and 6.3 rebounds per game in his nine games off of the bench. Per 36 minutes, Jokic is averaging just 13.7 points which is one of the worst among the entire Nuggets team. With superstar vision and playmaking like his, Nikola Jokic should be able to turn it around quickly.
Just as Mudiay was, Nikola Jokic's success may be based upon who he is playing with. The Jokic-Mudiay, Jokic-Chandler, and Jokic- Murray lineups all have positive +/-'s. Jokic needs shooters in order to excel, and hopefully Coach Malone will start to place him in more scenarios to allow his incredible playmaking ability to thrive.
If Jokic can bounce back and Mudiay can become consistent, watch out NBA. Mile High basketball is back, and once fully healthy, the NBA will fear this young and excellent Nuggets squad.
This article originally appeared on