Steven Adams: Sending His $100M Extension to New Zealand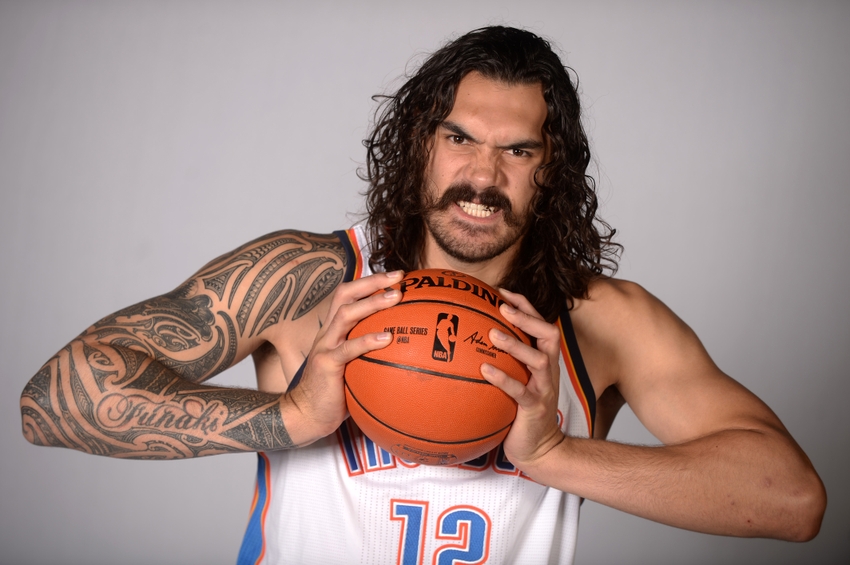 Steven Adams recently signed a $100 million extension and intends to use it to help bring through New Zealand's next NBA star.
Incase you hadn't noticed, Steven Adams is a little different than most other NBA players.
From his rugby-inspired physicality on the court to his jovial and sound bite gold approach off it, he's different.
When Adams was drafted 12th in the 2013 NBA Draft by the Oklahoma City Thunder, he became only the third New Zealander to play in the NBA. Arriving in the league after current Nets GM,Sean Marks and mid-2000s six-game veteran Kirk Penney, Adams became the child of a nation.
For many in America who weren't familiar with the then shy Kiwi, he was a potential NBA bust coming out of the draft. Little did the doubters know, the likelihood of Adams becoming a bust was about same those very doubters being able to point to New Zealand on a map.
For every Kiwi watching with blind nationalism, Adams was destined to be a great NBA player. No matter how black-and-white those glasses were tinted, not many were expecting a $100 million contract to come out of it.
But that is where we are in 2016. Adams just signed his rookie deal extension to the tune of $100 million over four years according to Adrian Wojnarowski of The Vertical.
Oklahoma City and center Steven Adams are finalizing a four-year, $100M extension, league sources tell @TheVertical.

— Adrian Wojnarowski (@WojVerticalNBA) October 31, 2016
In a country that punches well above its weight on most sporting occasions, Adams and his influence on New Zealand basketball players may see a few more from down under headed for the NBA.
And he's paying.
Becoming New Zealand's highest paid sportsman, Adams plans on sending some of that cash straight back to the country he calls perfect.
According to his Wellington-based physio Gavin Cross, Adams has "big plans" to improve the pathways gained from education and sports by adding to the scholarship he already offers to his old high-school.
"He doesn't want everyone to be an NBA star, but he wants to help everyone possible to be exposed to those education and sport pathways. He's keen on helping athletes realise their full potential."
With the help of Adams, New Zealand may return to basketball relevance for the first time since 2002 when they were the cinderella story of the FIBA World Championships, finishing fourth.
Adams was only 9 years old for that tournament and had yet to even dream of playing in the NBA.
It wasn't until his father passed away in 2006 when Adams hit rock-bottom which sparked his eventual climb to NBA stardom as he told the Pittsburgh Post-Gazette's Ray Fittipaldo.
"I didn't have that parental guidance, and I kind of took advantage of it because I was a stupid idiot. I decided not to go to school a couple of times, go when I felt like it. I always lied to my brothers and sisters."
Growing up in the considerably rough town of Rotorua, a number of paths were available for Adams to take — most not promising.
Then came Kenny McFadden, a Wellington basketball coach.
After being introduced by Steven's older brother, McFadden took a 14-year-old kid under his wing and was the catalyst behind his rise from prospective poverty to the top of NZ's sporting earners. Despite seeing Adams go through all the turbulence of a young and overseas prospect's pre-NBA career, even he's surprised at what he's become.
"You could never have written a story like this and, for people to actually believe it could happen, in terms of an average kid from New Zealand who can come from nowhere to sign a $100 million contract, it's outrageous."
Adams had a hard road to the NBA but some valuable assistance along the way. He wants to be that hand for others going forward.
Having already gained the Thunder 4.5 million more fans the night he was drafted, the country might be torn upon the nation's next NBA arrival. That arrival may be sooner rather than later if Adams has anything to do with it.
Adams has always been honest and nothing but genuine since entering the spotlight. He remains as true to himself as he does his country so as he continues to earn the big bucks, expect to see young New Zealander basketball players benefit.
Watch out NBA, the young Kiwi ballers are coming for you quicker than a kick in the nuts.
This article originally appeared on