Steven Adams is not a fan of Captain Hook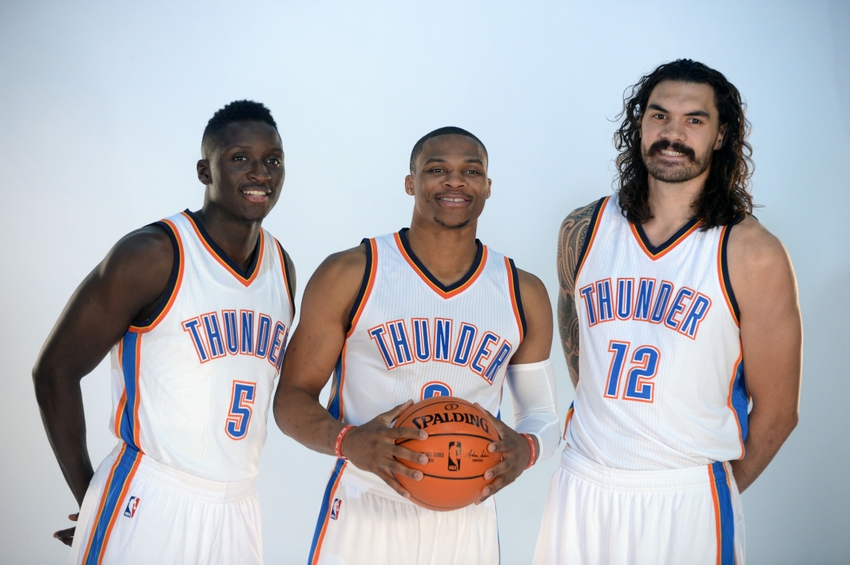 Steven Adams is a wonderful basketball player. Steven Adams also has a wonderful mustache. He also plays for an Oklahoma City Thunder team that, thanks to the departure of Kevin Durant to the Golden State Warriors this offseason, may become a sort of media darling thanks to lowered expectations and great personalities. Personalities, like Steven Adams, a man who is so magnificent that it is absolutely endearing when he calls people dressed up as Disney characters bastards.
Adams compares mustaches with Captain Hook. ("Bastard," he mutters, defeated.)
That quote comes from the tremendous Sports Illustrated profile on Russell Westbrook by Lee Jenkins. As always, Jenkins delivers a great look into a player that we don't know much about in Westbrook by using his teammates which is how once again Adams shined.
The comparision came during a picnic that the Thunder organization has every September.
Just for a second imagine that you are the guy dressed as Captain Hook. Do you think that he knew his night would involve Steven Adams calling him a bastard? Was it terrifiying? Does Steven Adams actually laugh? What exactly does a defeated Steven Adams look like?
Also, how is this not clearly the best Adams story in the article? The other involves Westbrook and his OCD tendencies and led to Adams dropping this gold.
"Sometimes, when he's not looking, I lie on his table and rub my ass on it," Adams says.
So yeah, Steven Adams is perfect. If you don't believe that then you are wrong. And he will find you and judge you just like he did Captain Hook. Hopefully it works out better for you than the villain.
More from The Friendly Bounce
This article originally appeared on