Steve Kerr sounds off on election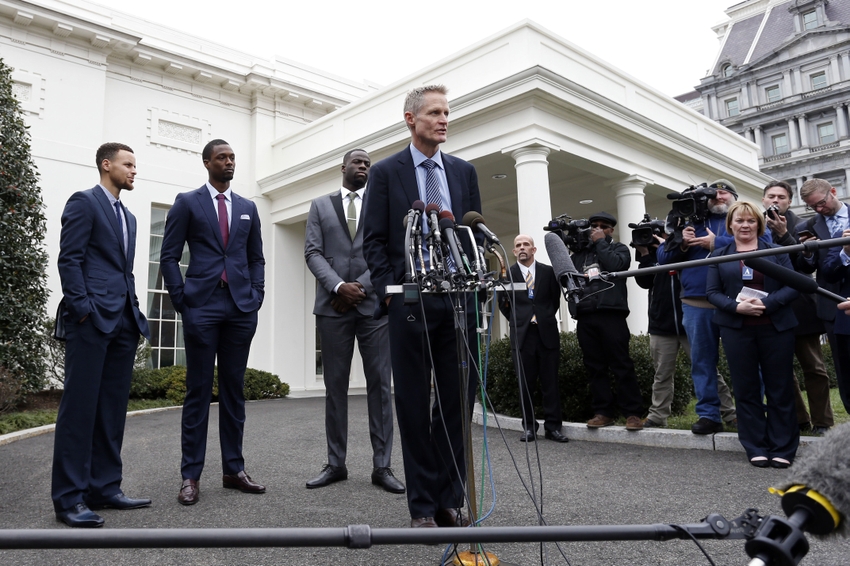 Steve Kerr spoke about the shocking result of the 2016 Presidential election, providing insight into his personal thoughts and the Warriors' feelings.
Steve Kerr is an extremely intelligent man. He understands that there are things that are bigger than basketball and that need to be talked about. He's a really good coach and an even better human being.
He lives in a country that is processing how to deal with the results of the 2016 Presidential election. Everything that Kerr is, the next President of the United States isn't. And millions across the nation are hurt.
It's hard to put into words just how this feels for many. With the fear of the empowerment of an aggressive mob, it's even scary to try to put sentiments into words. Detroit Pistons coach Stan Van Gundy really ripped into those individuals that elected an unqualified man to the highest office in the land. Kerr added to it (for the full transcript, click on Anthony Slater's article here)
Kerr spoke of how this probably shouldn't have been a surprise considering how people have been treating each other in all other facets of life and culture. He said "all of a sudden you're faced with a reality that the man who is going to lead you has routinely used racist, misogynistic, insulting words. That's a tough one."
He hoped that the new President will do a good job. Kerr revealed that the team discussed the election this morning and admitted that they were disgusted. Steph Curry had openly supported Hillary Clinton and it was clear that many others on the team had no intention of supporting the eventual winner.
The Warriors still have to play basketball no matter who is Commander-in-Chief, but it's heartwarming to see athletes and coaches speak up for what's right. Only then can love and justice prevail. It's fair to be hurt by what was a messy election, but we all need to come together to heal and keep fighting.
More from Blue Man Hoop
This article originally appeared on