Stephen Curry Finally Claims Single-Game 3-Point Record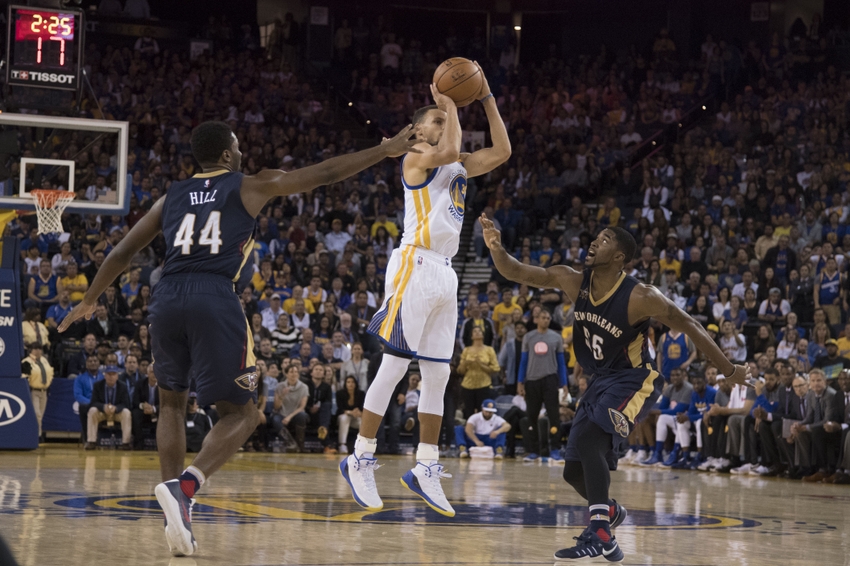 Stephen Curry lived up to his reputation as the greatest shooter the NBA has ever seen, making a single-game record 13 three-pointers in the Golden State Warriors' win Monday night.
R.I.P. to the last 11 years of people knowing who Donyell Marshall was, because after Stephen Curry's historic performance Monday night, another three-point record now belongs to the greatest shooter in NBA history.
In a game against the New Orleans Pelicans where the Golden State Warriors struggled to maintain separation despite an early 21-point lead, Curry's 46 points carried the Dubs to victory. Iit was his NBA single-game record 13 three-pointers, however that ultimately broke the Pellies' spirit.
That's right, folks: the two-time reigning MVP just broke Donyell Marshall's, Kobe Bryant's and Curry's own single-game record for most made three-pointers (12) by going an unfathomable 13-for-17 from three-point range.
Most people can't shoot 13-for-17 from the free throw line in an empty gym; Curry shot 13-for-17 from NBA three-point range while being defended by professional basketball players.
It was as historic, memorable and enjoyable as you'd imagine.
After going 0-for-10 from three-point range in a humbling loss to the Los Angeles Lakers over the weekend, Curry's (and Klay Thompson's) three-point shooting was a talking point, since the Splash Brothers weren't living up to their lofty standards.
Curry's NBA-record 157 consecutive games with a made three-pointer was snapped in L.A., and with Klay struggling too, everyone feared a possible slump.
Guess that narrative's dead and buried.
Steph Curry doesn't hit a 3 for the first time in 158 games so the next game he goes out & hits more than anyone in a night ever. Standard.

— Fred Katz (@FredKatz) November 8, 2016
After Kevin Durant's fast-paced start to the 2016-17 season helped him emerge as the Warriors' most likely MVP candidate, some wondered if there was a new alpha in the Bay. Maybe we should pump the brakes on that one too.
After averaging a mundane (for him) 23.2 points per game on 35.2 percent shooting from three-point range through the first six games of the season, Curry's record-setting night improved his scoring to 26.4 points per game and bumped his three-point efficiency up by nearly 10 percent (45.1 percent).
.@StephenCurry30 entered Monday, with the 3rd most 3-pointers made this season…Curry will enter Tues w/ 7 more 3's than anyone else @NBATV

— Jared Greenberg (@JaredSGreenberg) November 8, 2016
The crazy thing is, in a game where his team actually needed his 13 threes to pull away, you'd think that kind of mammoth shooting effort would take up the majority of his attention. Nope! Curry also finished with five assists, five rebounds and two steals on the night.
The two-time reigning MVP put up 46 points on only 26 shots, and only took two free throws, making one. That kind of production on such a limited number of shot attempts is absolutely insane.
Per Basketball-Reference, Curry joins Dana Barros (1995), Hakeem Olajuwon (1997), Kareem Abdul-Jabbar (1973) and himself (2016) as the only players in NBA history to score at least 46 points in a game while attempting two free throws or less.
After making a single-season record 402 three-pointers last season, Curry is now only 1,275 threes behind the league's all-time leader, Ray Allen (2,973).
Chef Curry probably won't make another 402 threes this season, but even if he were to "only" average 227 made three-pointers per season — his career average — from here on out, it'd take him just five and a half seasons to pass Allen as the NBA's all-time three-point leader.
At age 28, and with a pure stroke that will keep him effective as a spot-up shooter well into his 30s, it's only a matter of time before Curry claims another three-point milestone as his own.
It hasn't been the greatest start to the season for Curry. He's been up and down, as his one-game turnaround from 0-for-10 to 13-for-17 from long range demonstrates.
His early season numbers have also been a far cry from the 30.1 points per game on .504/.454/.908 shooting splits he posted in his second MVP season last year.
But in one fell swoop, Curry made Anthony Davis the NBA millionaire most deserving of your pity, put to rest any narratives about Golden State being KD's team, and finally claimed an NBA record that was pretty much guaranteed to eventually be his as the greatest shooter we've ever seen.
The scary thing is, would anyone be surprised to see Curry break his own record again before the season ends? The fact that you probably answered "no" should probably tell you all you need to know about how dangerous Golden State can be on any given night.
This article originally appeared on