Steph Curry's Top 10 plays of 2015-16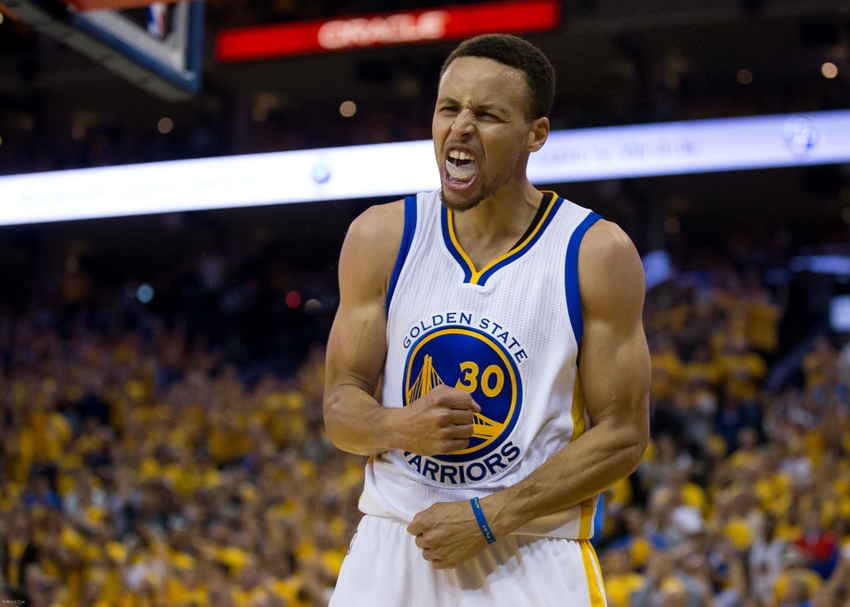 Stephen Curry had a lot of incredible plays over the 2015-16 season; here are his top 10 of them.
Stephen Curry dazzled his way to a second consecutive Most Valuable Player award. He had one of the most incredible individual seasons in NBA history, scoring the ball unlike anyone else ever. He combined flash with substance.
Not only was he the best, he was also the most exciting. While many people want to use a few bad games in the NBA Finals as confirmation of why neither of those assessments are true, they absolutely are. Curry has been special.
He led the Warriors to a record 73-win season. He won the scoring title, averaging 30 points in less than 35 minutes per game (the first time that's ever been done). He shattered his record for three-pointers made in a season, hitting an incredible 402 in the regular season. All of his hard work made him the undeniable and–for the first time in league history–unanimous MVP.
On a nightly basis, Curry did something that had everyone–friend or foe–out of their seats in disbelief. He did some things that are so freakish and ridiculous that you couldn't possible replicate it in NBA 2k17. It was magic. He was an artist and the court was his canvas. He made impossible look routine.
You could probably make an hour-long video of his most incredible highlights from the season and it wouldn't be enough. It's very hard to narrow down all of his wizardry to just 10 plays. I'm going to try it anyways. Here are Steph Curry's top 10 plays of the 2015-16 season.
10. No And-one?
We've all seen Mean Girls, the cult-classic with Lindsay Lohan. And, of course, we all remember that scene where Tina Fey asks the student body who has been personally victimized by Regina George (played by Rachel McAdams). Then they all raise their hand.
That's the entire Memphis Grizzlies organization and state of Tennessee. They've all been personally victimized by the Baby-Faced Assassin. From the 2015 Western Conference Semifinals to the 73rd win of the regular season, he has been terrorizing them. And it's been amazing to watch.
I could probably fill this list up with just Curry's plays against Memphis. I won't do that so here's one special one. Curry has done a lot of damage on that court recently, but this play definitely stands out. From beginning to end it was really something. And, most importantly, it was uniquely Curry.
He came weak side to help Andre Iguodala under the rim. Curry, who led the league in steals, picked the ball off and started to push the break. He lost the handle. recovered, and went behind-the-back between two defenders.
He felt the bump from behind from Russ Smith and hoisted up a wild floater-type shot from beyond the three-point line. He fell down as the shot banked  in perfectly off glass. Curry, understandably, was upset because he wanted the foul.
This play had the defense, the handle, and the spectacular three-pointer that was probably a bit lucky. But Curry was so locked in throughout the season that makes like that weren't all that surprising.
9. Dancing in the Capital
Curry had a lot of spectacular performances on the road last year. Few were better than his 51 point outburst against the Washington Wizards in the nation's capitol. He hit eleven three-pointers that magical night.
Curry got off to a great start on February 3rd against John Wall and the Wizards. He hit five of his first five attempts from three-point land. He was getting inside the paint. He was controlling the tempo. None of his threes were better than this one below.
After a Draymond Green layup, Jared Dudley tried to inbound the ball to Wall. With everyone going down to the other side of the court, Curry thought ahead and poked the ball away from Wall. Dudley came in flying in and dove trying to get the ball back.
He kicked the ball up and Curry snatched it right out of the air. Instead of trying to get something at the rim with the two-on-one that was there, he just turned and fired. And, of course, it went in nothing but net.
He then danced around in a circle as the Wizards called timeout in an effort to cool him down and regroup. The entire arena was buzzing. Both Warriors and Wizards fans were on their feet cheering the spectacular performance they were witnessing.
What made this play even more special was what happened the next day. Golden State was invited to visit the White House after winning the 2015 Championship. Curry and the Warriors met with President Obama and the POTUS chose to make fun of the MVP for his jumping around. Check it out here.
You know you did something right when the President is roasting you.
8. All-Star Splash
Who cares that the All-Star Game doesn't mean anything? This play was still really cool. And it had the best players in the world on their feet celebrating.
For the third year in a row, Steph Curry started the All-Star Game. The whole game is basketball a highlight. But the best one for the star guard came right at the end.
With time winding down, the West looked like they were going to just let the clock run out. They were up by 23 points and Curry was just dribbling near the half court line as the players on both sides just stood around. Then he decided to launch.
With Durant right next to him, Curry lined up the shot, hopped, and released. The ball floated through the sky as the East players (and Russell Westbrook) got in position to rebound the ball. There was no need. It hit nothing but net.
Everyone loved it. Kevin Durant and Draymond Green were into it. Even Gregg Popovich was having fun with it.
What makes this play hilarious is that most people didn't see it live. The cameras were focused on Kobe Bryant, who played in his last All-Star game. The Mamba was on the bench and he watched Curry's shot and was just as excited as everyone else.
There's nothing better than standing out when surrounded by the very best of your peers.
7. No-look in NOLA
Steph Curry's eyes can lock in on a target 30, 35, 40 feet away. He's a sniper when he shoots the rock. It turns out, he also has eyes on the back of his head.
Next to Kyrie Irving, Curry has the best handle in the game. With the way he dribbles the basketball, he toys with defenders. The New Orleans Pelicans got to experience that firsthand. On Halloween night, Curry definitely played some tricks on the Pelicans while giving Warriors fans a treat.
When Draymond Green sets a high screen, teams typically try to trap Curry. It doesn't always work, like this highlight shows. The MVP knew exactly how to beat it.
Omer Asik came over to help Curry's man about 30 feet away from the basket. He split them with the dribble, trying to weave his way into the paint. There, he was met by a third defender that tried to pick him. He changed direction and lost the handle. When a fourth defender came, he threw a no-look pass over his head to Harrison Barnes, who dunked it.
This play shows Curry's ability to improvise while staying under control and aware of the whole floor. While he was dealing with four defenders, he still had the presence of mind to know exactly where Barnes was standing. The degree of difficulty in dancing through the defense and throwing a blind pass backwards over the head is ridiculous.
6. Crossing KD
There's nothing like watching two greats go at it. Steph Curry was trying to establish himself as the best player in the world. Durant was one of the guys who, for years, was towards the top of that list.
Durant is an underrated defensive player. He has all the tools to be able to bother and stay in front of any opponent. He's got extremely long arms to go with his great height and quickness. He doesn't have the size to bang with big guys, but he's more than well-equipped to hang with guards.
Even with all of his gifts, Durant was no match for Curry. He switched out onto the league's leading scorer with less than 10 seconds on the shot clock and it was over for him. The Warriors' superstar shook him out of his shoes.
Curry hit him with a series of dribble moves. He drove left, hesitated, and went behind the back and started going right. Durant tried to stay in front of him, but the MVP was able to get around and all KD could do was reach. Curry left him in the dust.
He drove down the middle of the lane and went to his trademark finger roll, finishing over Serge Ibaka. He showed that he is more than just a shooter, which is a weird, yet common assessment of his game. He did it all there.
His crossover moves were so lethal that he shook Durant out of his OKC uniform and into a Golden State one.
5. Perfect alley-oop
This is a really cool play that probably requires a couple of looks before realizing just how great it was. Curry showed some things that are pretty impressive. This play highlights aspects of Curry's game that often go overlooked.
He dazzles with his ball handling and shot selection. But this play is all about defense and passing. And, of course, a little show of strength.
Chicago Bulls' center Joakim Noah tried to push the ball up court, but Curry saw an opening. He charged at Noah and went for the ball. He wrestled it out of his hands and came away with the steal.
From near the sideline, Curry looked up and saw Andre Iguodala running towards the basket. He threw an overhead sky hook-type pass at the rim. Iguodala went up, caught the pass, and threw it down.
The degree of difficulty on that pass is sky high. Curry had very little room for error and he didn't make one. Throwing a perfect alley-oop pass from a normal angle is hard, but to do it from across the court, throwing the ball like a skyhook is amazing.
Also, the fact that he turned the ball over and went to get it again shows how serious he is about defense. Many criticize him for being too small, but he's deceptively strong. He just snatched the ball away from Noah like a high schooler playing with a little kid.
4.  "We're not going home"
I will trust Steph Curry with my life. If he says we're not going home, we ain't going home. Young Metro most definitely trusts him.
The Warriors had their backs up against the wall. The Oklahoma City Thunder were ready to deliver the final blow. Down 3-1, the Warriors' season was going to end before they even reached the Finals. They had to protect home court in Game 5 in order to see another day.
Curry made sure they would. He scored 31 points, grabbed 7 rebounds, and dished out 6 assists. He also came away with five steals. No takeaway or basket was bigger than the one above.
Again, Durant was another helpless victim of the MVP's. KD tried to cross him over, but Curry moved his feet, beat him to the spot, and poked the ball away. He then raced down court where Steven Adams picked him up.
Curry kept the dribble alive even as Adams pressure him near half court as the MVP beat his chest triumphantly. He passed the ball to Iguodala as Westbrook came over to double, but he got it right back. He got Adams on a switch and drove him left. As Serge Ibaka came to help, Curry started to go up left, but went back to his right on the other side of the rim.
He sealed the deal with the steal and the layup. It was an incredible defensive play followed by some fancy dribbling and a tough finish.  He then turned to the crowd and reassured them that they weren't going home. And he was right. They didn't.
3. 400th three-pointer
Just looking at it, this play wasn't particularly special. Compared to what Steph Curry can do, this was nothing. It was pretty ordinary.
He came around a screen and Andrew Bogut found him in the corner. He used his quick release to launch the three as Matt Barnes closed out. It went in nothing but net.
The shot itself was all right. He got free showed just how little time he needs to get a shot off. But this play is number three because of the significance.
That three was Curry's 400th of the season. He completely shattered his previous record of 286. He showed that he is, without a doubt, the greatest shooter to lace them up.
No one had ever even made 300 in a season before. The most Ray Allen hit was 269. The fact that he made 400 is ridiculous and mostly unfathomable.
Making 400 when the record is 286 is like trying to make a diorama of the solar system for a school project and then, somehow, discovering a new planet. It's like if someone tried to break Barry Bonds' single season home run record (oddly enough, he hit 73 dingers) and knocked out 200 of them. It's more than just impressive.
It's a spectacular feat. It was something that seemed impossible. Hitting 300 would have been spectacular and a really incredible display of shooting. To hit 400 felt beyond what a basketball player could actually do.
But he did it and cemented himself as the best to ever shoot a basketball.
2. Cooking the DPOY
The scouting report for Steph Curry has one point of advice on how to stop him. Coaches try to put size on him. Spurs coach Gregg Popovich popularized this idea partly because he has the personnel to do so.
Kawhi Leonard had become known as a Curry-stopper of sorts. His unique combination of length, speed, and instincts make him the best perimeter defender in the entire league. He's won two consecutive Defensive Player of the Year awards.
Pop turned to Leonard time and time again because it worked. He would be very selective with how he used his star small forward. He leaned on it in the 2013 Playoffs, but Leonard is kinda of like a "break glass in case of emergency" option. As soon as Curry strings together a couple of shots, he gets the best defender on him.
It didn't matter who was on Curry last year. He made everyone look foolish. He was playing a different game than everyone else. Leonard was just another name on a long-list of victims.
This play shows Curry's entire skill set. He's extremely active off the ball, losing Leonard. Then he uses the threat of his shot to get the DPOY to bite on his pump fake. He dribbles right and goes to his stepback to hit a three.
He made beating the best perimeter defender in the league look easy. It was smooth and effortless. This play was great, but it signified so much more.
He conquered his one weakness and showed that he wasn't messing around.
1. OKC game-winner
Duh.
As if anything else could be number one on this list. Aside from maybe Kyrie Irving's three-pointer in Game 7 of the NBA Finals, no play in basketball was bigger this. Perhaps no play in sports was bigger than this shot.
This was the best game of Curry's career as he scored 46 points and made a record-tying 12 three-pointers. After the game ended, I wrote how the game was a microcosm of Curry's entire career. The ups and downs of these 48 minutes were a small-scale version of the trials and tribulations that the two-time MVP has faced during his professional career.
I lost count how many times I've watched his replay. For a few weeks after it happened, this was part of my daily routine. It was that much fun.
Think of how ridiculous this shot is. That is just a few steps inside the half court line. I tried to go out and replicate this shot. I got nothing but air. This shot breaks the difficulty scale.
What makes this play really amazing was how casual he was about the whole situation. Time was winding down in overtime and he was slowly jogging the ball up court, not thinking of calling a timeout. This wasn't a heave. He lined this shot up and measured out the distance before letting it fly.
Social media exploded. Oklahoma City had broken hearts. And Steph Curry secured his second Most Valuable Player award on that night.
More from Blue Man Hoop
This article originally appeared on