Steph Curry's record-setting night lifts Warriors over Pelicans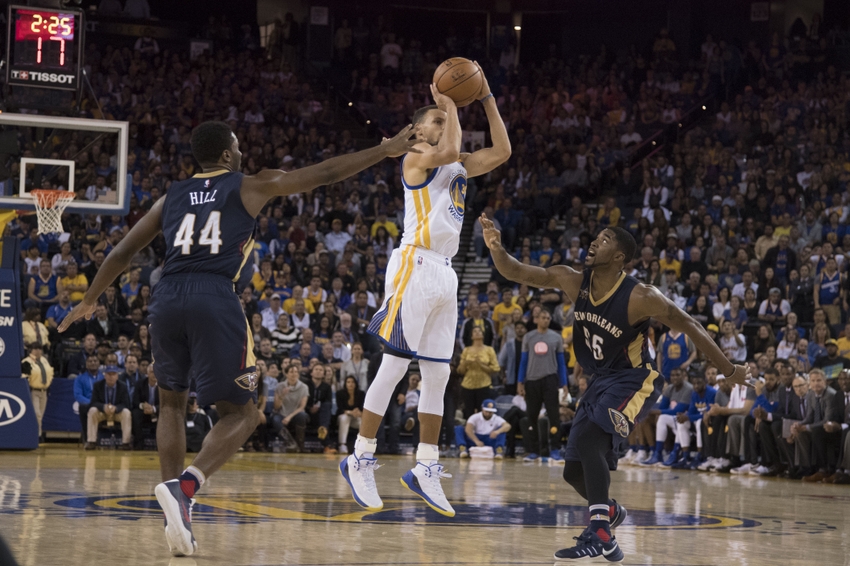 Stephen Curry hit a league record 13 three-pointers en route to a Warriors victory over the Pelicans.
So, it turns out, Steph Curry is still pretty good at basketball. After going 0-10 from three in an embarrassing loss to the Los Angeles Lakers, Curry put out a historic shooting performance. He knocked down 13 three-pointers, breaking the previous record of 12.
Curry was one of the record holders of the previous mark, tied with Kobe Bryant and Donyell Marshall. Now, the two-time MVP stands alone as the hottest single-game distance shooter. Perhaps even more impressively, it only took 17 three-point attempts to do it, one of which was a heave from beyond half court to end a quarter.
The Warriors needed pretty much every one of Curry's threes in order to defeat the still winless New Orleans Pelicans. They narrowly defeated Anthony Davis' squad 116-106. Without Curry's heroics, the Pelicans would have finally found themselves in the win column.
Golden State took control early on as Curry's hot shooting helped them gain some separation. They had built a 21 point lead, but New Orleans erased it in the second half. An Anthony Davis hook shot in the third quarter gave the Pelicans the lead and changed the ball game completely.
Steve Kerr is clearly still playing with his rotations. In a (pleasantly) surprising turn of events, Kevon Looney was the first Warrior off the bench. Despite picking up two quick fouls early on, Kerr stuck with him. He scored just 2 points and didn't grab a rebound in only 8 minutes.
Draymond Green had the tough task of trying to slow down Davis. The Brow is too dominant to be shut down, especially by one man, but the Warriors made him uncomfortable down the stretch. He scored 33 points and grabbed 13 rebounds, but the Warriors tightened up defensively late in the game and didn't give him much room to operate.
Green didn't score a lot, but he was dominant in every other facet of the game. He had 10 rebounds and 12 assists. He also locked in defensively, coming away with 2 blocks and 2 steals. It was a great effort from the All-Star power forward.
Kevin Durant got off to a slow start, but he still added 22 points of his own. Klay Thompson hit a pair of three-pointers and contributed 24 of his own points. Those two matched Curry's 46 points and it was enough to win the game. So much for the one ball argument, right?
The Warriors still have some things to work out. It wasn't a perfect game and they should not have let a 21 point lead slip away against the Pelicans. But it was definitely fun. It was also a great reminder that Steph Curry is really great at basketball.
The Warriors will host Harrison Barnes and Andrew Bogut on Wednesday as the Dallas Mavericks roll into town.
This article originally appeared on