Steph Curry fans ranked way too low in FanSided 250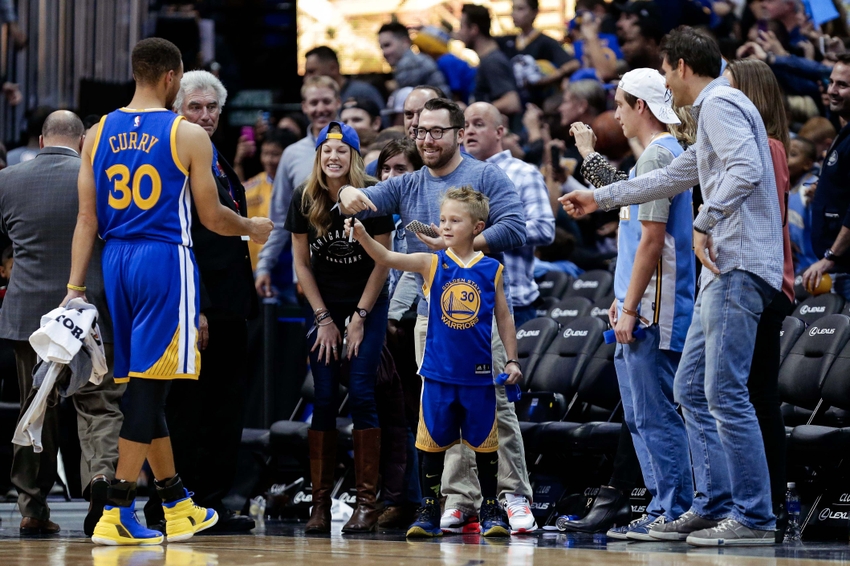 Stephen Curry fans were named in the Fandom 250, a comprehensive list of best fanbases by FanSided. However, they were ranked way too low.
Stephen Curry is one of the best players to ever step on a court. Regardless of what NBA Twitter and TV personalities say, it's not too soon to say that. He's absolutely dominated the NBA over the last few seasons as he's been the league MVP on two of the greatest teams of all-time.
What makes Curry so special is his unprecedented skill set. Never in league history have we seen a player handle the rock like he does with the range that he has. He can shimmy on any defender and pull up from 30+ feet effortlessly. He's a rare combination of flash and substance.
Because of his transcendent abilities, he's built quite a big fanbase. He's captivated basketball fans, both young and old while drawing in new fans to the game. Once upon a time, kids wanted to be "like Mike," but now they want to be like Steph.
FanSided took on the huge task of ranking the 250 best fandoms across sports, music, entertainment, and lifestyle. It's hard to rank Aaron Rodgers versus Game of Thrones and crossfire, but they did it anyways. The result was something really awesome except there were a few misses.
Steph Curry was ranked 114. He was the second highest basketball player, far lower than LeBron James at no. 9. It's hard to understand how the two-time MVP didn't find himself higher on the list. The NBA's most exciting player probably deserved to have been in the top 100, especially when you look at some of the names in front of him.
Carrie Underwood, for example, was ranked 106. She has had a fantastic career and is truly one of the queens of country music, but she hasn't released an album since 2015. It was Billboard's 14th best country album of the year. For comparison, Curry finished first in his respective field in 2015.
FanSided also looked at politics, ranking Democrats and Republicans 97 and 96 respectively. Interest in politics peaked about a month ago as the election came to an end. The problem with these rankings is that a majority of these supporters tune into CNN and become amateur political science experts only when the Presidency is on the line. Curry fans support him even during the offseason.
Furthermore, a good portion of the members in each party only supported their candidate because they had to or because they didn't like the other one; not necessarily because they liked their own candidate. Curry fans love him.
I am a big Scandal fan, but Steph Curry owns everyday, not just Thursdays. Even when there isn't a game, he's doing something to excite fans. He's just that popular.
Now, I mean no disrespect to other fandoms. All I'm saying is that the NBA All-Star game's leading vote-getter in 2015 and runner-up in 2016 (second to the retiring Kobe Bryant) should be higher. Curry is the millennial superstar, whose quick hitting highlights fit in a Vine.
Steph's fans adore him so much that they'll buy even the ugliest Under Armour shoes just because they're his. He's been consistently at the top of merchandise sales in the NBA. He has millions of followers on social media and road games turn into home games with all of the no. 30 jerseys in the crowd.
The difference between Curry and higher spots in this ranking and NBA ones as well is probably a Kyrie Irving three. Another ring on his finger surely would have put Curry higher. One thing's for sure: when Steph gets overlooked he does something special.
Expect him to climb the rankings next year as he continues to do special things in the world's best league.
This article originally appeared on