Stauskas: "There's no reason why Joel Embiid can't be a 30 and 15 guy"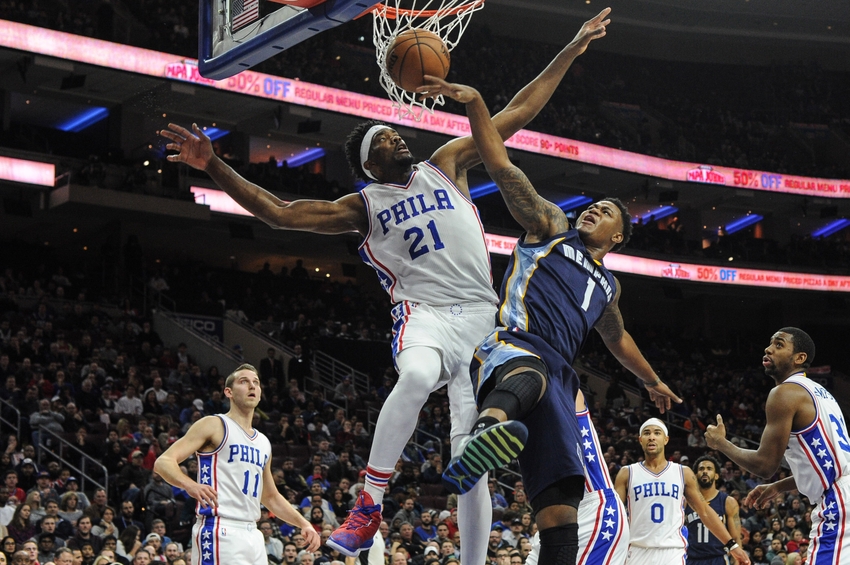 Philadelphia 76ers guard Nik Stauskas recently said on his podcast Sauce and Co. that Joel Embiid could easily be a 30 and 15 type of player with more minutes.
On Wednesday, the second edition of Nik Stauskas' "Sauce & Co." Podcast hit the interwebs. Nik, who is no rookie when it comes to sports journalism, gave several gems regarding the Philadelphia 76ers' team and individual success, including that of Joel Embiid.
On Embiid:
"I dream big, but I see a guy like [Joel Embiid], there's no reason why he can't be a 30 and 15 guy in this league. He has the skill set to post people up, he has the skill set to finish around the basket, he has the skill set to shoot from midrange, he has the skill set to shoot from three."
More from The Sixer Sense
30 and 15 sounds incomprehensible at first listen, but somehow all signs point to it being entirely possible. For starters, his per-36 numbers are very close to 30 and 15.
Second, Stauskas' endorsement should mean far more than when those numbers get thrown around during Twitter or barber shop banter. Stauskas is speaking not only from the perspective of an NBA player, but also as someone who witnesses as much of Embiid as anyone on the planet. Yikes, Embiid is something.
On his recent success:
"More than anything, it's not so much that I'm playing well, it's that I'm part of a winning team now…Since I've kind of picked up my offensive play, our team has started seeing more success and started to win games, That's the most important thing to me."
Stauskas went to see a sports psychologist over the summer, and this statement was a true testament to his progress in that regard. Many athletes who see psychologists walk away with this type of approach. Often times, shifting the focus from one's own success to the team as a whole is the most effective way to get rid of the yips. Hopefully this statement is a sign that Stauskas' success is here to stay.
On trash talking:
"I think Joel is definitely one of the biggest [trash talkers]. I think he really takes joy in trash talking…but that's his personality. That's what he enjoys doing. Even on social media."
We certainly have seen Embiid's willingness to run his jaw on display so far this year. He let Steven Adams know how he felt in his very first NBA game.
He also has made his presence felt on social media, such as chirping at Chandler Parsons leading up to the Sixers vs. Grizzlies preseason game a few weeks back.
Also of note: Stauskas has a cat named dribbles, who he claims is the cutest cat known to man.  We need pictures, Nik. We also request that you notify @NBACATWATCH on Twitter ASAP.
This article originally appeared on