Stanley Johnson says Pistons could win it all in The Players' Tribune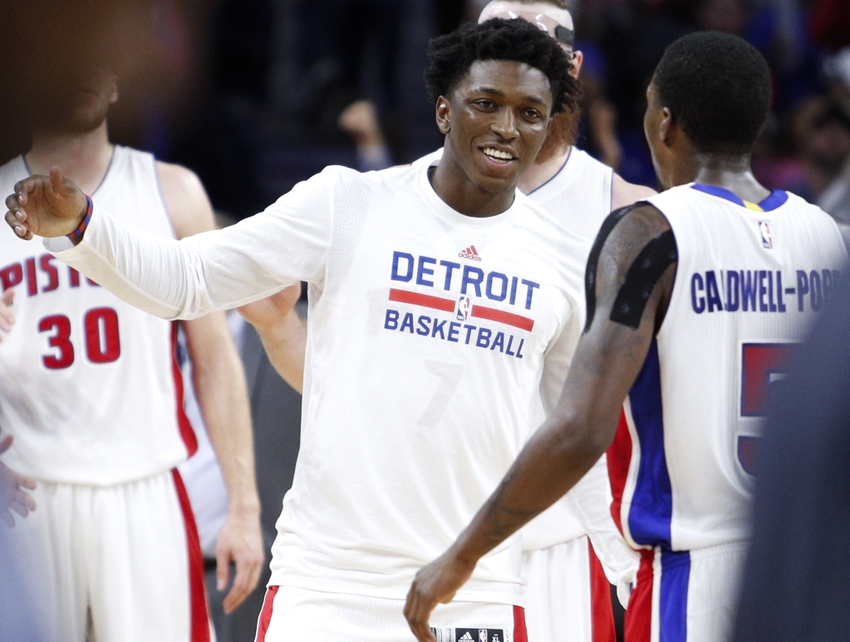 Detroit Pistons forward Stanley Johnson says "this franchise can run with the best of them" in his piece for the The Players' Tribune on Monday.
Stanley Johnson let readers inside his reflection of his offseason and his expectations for the Detroit Pistons this season in a column for The Players' Tribune on Monday. Johnson detailed his offseason training schedule and his experience with USA Basketball during the summer leading up to the beginning of the 2016-17 season.
His column, appropriately named "Mind Games," Johnson says how his head coach, Stan Van Gundy, inspired him to get right to work after the Pistons were swept by the Cleveland Cavaliers  in the first round of last season's playoffs.
"Coach was so locked in, it looked like he hadn't left his office since the series had ended," Johnson says.
"I was so inspired that after my plane touched down and I got settled in, I decided to watch some film. I wound up watching every game, from preseason through the playoffs."
Johnson then dives into improving his "court awareness" above all else during the offseason.
"The ability to see the whole — not just what's in front of you — is what distinguishes a great player from an average one," he says.
"And I don't want to just be average."
Johnson compares on-court decisions to an artist's brush strokes on a canvas. He says the artist's vision is the same as a player's vision when reading opposing  defensive sets.
USA Basketball selected Stanley Johnson as one of 25 players on the USA Basketball Select Team. This team trained with the 2016 USA Men's Basketball team that would later travel to Rio and win Olympic gold. Johnson describes his experience with the team as "going to graduate school."
"Day in and day out, I was competing against some of the best pros in the game, and playing with some of the most talented young players in our sport," he says.
"Every chance I got, I was asking Melo and Draymond for advice. Draymond would show me some of his best pick-and-pop spots on the floor while Melo would talk to me about how he gets people involved while also creating opportunities for himself."
Johnson praises San Antonio Spurs head coach, Gregg Popovic, who was head coach for the USA Select team. He says people underestimate Popovic as a "top-notch commander."
"Most of the time, he was one of the loudest people on the floor. It was awesome to experience, and it helped me to realize that I still have a ton of work to do," Johnson says.
Right now, it is difficult for one to tell just how much Johnson may have improved over the summer. He is averaging almost seven less minutes of playing time this season; cutting most of his averages from last year in half as a result.
However, Johnson says he has a lot of confidence in this year's Pistons team. "Consistency" and "accountability" are his main objectives for the team to reach its potential.
"We are a matchup terror for any team in the NBA. But it won't matter if we don't give our best effort." he says.
"The last thing on our mind is being pretty good. We want the O'Brien Trophy."
This article originally appeared on