Stanley Johnson needs to be the solution to the Pistons' wing problems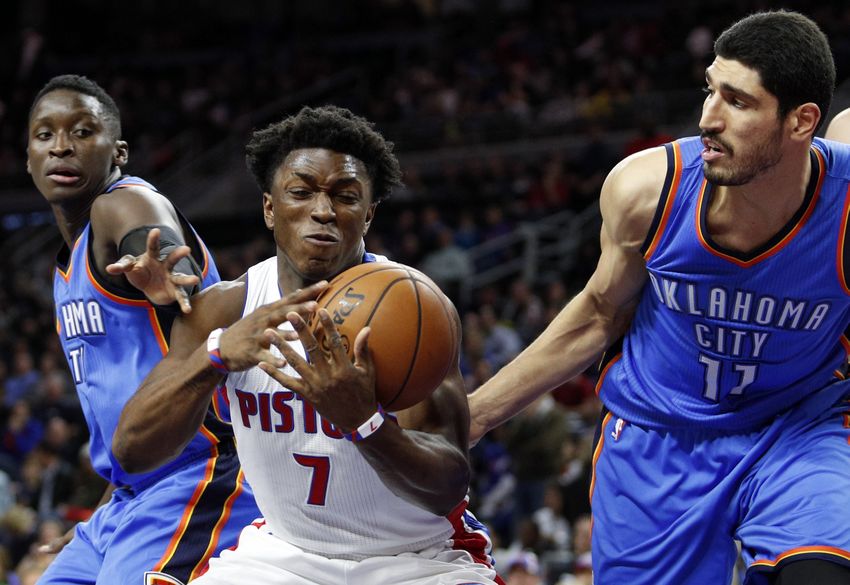 The Detroit Pistons have had major issues at the reserve wing position, and Stanley Johnson needs to be the solution to the problems.
The Detroit Pistons addressed virtually all of their known weaknesses this offseason. They plugged gaping holes at both backup point guard signing Ish Smith and backup big with Jon Leuer, solving the two most significant problems from last season.
Nobody expected the bench wing role, expected to be a relative position of strength, to become a black hole. The Pistons were returning a promising young core of players able to play off the wing, with Reggie Bullock poised to recapture his shooting poise of last season, Darrun Hilliard ready to take steps forward and Stanley Johnson expected to take quantum leaps forward after a promising postseason and offseason.
That plan has gone south from the start this season.
Reggie Bullock has played just four games this season, missing large chunks of time due to back spasms which held him out early and suffered a torn meniscus in November which will keep him out of action until at least January.
Stanley Johnson has struggled immensely almost every time he's hit the floor this season, being ineffective on offensive and getting lost and being purely snakebitten at times on defense (see below).
Johnson has been benched and DND-CD'ed a handful of times this season and was sent to the Grand Rapids Drive of the NBA D-League for a quick one game stint on Saturday. He was also removed from the rotation for several games in favor of Darrun Hilliard.
Hilliard has had his own struggles. While he had a great game last week against the Chicago Bulls, he hasn't created separation in the rotation battle. Given a spot start in place of the injured Kentavious Caldwell-Pope on Sunday against the Philadelphia 76ers, he had a pedestrian five points on seven shots with a rebounds and three turnovers. He was -11 in 20 minutes.
Getting Johnson right is a top organizational priority for Stan Van Gundy and the Pistons, but after benchings, removal from the rotation and a brief demotion, there's not much room to go down from there.
Fortunately, Johnson did as he was supposed to do in Grand Rapids. He was the best player on the floor all game long, scoring 26 points and adding five rebounds and four assists in 37 minutes.
Upon Johnson's return to the Pistons on Sunday, he still struggled from the floor scoring just six points on 2-of-8 shooting, but he did provide a boost in other ways. He added four assists, five steals two rebounds and a block.
On a night when almost everybody who played was a +/- negative, Johnson was a respectable -7 in his 26 minutes on the floor.
While Johnson's inefficiency remains a concern, progress is welcome. With some successes under his belt, hopefully he can use the momentum to continue to get himself right and solve the Pistons reserve wing issue.
This article originally appeared on