Stanley Johnson might be the NBA's biggest disappointment this season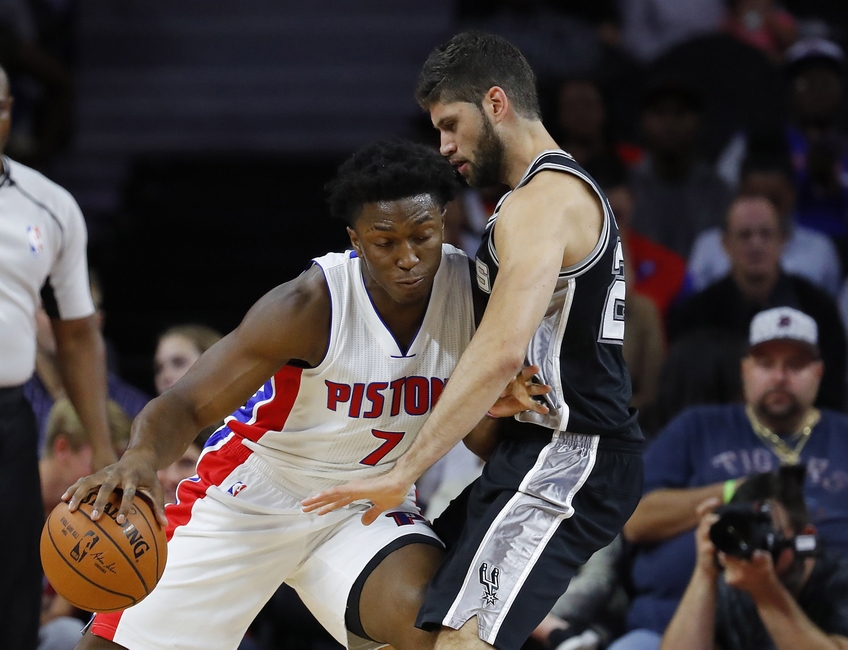 After a rookie season full of learning experiences and an offseason full of development, Stanley Johnson may be the NBA's biggest disappointment so far.
After Stanley Johnson carried the Detroit Pistons' summer league squad to a championship game, leading the team in scoring without ever driving to his strong side, fans got excited. After he excelled on the USA Selects team with fellow Piston Kentavious Caldwell-Pope, the hype grew.
When he helped lead Baron Davis' Drew League team to a title and then sunk an OVO League championship-winning shot in Drake's face, we all thought a modern-day Detroit Piston legend was before us.
It was a heady summer for Stanley Johnson and the diehard fans who followed him closely through it all. The summer was exciting, but reality has set in.
There were concerns in the preseason when Stanley Johnson scored just seven points per game on 34.4 percent shooting and only managed to see 20 minutes of action per game. Some of that was explained by foot pain he was experiencing due to issues with his shoes, but the problems continued after he switched shoes.
He has struggled mightily since the season began. Thanks to a drop in productivity, he's seen his minutes cut from 23 per game a year ago to just shy of 16 per game this season. He's scoring just 9.4 points and adding 5.4 rebounds per 36 minutes, and he has the tfourth-worst net rating on the team (behind Ish Smith, Marcus Morris and Andre Drummond) at -3.3 points per 100 possessions.
It's also worth noting that Johnson is the only bench player getting regular minutes who has a negative net rating, as the starting unit has been a disaster in virtually every game they've played, while the bench has been a source of stability.
Stanley Johnson also has the 332nd best (out of 416 players) Offensive Real Plus Minus across the NBA at -1.90, and his RPM (used to calculate a player's absolute impact overall on the floor) is 225th in the NBA at -1.29.
It's not just that Johnson has been bad that causes me concern, it's that in no way has he been better offensively than last season and in many ways he's been worse.
Per Synergy, last season he was in the 24th percentile among spot up shooters, scoring 0.8 points per possessions and hitting just 33.1 percent of his attempts. This season, featuring a reworked jump shot, Johnson is in the 4th percentile, scoring .421 points per possession and hitting just 3-of-14 spot up attempts.
Last season he scored 1.021 points per catch and shoot jump shot possessions, hitting 34.8 percent of his attempts and boasting a 51.1 adjusted field goal percent. This season he's hit just one of his 12 catch and shoot attempts and is 0-for-3 in his unguarded attempts.
He's been bad in pretty much every offensive category, but not all is lost. Last season, Johnson was ineffective as the ball handler in the pick and roll, scoring 0.982 points per possession which placed him in the 13th percentile across the league. This season, in an admittedly small sample of 26 possessions, Stanley Johnson has been one of the best ball handlers in the pick and roll that the Pistons have to offer, scoring 1.192 points per possession and finding himself in the 96th percentile.
While Johnson has been essentially a write-off on offense, his defense has actually taken a step forward, net rating notwithstanding. While he was reputed as a solid defender last season, he was actually a liability much of the season. He was in the 19th percentile in overall defense, allowing .946 points per possession when he was the primary defender, and he was in the 13th percentile guarding the pick and roll ball handler.
He's come around in a big way defensively so far this season. Johnson has a defensive box plus minus of +2.3, and he's improved significantly when guarding the pick and roll ball handler. While it's only been 27 possessions, offenses have only scored 17 points when he's been that primary defender. His overall ranking has him in the 60th percentile, which is a significant improvement.
While his shot hasn't been falling, he hasn't been forcing it. Johnson took 12.8 field goal attempts per 36 minutes last season, but this season is attempting just nine. He seems to be actively attempting not to be a drag on the offensive end while he's working things out.
His apparent self-awareness and willingness to defer on offense is admirable, but he appears to be on the verge of playing his way out of the rotation. While he played less than 16 minutes just twice in the first seven games of the season, since the seven game mark he has played more than 14 minutes just once against the Cleveland Cavaliers, and received a DND-Coach's Decision the following night against the Boston Celtics. He followed that up with just nine minutes off the bench against the Houston Rockets on Monday night.
He also has another threat to contend with in the form of Reggie Bullock. After missing the first 12 games of the season, Bullock has played eight, 22 and 10 minutes in the last three games. Bullock closed last season on a shooting tear, and is already 7-of-14 from the field in his limited duty. Bullock has done nothing to play his way out of minutes, however, and Johnson has done very little to justify important minutes for a team expected to compete for a playoff spot.
While Stanley Johnson is by no means a bust at just 20 years of age, his play has been nothing short of worrying thus far. He's not doing himself any favors right now and his biggest rival for meaningful minutes appears to be picking up right where he left off.
This article originally appeared on