Stanley Johnson discusses his offseason work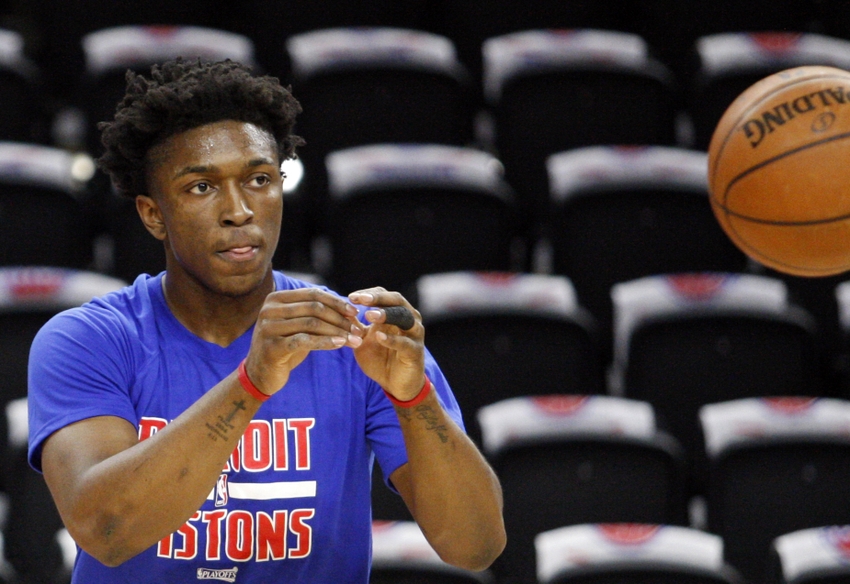 Stanley Johnson of the Detroit Pistons recently discussed his offseason work with Basketball Insiders, delving into what he's improving in his game.
The Detroit Pistons' offseason has been a busy one for Stanley Johnson. He played multiple stints in the Drew League, winning a championship in his second visit.
Johnson also put the Pistons' Orlando Summer League team on his back, carrying them to a title game appearance.
He also joined forces with Kentavious Caldwell-Pope on the USA Selects squad in preparing Team USA for the Rio Olympics.
Johnson has had a jam-packed summer, but he had time to sit down with another busy man, Alex Kennedy of Basketball Insiders. Kennedy interviewed 20 players this offseason on their summer development, and Stanley Johnson was among them.
In Johnson's own words:
"I'm practicing going left, practicing coming off of ball-screens and shooting threes. Practicing catching-and-shooting and practicing team defense. Those are some of the things that I'm focused on. … I'm a lot more confident. The work that I've done this summer has me feeling like I'll be able to score from all three levels very efficiently and defend. I'm going to build off of that. [I've grown a lot]. Last year, I felt like I was in elementary school and this year, I feel like I'm a senior in high school."
Johnson's rookie season started off rough as the game was clearly too fast for him. The 19-year-old grew quickly and was hitting his stride just in time to have his season derailed in late February with a sprained shoulder.
He put it together in time for an impressive playoff performance against LeBron James and the Cleveland Cavaliers, catching national attention for his aggressive and physical defense.
Stanley Johnson is a raw physical specimen, standing at 6'7″ and 245 lbs, as one must be to be able to hang physically with LeBron as he did in the playoffs, but he has room to grow. His description of transitioning from elementary school to high school is apt, as he's been in full-time development mode since the season ended.
The physical tools are there, but the craft needs to develop accordingly. Johnson shot just 37.5 percent from the floor and 30.7 percent from three-point range last season, but with his shot being a major point of emphasis in his development this offseason we can expect improvement.
Stanley Johnson will certainly be a Detroit Piston to keep your eyes on this coming season.
More from PistonPowered
This article originally appeared on