Spurs Outlast Shorthanded Mavs 94-87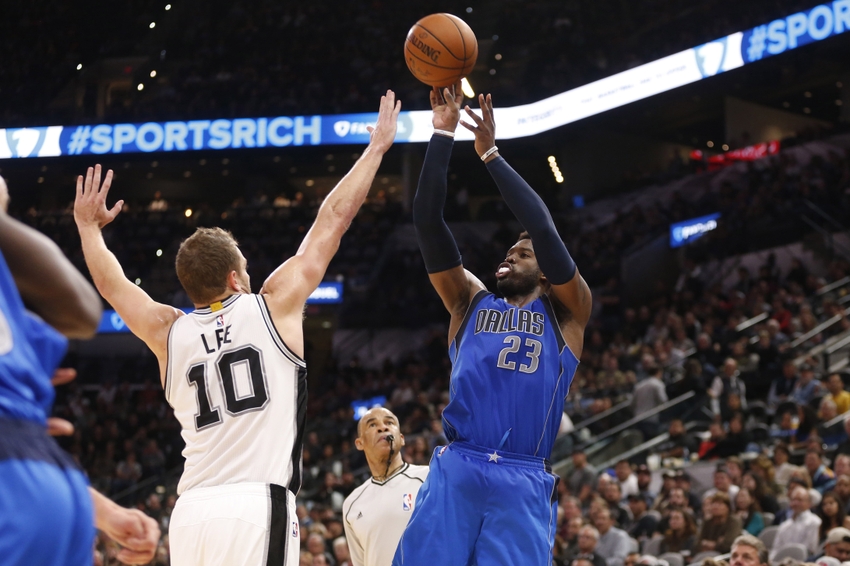 The Dallas Mavericks kept it close against the San Antonio Spurs before falling apart late in the 4th quarter. Dallas has lost to the Spurs by a combined 12 points in the two matchups this year.
The Mavs dropped their 14th game out of 17 Wednesday night, suffering a demoralizing loss to their in-state rival by a surprising tally of 94-87. The Spurs came into the game with a 14-4 record trailing only the Golden State Warriors for the top seed in the Western Conference. The Mavs on the other hand, added another to their league worst 14 losses.
The Mavericks came into their Texas showdown with the Spurs extremely shorthanded. While Devin Harris returned from injury, Dirk Nowitzki sat out again after Rick Carlisle informed the media that the star big man will miss at least the next two games after tonight's and that there is no timetable for his return.
Deron Williams battled through his series of injuries that seem to nag him every season, but was shut down early in the third quarter after 25 minutes on the court. Seth Curry was once again asked to shoulder the scoring load from the point guard spot for Dallas.
Harrison Barnes continued his ascent into stardom Wednesday night, turning in an excellent defensive performance against an extremely versatile scoring forward in Kawhi Leonard. The former Warrior held Leonard to just 21 points on 5-16 shooting, and 2-5 from beyond the arc.
While the Spurs were somewhat limited without Tony Parker, Manu Ginobili, and Pau Gasol, they were hoping to rely on both Leonard and LaMarcus Aldridge to put up enough points against a solid defensive team.
The Mavs kryptonite in this game turned out to be Patty Mills, however. The sweet-shooting Aussie tallied twenty-three big points and drained several clutch three balls down the stretch to get the Spurs over the hump and all the way to their division-leading 15 win.
Former Maverick David Lee played 21 minutes due to Gasol's absence and notched up 7 points and 5 rebounds. The Mavs were led by Wesley Matthews' 26 points as he has continued to show that his shooting touch is slowly rounding back into form.
As the Mavs continue to free-fall, the doubts over the long-term outlook of the team continue to get bigger. Should the Mavs be tanking? Should the Mavs gut it for a stud in the lottery in the upcoming NBA draft? Not according to their owner, who still believes, despite their abysmal 3-14 record.
The Dallas Mavericks will look to rebound tomorrow night against the Charlotte Hornets. The game will begin at 6:00 CT in Charlotte. The Mavericks will be flying in overnight for the back-to-back. Will the 2nd game in as many nights affect the availability of some players?
More from The Smoking Cuban
This article originally appeared on