Sports Illustrated's anonymous scout (mostly) missed the mark with the Memphis Grizzlies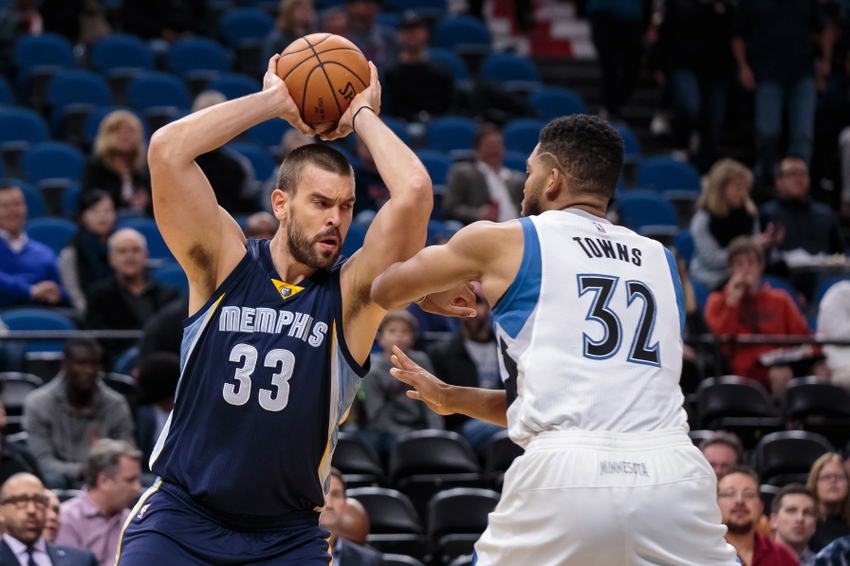 Sports Illustrated's anonymous NBA scout's preview has come out for the season. Their narrative for the Memphis Grizzlies was health, age and depth. So, what else is new?
Sports Illustrated's anonymous NBA scout's preview seems pretty reliable, right? The most knowledgeable basketball minds that are in the NBA loop are giving their input on the upcoming season. It seems almost like a prophecy of the season. So, the Memphis Grizzlies are a hit-or-miss team, where their season is reliant on health. Ahhhh … as someone who almost exclusively watches the Grizzlies, I might have to say differently.
There are plenty of points I will assess that are strong arguments; however, there are more cases where I disagree.
Health
Their team is kind of a house of cards right now. They have some good players, obviously Gasol, Conley, they signed Parsons. But all three of those guys have significant injury histories. That could really blow up in their face. … If they get something like 9,000 total minutes out of Conley, Parsons, and Gasol, they're in great shape. That means they each play like 37 minutes-a-game, 80 games each for those guys. That's around 3,000 minutes from three guys. So if they get that, they're in great shape. But they won't. … If they get more like 6,000 minutes from those guys, so like, 30 minutes-a-game for 65 games from each of those guys, then they'll be around .500.
Yes, health is the big narrative for the Memphis Grizzlies. Why haven't I addressed it in my season preview? Because, I am not a doctor. Then again, are these NBA scouts doctors? Do they know what injuries tend to be chronic? Show me that Ph.D.
Memphis Grizzlies fans should be concerned about health. The youngest of their "Core Four" is 29 years old. Their three big money guys are coming off season-ending leg injuries, two that required surgery. However, injuries are a part of the game. Stephen Curry and Kevin Durant could re-live ankle and foot issues. Blake Griffin has had two injuries that have derailed separate seasons, one that was last year. In this preseason, Anthony Davis is already hurt. Not too long ago, Kyrie Irving was "injury-prone." Unless there is a inside source linking to a player's current health status, it's unfair to predict a team's season primarily on health.
Depth
They just don't have much quality depth. Tony Allen, Vince Carter, Jordan Farmer, Brandan Wright. They drafted Wade Baldwin, but he's probably not ready to play … Jamychal Green is secretly OK, but their bench is a problem even if there are no injuries. If there are any injuries they could be in a lot of trouble …
For starters, Jordan Farmar isn't even on the Memphis Grizzlies. He actually signed with Sacramento in case Dave Joerger is ready to bury another young player for a mediocre veteran. For the bench, aside from Zach Randolph, they aren't any complete studs. Two guys who could make a big impact for the Memphis Grizzlies are newly-added swingmen James Ennis and Troy Daniels.
Both players should help solve their 3-point shooting woes as they shot over 40 percent from distance last season [Ennis at 44.8 percent and Daniels at 48.4 percent (!!!)]. Ennis and Daniels won't push the Memphis Grizzlies into title contention or even be Sixth Man of the Year contenders; however, with Zach Randolph receiving doubles in the post, they should have plenty of open 3-pointers.
Wade Baldwin: maturity issues?
To expect a ton from Wade Baldwin this year is probably not wise, but he's very talented. He'll be able to help some off the bench, and he'll have some nice moments. … The biggest concern I had with Wade in the draft is that he can be sort of hard-headed and difficult. Not the easiest guy to coach, not the easiest guy to get along with, not super mature. That's one big advantage the Griz have with Fizdale there. Everyone says he's outstanding with relationships with the players. Guys want to go to war for him. A lot of coaches would have difficulty connecting with Wade Baldwin and getting him on board and bought in to his role, but Fizdale will probably do a good job with that.
During his college days in Vanderbilt, Wade Baldwin drew questions about his maturity because of his relationship with
his coach. However, Baldwin addressed those concerns at the combine:
While Baldwin acknowledged his bad body language and that he often got upset at all the losing, teams seem convinced that this is a case of a hyper-competitive player, not a locker room cancer.
From what was gathered at media day, Wade Baldwin is ready to do whatever coach asks him to do in order to help the Memphis Grizzlies reach the Western Conference Finals. Any questions about his maturity should be thrown out the window.
Dave Fizdale: the coach
I've heard nothing but good things about David Fizdale as a person. Players love him, people that work with him love him. But nobody has told me that he's a brilliant coach. Everyone's sold on him as a person, and nobody knows yet whether he can coach.
Yes, it is hard to assess David Fizdale's offensive gameplan. There is a video, however, that should show a glimpse.
Granted, this is the Houston Rockets' defense, but imagine the spacing on the court once the Grizzlies replace Troy Williams with Chandler Parsons. This should open up room for Mike Conley to drive or dish to Marc Gasol or JaMychal Green for a slightly-contested 3 on the pick-n-roll.
Marc Gasol and Zach Randolph are shooting 3s, now. If they turn out to be semi-dangerous threats from distance, the Memphis Grizzlies' ceiling will become higher. Even though it's preseason, basketball purists must love that the Memphis Grizzlies are evolving into a modern team under the guidance of David Fizdale.
Conclusion
If they stay perfectly healthy and are well-coached, they could be pretty good and compete in the middle of the West. But it wouldn't surprise me at all if they missed the playoffs.
The Memphis Grizzlies are a team that could finish in the middle of the West (4-6), however, any team not named the Golden State Warriors, San Antonio Spurs and Los Angeles Clippers are in danger of missing the playoffs.
For the Memphis Grizzlies and their fans, just tally this as, yet, another time the basketball world has underestimated them. #BelieveMemphis
More from Beale Street Bears
This article originally appeared on