Spencer Hawes Has Had a Surprisingly Good Start to the Season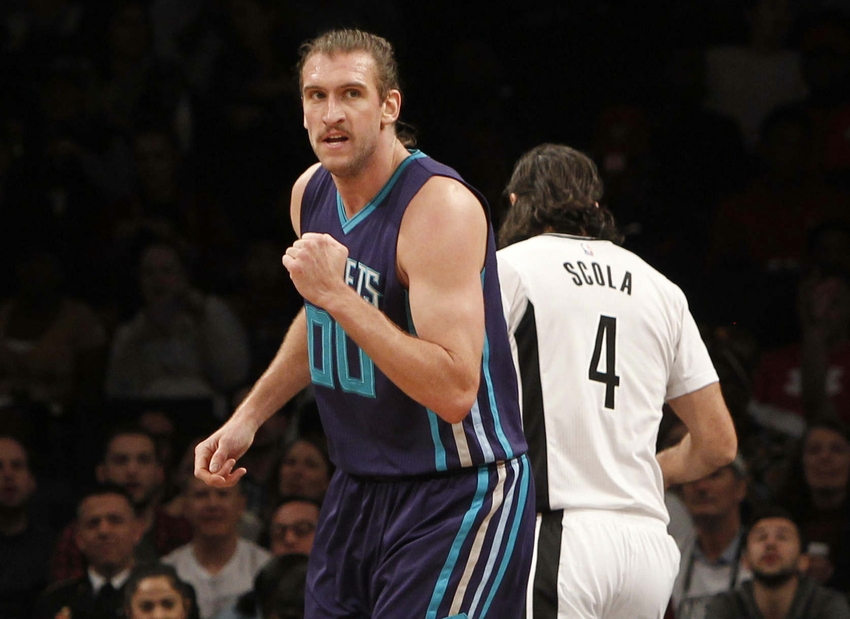 Before the season began, not much was expected of Spencer Hawes but the Charlotte Hornets' backup big man has been a surprise contributor so far.
The Charlotte Hornets are off to their best start in team history and Spencer Hawes has played an unexpected role in their success so far this season. As the backup center, he has been a consistent contributor with the second unit. It is safe to say that this shocking start was not warranted by many.
Hawes started the 2016 campaign as the third center behind both starter, Roy Hibbert, and backup, Cody Zeller, but that all changed when Roy went down with a knee injury after only two games. This opened up the door for Spencer and gave him the opportunity to play more minutes. He has made the most of the increased playing time.
Many fans were calling for the Hornets to trade the 7'1 big man this summer. His $6 million a year contract coupled with his diminished role with Charlotte heading into this season made Hawes expendable. With his recent run of play, Spencer may have improved his trade value going forward, if the team looks in that direction later on.
More from Swarm and Sting
After only averaging a somewhat disappointing 6.0 points per game and 4.3 rebounds per game last season, the 28-year old is having a bounce back season in 2016-17. Through the first six games this year, Hawes is averaging 9.0 PPG, 5.7 RPG, 2.0 APG, and 1.0 BPG. It is only a small sample size but this is the best stretch Spencer has ever had since coming to Charlotte.
Hawes, who is in his second year under Steve Clifford, only recorded one double-double in 57 games last season. He has already matched that mark in the first six games this year after putting up 13 points and 13 rebounds against the Indiana Pacers. The Hornets' backup center only had 11 double-digit scoring games last year but at his rate this season, he would finish with 41 as he already has three games of 10+ points through six games.
Not only has Hawes improved his scoring and rebounding numbers this season but he has drastically increased his shooting percentage from the field as well. He is currently shooting 51.1% from the field compared to only 40.5% last year.
Want your voice heard? Join the Swarm and Sting team!
Spencer's minutes will likely dimish once Roy Hibbert is healthy and back starting for the team. If his good form continues, he may have bought himself his extra playing time and trust from coach Clifford.
I didn't expect much from Hawes before the season began but he is proving a lot of doubters wrong with his recent performances. It is all about being ready when called upon and Spencer is making the most of his additional minutes while Roy is out.
It will be interesting to see how Hawes is used going forward this season as the likely third string center. Surely he has done enough to receive adequate minutes but with Hibbert returning and Zeller playing well, there may not be enough to go around. After a strong start, let's see if Spencer can keep up his surprisingly impressive play.
This article originally appeared on