Southeast Division Outlook: Chicago Bulls vs. Charlotte Hornets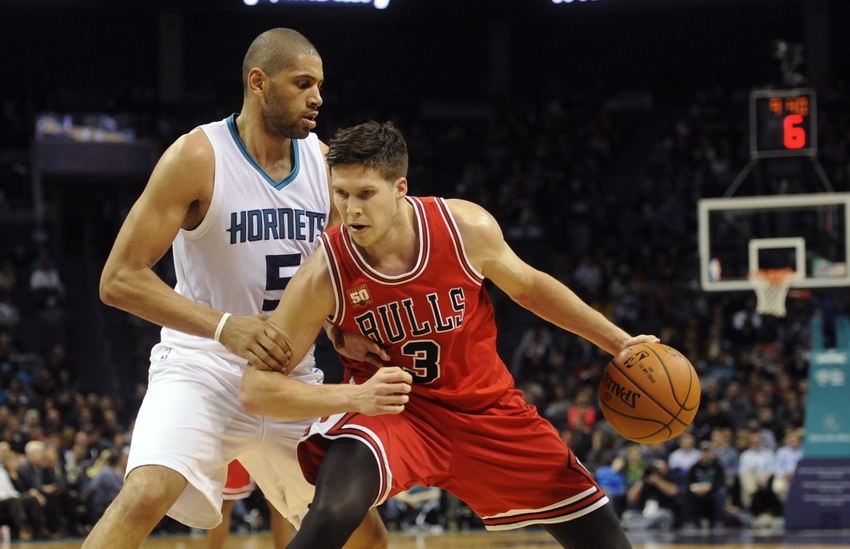 The Chicago Bulls got wins snatched from them by teams like the Charlotte Hornets last year. This year, a deeper and more athletic back court for Fred Hoiberg may turn things around.
Fred Hoiberg's Chicago Bulls team lost many a game or two to teams like the Charlotte Hornets last year because of bad lineups and not being able to close out a sub-.500 teams.
This year, Gar Forman retooled the Bulls with better defensive and athletic guards and acquired two of the top veteran All-Stars in Rajon Rondo and Dwyane Wade.
The addition of Robin Lopez more than compensates for the loss of Derrick Rose and Joakim Noah because the Bulls new scoring core of Nikola Mirotic, Bobby Portis and Doug McDermott can now come into their own to make Hoiball work.  These are the guys expected to contribute heavily on top of the starters production to round out wins and close games.
For Charlotte, scoring machine Nicolas Batum, plus whirling dervish Kemba Walker, form the core of a strong Hornets squad looking for more consistency to go deeper in the Eastern Conference this postseason.
Tiring out and losing to the Miami Heat after losing a 3-2 series lead last spring, Charlotte looks to improve this season by getting veteran talent and hope another year will give their young guys more valuable experience competing at a high level.
Charlotte signed Marco Belinelli from the Sacramento Kings to add more outside scoring.  They also picked up 6'11" Christian Wood from the Sixers summer league team leftovers. Wood is a high-upside, stretch-four who could potentially be better than Portis in the future if his attitude and work ethic is as good as the Bulls' fan favorite.
Player Matchups: Batum, Walker, Belinelli vs. McDermott, Butler, Wade
Robin Lopez should easily match up with 6'11" Roy Hibbert and the seven-foot Frank Kaminsky in the post with backup from Portis and Cristiano Felicio. Hibbert was known as one of the best NBA rim protectors and Charlotte may still retain their rep for being one of the league's best defensive rebounding teams.
Michael Kidd-Gilchrist is one of the league's best defenders and the Hornets will make life difficult for the Bulls' slashers in the paint.
Both teams will rely on their sharpshooters. Batum, Walker and Belinelli for the Hornets and the Bulls with McDermott, Mirotic and Portis taking more of the scoring punch if Hoiberg plays the three tall shooters with his best back court combos.
Although Kemba Walker might not enter the paint as much with Robin Lopez in there instead of Pau Gasol this season, Walker should find his way to the foul line plenty.
The Hornets' most exciting addition may be Wood. He's a tall and long  (6'11" with a 7'3″ wingspan) athletic forward who went undrafted last year because of supposed immaturity and attitude problems while in school.
Wood eventually got signed and played intermittently for the Philadelphia Sixers, getting waived and re-signed to 10 day contracts throughout last season. When off, Wood proved himself in the D-League with strong numbers to get himself invited back to the Sixers and eventually join their summer league roster.
Wood played confidently for Philly over the summer, showcasing his fearless rim-attacking game and strong defensive rebounding skills. Wood is also a potential long range threat because he can hoist up threes when he's hot.
If he develops with Charlotte, the Hornets get themselves a steal of a big man to complement their strong center-forward core.
Alas, what most may not plainly see is that Dwyane Wade signed with a better team than Miami Heat are this year.
Wade has the league's best upcoming tall shooters in McDermott, Portis and Mirotic than he did in Miami, so he doesn't need to take the scoring load on his shoulders all game long.
And, he has Rondo to surgically dissect the Hornets defense, plus Jimmy Butler to demolish them off the ball and inside the paint. Wade tired out against the Toronto Raptors and Goran Dragic tried to do too much and lost in the process against a fresher Raptors team.
If the Bulls contain Walker with their new defensive guards while Lopez locks up the paint, Wade plays efficiently in a more limited role, while the Bulls shooters develop their assault formation, the Bulls can win easy.
Coaching: Fred Hoiberg vs. Steve Clifford
Steve Clifford's team had blowout wins against the Bulls last year, winning their season series, 2-1. Clifford was able to resurrect the Hornets' defense to be among the top-10 in the NBA in points allowed per team and again, the bane of Fred Hoiberg in his entire coaching career is against teams that are strong inside scorers and strong defensive rebounders.
With Pau Gasol on the team last year allowing opponents a scoring clinic at the rim, the Bulls lost too many games against teams like Charlotte, who make it difficult for opponents to get into rhythm scoring in the paint and from the perimeter with their defense.
This may be the year that Hoiberg redeems his coaching career after Gar Forman bolstered the lineup with one of the strongest rim protectors in Robin Lopez and two young and athletic guards in Spencer Dinwiddie and Jerian Grant shutting down scoring guards like Kemba Walker. The Bulls should get into their groove and beat Charlotte easily with defense built into their game this year as we saw from their summer league title performance.
This matchup again looks good on paper after the Bulls' rebuild, and we only need to see the Bulls play Charlotte better than the Heat did to win this year's season series.
More from Pippen Ain't Easy
This article originally appeared on