'Soon' is Finally Here… Get Ready For Caris LeVert!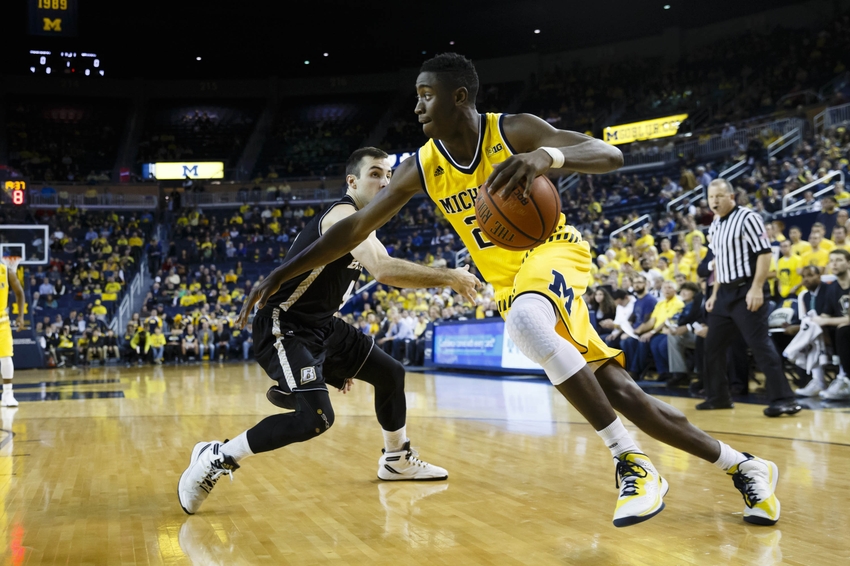 The Brooklyn Nets announced Sunday that Caris LeVert will be available for tomorrow's game against the Washington Wizards. LeVert has not played since February, when he was still in college.
After countless reports that Caris LeVert will return "soon" and that he began practicing, Nets fans finally have some good news. The Brooklyn Nets announced today that the former Michigan Wolverine will be available for tomorrow's game against the Wizards. LeVert's possible return comes 20 games into the 2016-17 season, which is sooner than most expected.
Want your voice heard? Join the Nothin' But Nets team!
This is the most promising news for the Nets in awhile. Brooklyn has lost nine of their last 10 games and with no timetable for Jeremy Lin's return, the outlook leading up to Christmas is bleak. The Nets could sure use another hand and a morale boost, and LeVert just may be able to provide both.
LeVert spent four seasons at Michigan, where he averaged 10.4 points, 3.5 rebounds, and 2.7 assists per game. In the last two years of his collegiate career, he only played a total of 33 games. This was due to issues with his foot, which has also delayed his debut in a black-and-white Nets uniform. The rookie first underwent surgery for his foot following his sophomore year of college, but reinjured his foot the following year.
More from Nothin' But Nets
He spent the offseason rehabbing and missed all of Summer League and the preseason. On Nothin' But Nets, we've been reporting LeVert practicing since October, but his first full practice took place nearly two weeks ago.
It is still unclear whether LeVert will actually play tomorrow. However, with the Nets' lack of depth at the point, we should expect to see the rookie running the offense sometime during the game.
One thing many have praised about LeVert is his versatility. The 22-year-old is listed as a shooting guard and small forward, but many believed Brooklyn would use him anywhere from the one to the three. And boy, do the Nets need another option at the one more than ever.
While the Nets continue to depend on Sean Kilpatrick and rookies running the point, expect them to toss yet another rookie into the mix. Don't be at all surprised if LeVert sees ample amount of time tomorrow on the hardwood.
This article originally appeared on