Solomon Hill Will Be the Silent Difference Maker for the Pelicans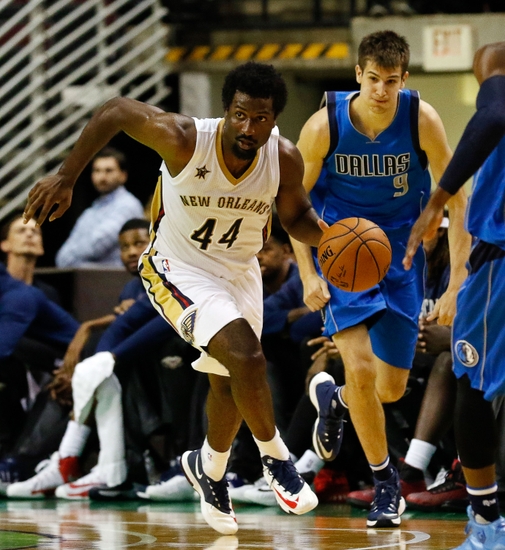 While he is still a recent addition to the New Orleans Pelicans, Solomon Hill will already become a difference maker for the upcoming season.
Solomon Hill is a quiet signing for the New Orleans Pelicans.
Ask any NBA analyst and they'll say the top two Pelicans on the team are Anthony Davis and Jrue Holiday. It is easy to see why. Their talent levels are through the roof.
However, when people ask who the third best player is on New Orleans, there's a vast difference in answers.
The answers can range from Tyreke Evans, E'Twaun Moore and even Omer Asik. It's a big grey area.
One name that is not brought up a lot is Solomon Hill. Sure, he is new to the team. He also does not have massive numbers to back his claim for number three.
He's 25 years old and averaged less than five points per game last year. It took him until the postseason to show his presence, moving his points per game up to 7.7. While he did shoot 57.9% from behind the arc, he's clearly not a pure scorer.
Many believe the four year / $48 million deal was way too much for Hill. This is a player three years into the league that has yet to become a true starter. Giving that kind of player over $10 million per is a huge risk.
However, his potential is what earned him that money. His defense shined in last year's playoffs. Hill's shooting eclipsed when it mattered most. One great series of seven games made him more money than any regular season could.
The Pelicans are leaning on him to be a bit of a leader on this team. His experience with the Pacers could be huge for a team looking for guys to step up. However, Hill conducts his game quietly.
When Chris Copeland was interviewed by Jim Eichenhofer of the Pelicans' NBA site, Copeland talked about Hill's work ethic in Indiana.
"Solo is a quiet leader. He comes out and works his butt off. He's incredibly in-your-face as a defender. He can make plays on both ends of the floor."
Hill is known as someone who puts in every bit of effort he has. Yet, he's not the big personality Anthony Davis is at the moment. He lets others take the big stage and does the dirty work.
How he translates that to New Orleans could very well be the difference maker this season. The Pelicans' roster has plenty of players with expectations that should match their performance. Fans have seen what they can do and bring to the table, even if they are new to the team.
Hill is more of a work in progress. A late bloomer of his total skill set, per say. He has the potential to be a key player on both ends of the floor. His size, speed and basketball IQ are exciting. Yet, it has not shown in his stats just yet.
The New Orleans Pelicans are looking to use him a lot. They want to see exactly what he can do in a big role, next to players that can help show his talents.
He's a floor spacer at the small forward, with the capability to run on the break. It's exactly what the Pelicans need, as they hope to turn good defense into transition offense. He will not charge into the lane like Lance Stephenson, but he can space the floor on the break to collapse defenses even more.
He brings extra skills to his potential, not just his small forward play.
Past projects put alongside AD, when Davis is running the five, failed due to poor interior defense. Hill could become that exception. He showed all throughout Indiana's playoff series he could play the four spot and guard effectively. The Pelicans are looking to use that to expand their potential lineups.
The Pelicans did not sign Hill for what he is as a player, but what he can become. New Orleans continues to shift plans towards what they think will work alongside their super star. Solomon Hill could finally become the realization of that goal.
However, it still is only potential at the moment. Hill has struggled a bit in preseason contests. The new offense and change-of-pace play differs from Indiana's gameplan a lot. The adjustment needs to be there in order for this team to succeed. If he can, the Pelicans could have a fantastic year.
Solomon Hill is the quiet key for the New Orleans Pelicans upcoming season. He can bring everything this team is hoping for to the starting small forward and late-game power forward lineups. Defenses will be challenged even more by New Orleans. That is, if Hill can play to the potential he has shown. Solomon Hill has a chance to go from second-unit floor spacer to a key starting role player, on a contending team, in just one season. His play this year will show if he can make that massive leap.
More from Pelican Debrief
This article originally appeared on