Sluggish, Shorthanded Utah Jazz Fall Short in Houston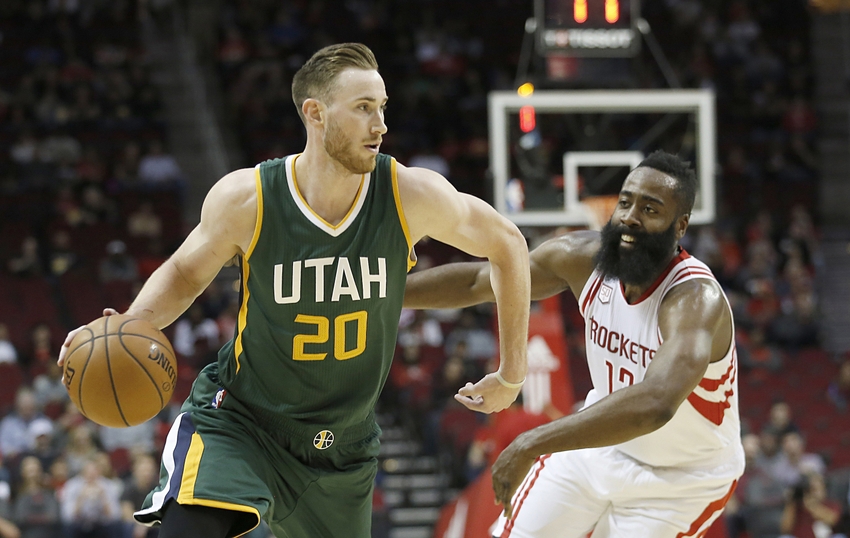 Missing multiple key players, the Utah Jazz were overmatched and outplayed by James Harden and the Houston Rockets on Saturday.
VS.
| | | | | | |
| --- | --- | --- | --- | --- | --- |
| | 1 | 2 | 3 | 4 | T |
| Rockets | 28 | 27 | 26 | 30 | 111 |
| Jazz | 22 | 22 | 26 | 32 | 102 |
In their Thursday home loss to the Chicago Bulls, the Utah Jazz ran out of gas as the game wore on, scoring just 34 second-half points. Looking to avoid their third-straight loss in a road bout with James Harden and the Houston Rockets, the Jazz did a much better job of putting up points in the third and fourth quarters this time around.
Unfortunately, they had already stalled out of the starting gate.
Looking sluggish from a rough stretch of games recently and missing a slew of players, the Jazz band just couldn't make up ground after the slow start. Despite a big night from Rodney Hood, Utah ultimately fell to Harden and Rockets coach Mike D'Antoni's up-tempo offense, 111-102.
Harden scored 15 points during an opening quarter in which Jazz coach Quin Snyder couldn't find the right mix defensively. Meanwhile, the Jazz looked a step slow and slightly off-kilter offensively. Although Utah managed an advantage or two of their own in the first, Houston ultimately closed the quarter with a lead they wouldn't relinquish.
In the second quarter, the Rockets continued to push pace, using an 18-8 run to extend that lead to 16 points. They would take a double-digit lead into halftime.
The Jazz came out with better focus in the third quarter, and got it down to a two-possession game mid-way through the period. However, Harden was quick to quell Utah's momentum, single-handedly pushing the lead back to double digits.
Throughout the rest of the third and into the fourth, the Jazz were able to eat into the lead at times, but the Rockets were never seriously challenged. Harden's services weren't even really required to close out the contest. He finished with 31 points and 10 assists in 34 minutes of play.
The Rockets also got big games of Clint Capela (20 points, eight rebounds, five assists) and Eric Gordon (20 points, seven rebounds, six assists, two steals).
As a team, they committed just four turnovers on the night and won the bench battle in a big way (44-24).
The Jazz were led by Hood's 25-point, although he did most of his damage as the Rockets had a death-grip on the game. Still, he had a strong night from the field, nailing five threes and making 8-of-13 shots overall.
The team's starting frontcourt was also one of the few bright spots in the game. Trey Lyles, starting in place of Boris Diaw/Derrick Favors, dropped a season-high 21 points. Rudy Gobert had another double-double, scoring 12 points, grabbing 14 rebounds and rejecting four shots.
More from Purple and Blues
Meanwhile, Gordon Hayward continues to struggle after potentially re-aggravating his finger injury earlier this week. He scored just nine points in 38 minutes of play and made only four of his 13 shot attempts. He did, however, manage to nab seven rebounds and dish out five assists. Nevertheless, the Rockets outscored the Jazz by 12 when he was on the floor.
The only Jazz play who fared worse in the plus/minus department was Dante Exum at minus-19.
If the Jazz hope to stay afloat while multiple key players miss games, Hayward needs to find a way to hit shots.
With the loss, the Jazz drop back to .500 with a 7-7 record. They have a quick turnaround in Denver against the Nuggets on Sunday.
This article originally appeared on