Sixth Man Monta Ellis Has It All for the Indiana Pacers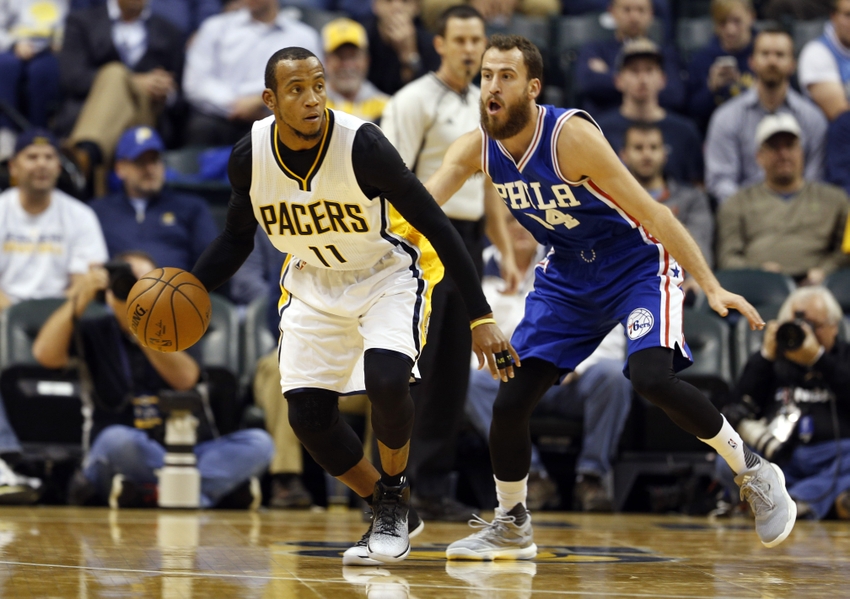 Nate McMillan surprised many by announcing that C.J. Miles would replace Monta Ellis in the starting lineup just prior to tipoff.
A sizable group of the Indiana Pacers fans and media have been clamoring to see Monta Ellis as a 6th man nearly since his first day with the team.
On Friday they got their wish as Ellis ceded his starting spot to C.J. Miles in a loss to the Philadelphia 76ers.
For the first time in over 200 games, Monta Ellis played in a game he did not start. Ellis's role change broke up the ultra small backcourt of he and Jeff Teague, which was getting shredded on the defensive end.
More from 8 Points, 9 Seconds
While Miles started and Ellis came off the bench, Ellis had the edge in total minutes played, 36 to 30. After just one game (well. 1.2 games, counting OT), there were a few changes that were immediately noticeable.
C.J. Miles Fits In With the Starters 
C.J. Miles had a solid if quiet game for the Indiana Pacers (13 points on 4-9 shooting, 4-4 from the foul line, four rebounds). On offense, he never caught fire or went on any big streaks like he has early in the season, but he shot the ball well, got to the line, and didn't hurt anything.
On defense, his contribution was greater, though more subtle; simply by being 6'6 rather than 6'3, the Sixers weren't able to get cheap buckets by posting up Gerald Henderson and allowing him to play bully ball. C.J. looked a bit uncomfortable on offense at times but overall looked very good. The Pacers surged when he checked back into the game in OT, and he finished +9, despite the late loss.
Monta Ellis Packs a Punch Coming Off The Bench 
Monta had it all!
Ellis looked renewed with the bench unit. On offense, he got out in transition and finished well, whether attacking the massive Joel Embiid or driving straight into scattershot Philly wings. Ellis dunked the ball, not once, but twice. He looked for — and found — open teammates for easy buckets, and finished with 19 points on 19 shots, 6 rebounds, 5 assists, and 4 steals.
On defense, Ellis appeared more active. He's not going to grow overnight, but he had mostly good rotations and was where he was supposed to be.
It's obviously impossible to accurately grade or judge a move based on one game, but for one game, the starters looked better on defense with Miles, the bench unit looked viable with Monta Ellis, and the pieces looked slightly more like they fit.
It would seem to be enough evidence for Nate McMillan to at least try it again, and as long as he can cover up the lack of backup small forward, he should give it a handful or games at least.
This article originally appeared on