Should the Miami Heat tinker with their starting lineup?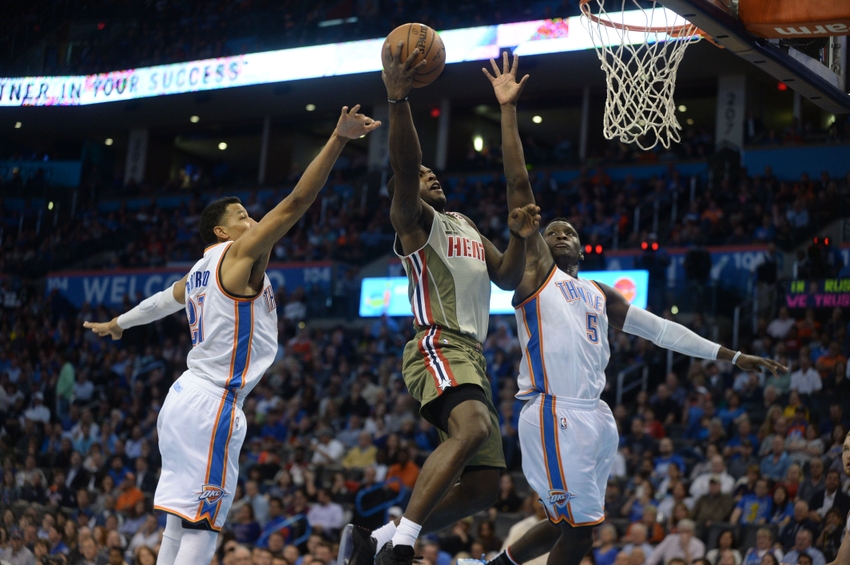 Now ranking 28th in the league for points per game, the Miami Heat have some issues to resolve.
The Miami Heat enter Dwayne Wade's emotional homecoming on Friday with a sense of uncertainty. With their recent loss in Oklahoma City bring the team's record to 2-4, the Heat's play has certainly raised some question marks. Front and center from the Thunder game was the starting unit combining for just 35 points. Granted, it was always going to be challenging replacing players with the resumes of Dwyane Wade and Chris Bosh. Or for that matter, Luol Deng and Joe Johnson. And while it is just six games into a new season, some forward thinking should be on the horizon.
Quite possibly the most polarising opinions will surround the starting forward slots. Second year forward Justise Winslow and Luke Babbitt currently man these positions. Winslow and the Heat were were equally optimistic that he would be ready to take the next step and comfortably step into the starting lineup. However, things haven't gone as planned. Winslow is shooting just 31 percent from the field and 15 percent from downtown on his way to averaging 11.8 points per game. More disturbing is that over the past three games, Winslow is shooting just 21.7 percent from the field on his way 9.3 points per game.
Babbitt arrived almost via the backdoor this past off-season without any fanfare. Although Babbitt has competed well and played within the teams structure, moving forward the team as a whole needs more from the stretch-four position. Babbitt to this point has contributed 7.3 points per game in 23 minutes per game, including 33 percent from behind three. The Heat have clearly made more of an emphasis on the three-point shot, for which Babbitt certainly has a role to play. However, with the current offensive struggles for the Heat, his starting position certainly needs a second look.
Dion Waiters, the Heat's current shooting guard, has also struggled mightily in recent games. But with Josh Richardson working his way back from injury in the past two games, it will be sooner rather than later before Richardson replaces Waiters at this spot.
Noteworthy stats
Some numbers certainly stand out that could help explain the Heat's malaise on offence. The Heat presently are ranked 8th in the league for the amount of shot attempts taken with between 4-7 seconds left on the shot clock, per NBA.com. They are hitting just 29.6 percent of these attempts, which make up 10.4 percent of the teams total shot attempts. And with 6.7 percent of total attempts occurring with between 0-4 seconds left, it equates to a lot of slow possessions. Whilst this may indicate a patient team, it also points to a stagnant offence that finds it difficult to get open shots. Furthermore, the Heat rank 5th in the league for shot attempts taken within 0-2 feet of the defender.
Leading into the season, the Heat and its coaching staff professed to playing a quicker, more open style of play. But whether it is the personnel or the system they're following, it's not equating to easy or efficient offence. Over the first six games, the Heat are ranked 23rd in the league for shot attempts classified as wide open, per NBA.com.
While this might mean a number of things, spacing is the first thing comes to mind. Any team that has multiple starters with poor shooting percentages are obviously going to struggle on the offensive end of the floor. And that's what these numbers are indicating, culminating in the team ranking 28th in the league in points per game.
The problem with having a poorly operating offensive system is the lack of good looks it is going to provide the better shooters on the team. Through six games, point guard Goran Dragic is averaging just three catch-and-shoot field goal attempts per game. These are defined as shots taken anywhere greater than 10 feet from the rim where there the player has the ball for less than two seconds and does not dribble, per NBA.com. He is converting on 61 percent of these attempts. Tyler Johnson is averaging 3.5 attempts per game, with a 57.1 conversion rate. Winslow, meanwhile, is attempting a team-high 3.7 catch-and-shoot attempts with a 13.6 percent conversion rate. By way of comparison, Klay Thompson of the Golden State Warriors leads the league with 8.6 attempts per game.
Alternate options
So what are the alternatives? As mentioned briefly earlier, Richardson replacing Waiters at the 2-spot is only a matter of time. The Heat have a couple of options with Babbitt's spot. James Johnson would likely be first cab off the rank. His last two games have been very impressive, contributing 14.5 points, 4.5 rebounds and 1.5 blocks per game. He has shot 45 percent from the field, hit one three-pointer each game at 33 percent, and has been perfect from the four line in his nine attempts. Johnson certainly offers a different look to Babbitt, with his ability to put the ball on the floor and be less-predictable at the offensive end.
Heading into the season, Derrick Williams was assumed by most to have this position, having started multiple games there in the pre-season. However has inexplicably played a total of three minutes in six games, which came in the dying stages of the team's recent loss to the Thunder. Although a somewhat inconsistent perimeter shooter, Williams surpasses both Babbitt and Johnson in virtually every other aspect of the game on both ends of the floor. Unless there is more to it, his complete absence from the rotation has been extraordinary. One simple question that could be asked is: why would you sign a talented player such as Williams in the offseason, seemingly coming into his prime at age 25, and simply refuse to play him?
Winslow's starting spot must also be under review. It is very possible that the Heat are simply asking or relying too much of Winslow. He leads the team in minutes comfortably at 36.1 per game. He leads the team in field goal attempts at 15 per game. And whilst Winslow is a more than capable ball handler, he is ranked only behind Dragic in touches per game. His 67.2 touches per game rank him 41st in the league, whereby he is touching the ball more often than the likes of  Paul George, Kawhi Leonard and Jimmy Butler.
Although it may sound a bit simplistic, a poor shooter with a high-frequency of touches per game makes it hard for the teams offence to flourish. As can be seen multiple times during games, defenders are playing off Winslow and putting their attention towards the other Heat players on the court. This therefore only makes it tougher on the other players, and hence the cycle continues. So whether or not Winslow starts, his role in the offence should certainly be reviewed and reduced.
Head coach Erik Spoelstra, when asked following the Heat's most recent loss,  whether he would tinker with the starting lineup, replied:
"No," he answered. "We're not going to panic now. They've been playing well. They do have to be accountable to those minutes, but I'm not going to change everything because of one game. We just have to get better."
It's certainly not panic stations yet being just six games into the season. But although it's commendable for Spoelstra to have faith in his players, they are going to want to return that faith sooner rather than later.
This article originally appeared on