Should the Indiana Pacers Start C.J. Miles Over Monta Ellis?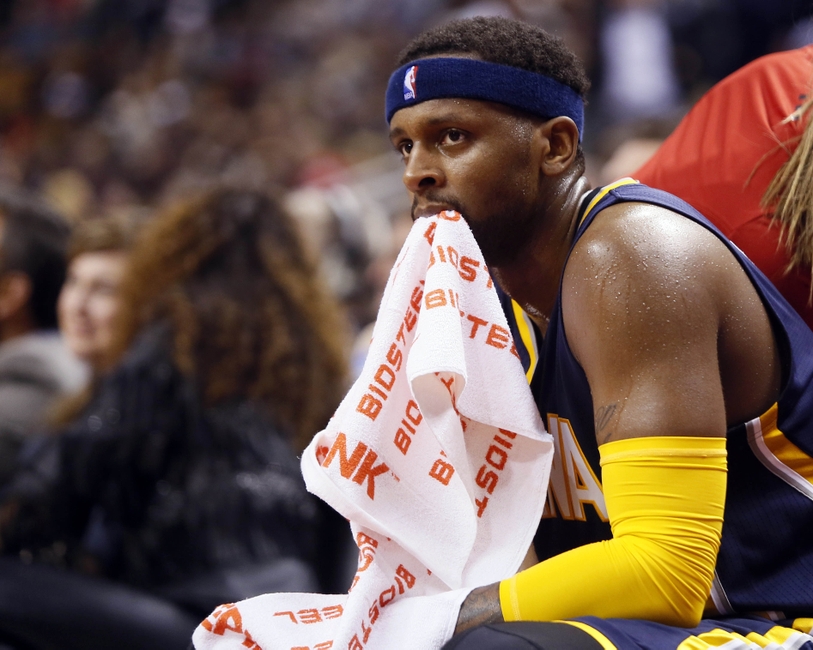 The Indiana Pacers' C.J. Miles may not be able to create the way Monta Ellis can, but his size and shooting would seem to fit better next to Jeff Teague.
The Indiana Pacers have started the 2016-2017 season out sluggishly, sitting in last place in the Central Division after 6 games. Though they've salvaged a near .500 record, they've looked nearly awful at times throughout the year.
Sporting the 27th worst defensive rating in the NBA at 109.3, the Pacers have struggled to stop anyone. At the forefront of that defensive "effort" are the undersized duo of Jeff Teague and Monta Ellis.
When George Hill was starting alongside Ellis, the Pacers were able to mitigate Monta's small stature.
More from 8 Points, 9 Seconds
Hill is 6'3 and stout with a much longer wingspan than his size would indicate, and matched up with shooting guards like Dwyane Wade while Monta could hide on smaller (and often less threatening) point guards. Hill was physically up to the task of being a shooting guard on defense against most teams. Teague is, well, not. That means Monta has to be.
None of the Pacers have been great defensively this season, so it's unfair to point the teams' struggles at just Monta Ellis. Still, he and Teague have certainly not been good, outside of a smattering of steals.
Monta's lack of size has been punished time and time again by starting shooting guards, begging the question: would the Pacers be better off starting C.J. Miles?
Putting aside the question of whether or not Monta would accept the promotion to '2nd unit have it all' from 'first unit distributor', the move makes some basketball sense. If a vacuum, the lineup of Teague/Miles/PG/Thad/Turner is probably better equipped to do, well, most NBA things.
Miles spreads the floor at a high level and can finish with power on offense. He's not a great defender by any stretch of the imagination, but he's much bigger (remember, he was "Power Forward C.J. Miles" for a few months last year), longer, and can at least credible body up to any shooting guard in the association.
That's all great and makes a lot of sense, but it leaves the 2nd unit devoid of wings. If Nate's 10 man rotation stays the same, the 2nd unit would be Aaron Brooks, Monta Ellis, Rodney Stuckey, Lavoy Allen, and Al Jefferson. Stuckey is 6'5 and built like a brick house, but any small forward with size and the slightest offensive acumen is going to shoot over him.
It's possible for Nate to stagger the rotations so that Miles or George is almost always out there, or for GRIII to earn minutes, but running 3 combo guards with Lavoy Allen and Big Al isn't going to fix the whole "can't guard a fence post" issue.
The verdict? The Pacers should start Miles — if Monta will accept the move with any grace.
Stagger the lineups to keep PG or Miles on the floor. Give GRIII minutes. Trade for a wing who can defend a chair. Whether by hook or crook, they Pacers have to get away from the Teague/Ellis duo in the starting unit.
This article originally appeared on