Should The Cleveland Cavaliers Have Interest In Derrick Williams?
Quenton Albertie/FanSided via King James Gospel

Fansided
The Cleveland Cavaliers need a playmaker, someone who can let LeBron James rest and depth in the frontcourt. Derrick Williams is one player who provides those three things for the Cavs as they continue their search for a backup point guard.
As of yesterday, Derrick Williams is a free agent according to The Vertical's Shams Charania. After being waived by the Miami Heat, the second overall pick in the 2011 Draft is looking for his fifth team before he turns 26 years old. The athletic Williams is a versatile frontcourt player that can play each position in the frontcourt with varying levels of success. The Cleveland Cavaliers, who are looking for playmaking, should take a look at Williams if he clears waivers.
Williams is a player that not only will take care of the ball and take good shots, but will be able to give LeBron James the rest he needs by doing a few of the things he can do both offensively and defensively. By being capable of creating his own offense, he'll be a great addition to a second unit that relies on players to set them up as shooters.
His signing doesn't nullify the team's need to sign a backup point guard but would give the Cavs a useful player nonetheless.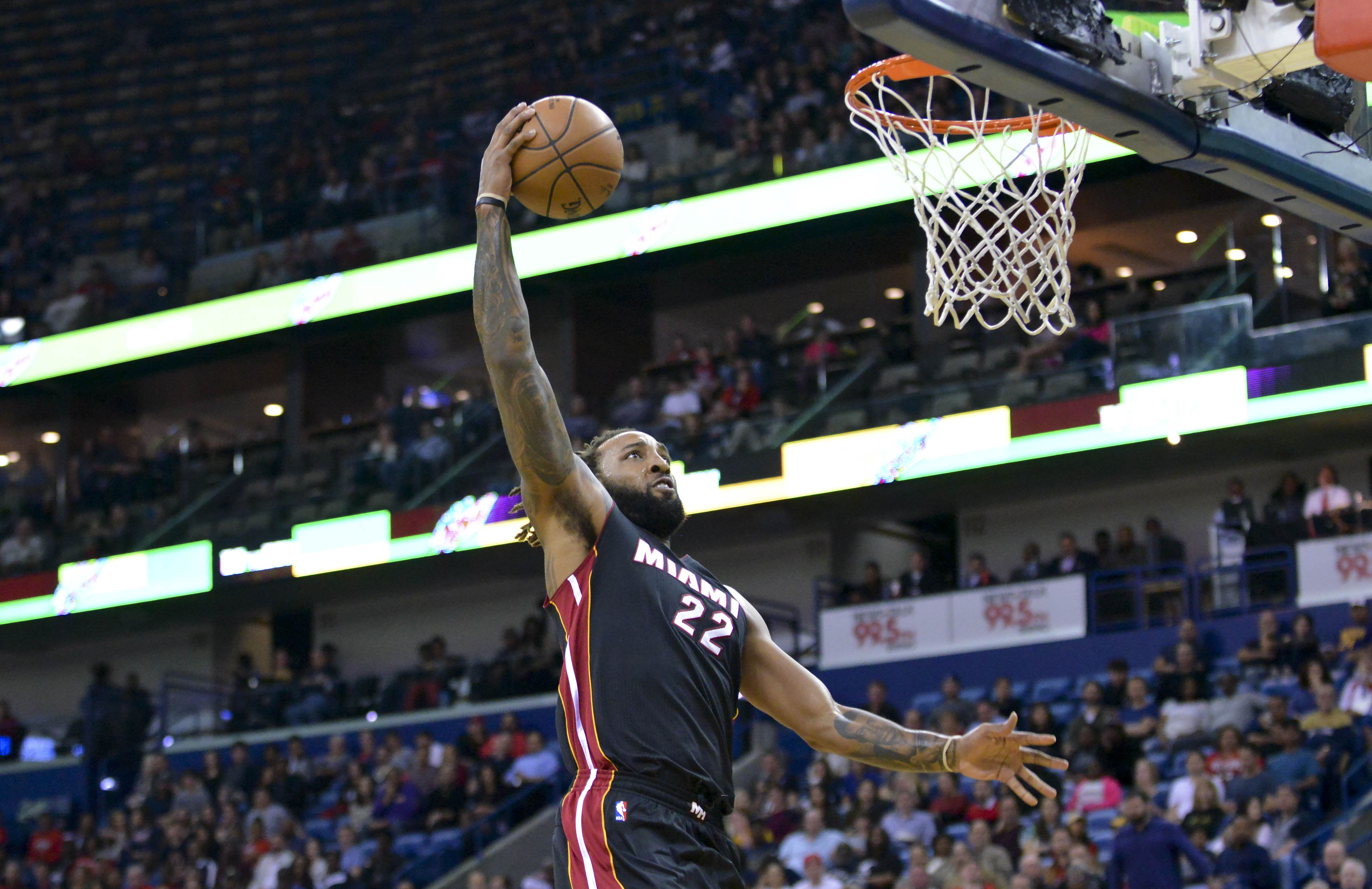 What Derrick Williams Can Bring To The Cleveland Cavaliers
Derrick Williams' ability to post-up, face-up and be a pick-and-pop option in the midrange area makes him the type of player that the Cleveland Cavaliers can give the ball to in the second unit and let go to work inside the three-point line.
That's a place where he'd have a lot of space to work, with Channing Frye, Richard Jefferson and Kyle Korver all spotting-up from behind the arc. What's even more important than his ability to score is the fact that he won't head hunt for shots or take many risky ones. He won't bring the train off the tracks when he's in.
In addition, because of his athleticism and intelligence he's great at blowing past his opponents on the perimeter. He'll easily take advantage of the space and shooters of the Cavs if he attacks the rim incessantly.
Williams is also a great option for backdoor cuts and lobs in the halfcourt or transition. He loves dunking it's one of the biggest things that stands out about Williams fit on this team in particular because when LeBron James is off the floor, the Cavs aren't just missing a versatile scorer, they're also missing one of their above-the-rim players.
Sure, Jefferson still can rise up and dunk at 36-years-old but he's not going to go up for a dunk nearly as much as Williams. Tristan Thompson is the teams only other player who can score above-the-rim and he's also a starter. When they Cleveland Cavaliers attack in transition with the second unit, they rely so much on the three-point shot that there is nobody left besides Kay Felder or DeAndre Liggins left to attack the rim. Both are players that are solid finishers but are also the shot-creators on the bench as well. They'd be better served getting the ball to a player like Williams.
Williams isn't a floor general and as a combo forward he doesn't have to be. He's not Lamar Odom, Boris Diaw or Draymond Green although he does fairly well after he puts the ball on the floor. Nonetheless, Williams is an intelligent player who knows where his teammates are going to be and where they need the ball to score. As mentioned before, the Cavs will line their shooters up around the arc and as Williams drives there will be plenty of times when he'll get an easy assist just based the space on the floor. Other times, Williams can be the ball-handler in a pick-and-pop situation rather than just a scorer.
While Williams shoots 29.3 percent from behind the arc for his career in general, he makes 36.1 percent of threes from the corners for his career. He won't be a big threat to stretch the floor but if he camps out in the corners, he'll be just fine.
Defensively, Williams is a player that can play all over the frontcourt though Tyronn Lue should take the size of his matchup into consideration. He'll do well against most forwards. However, if he's left to guard a center, which he can, he'd be extremely useful against a player like Draymond Green of the Golden State Warriors when they go to their Death Lineup. Not only is he an offensive threat, he can switch all over the perimeter while still playing solid post defense against Green.
That would make him the third most useful frontcourt player against the Warriors outside of James and Thompson, if Kevin Love finds himself unable to keep up with Green that is.
In general, having Williams playing between Jefferson and Frye gives the frontcourt an athletic counterpart that can affect the game as a weakside help defender. The duos of Jefferson and Williams and Williams and Frye may also be interchangeable depending on the matchup. According to 82games.com, Williams always thrives offensively at center and has done better defensively as league's trend towards smaller lineups. He's consistently better than the opposing small forward and he guards the small forward position the best. Power forward is Williams' weakest position offensively, though he guards them decently.
What that means for the Cavs is that Williams, at 6-foot-8 and 240 pounds may be the primary backup for James even if the depth chart shows Jefferson at that position. Neither will play either forward position exclusively but in terms of what is seen on the court, Jefferson may check the opposing power forwards more than Williams.
Should The Cleveland Cavaliers Sign Derrick Williams?
The Cleveland Cavaliers are one of the few elite teams without a bench that can sustain a lead. This isn't because the bench unit lacks players that can score, as Korver and Frye combine for 18.5 points per game. It's because the bench unit lacks both offensive and defensive efficiency.
With only Jefferson used to creating his own offense, the bench unit is ineffective without a player like James there to dish out assists to teammates. Because of the athletic limitations of Korver, Frye and Jefferson, the bench unit suffers as well.
Opponents don't meet much resistance on the perimeter and are allowed to penetrate the lane at will. In the post, outside from the occasional big game by Frye, there isn't a lick of rim-protection. Frye often fails to jump out or jump up to protect the rim consistently and when other teams go small and leave Frye on a frontcourt player capable of shooting, the team is in trouble. Frye doesn't outrebound the smaller players and he doesn't have the athletic ability to guard out on the perimeter then get back and protect the rim.
So, while adding a veteran point guard helps in terms of finding a player who can generate offense for himself and his teammates is useful, it's not the only way the Cavs can improve their bench unit.
After working out three point guards last week, it seems as if the Cavs best bet will be to workout Jarrett Jack next or wait until March 1st. March 1st is the last day players can be waived and eligible to play for a playoff contender. On that date, the Cavs are sure to scour the buyout market as a point guard like Jose Calderon may become available.
In terms of big men that can help, there are a viable veterans left on the market like J.J. Hickson and Carl Landry that have offensive, defensive and positional versatility. The Cavs have an in-house option they like in Eric Moreland of the Canton Charge, the Cleveland Cavaliers exclusive NBA D-League affiliate. Moreland is a player who has the potential to be an impact player in the league when signed.
However, Williams may have the best combination of age, athleticism, experience and ability out of the players the Cavs can sign for frontcourt depth. Depth that the team needs as the health of Love's back has been questionable this season and Chris Andersen is out for the season with a torn ACL. Frye has missed games this year for personal reasons, and it's unlikely that he'll miss any more. However, he, Love and Tristan Thompson are the only players in the frontcourt. James' ability to play power forward aside, that's not a lot of depth.
James also needs to rest and without a player who can do the things he can do athletically or as a playmaker, there isn't much chance of James substantially reducing his minutes before the playoffs.
In my opinion, Williams would be a sensible signing for the Cleveland Cavaliers this season. A player like Moreland should be a candidate to be a future Cav but for this season, experienced players will be the best route for the team.
Should the Cleveland Cavaliers sign Derrick Williams? Let us know your thoughts in the comments section or Twitter @KJG_NBA.
More from King James Gospel
This article originally appeared on