Should Malcolm Delaney Be Considered For ROY?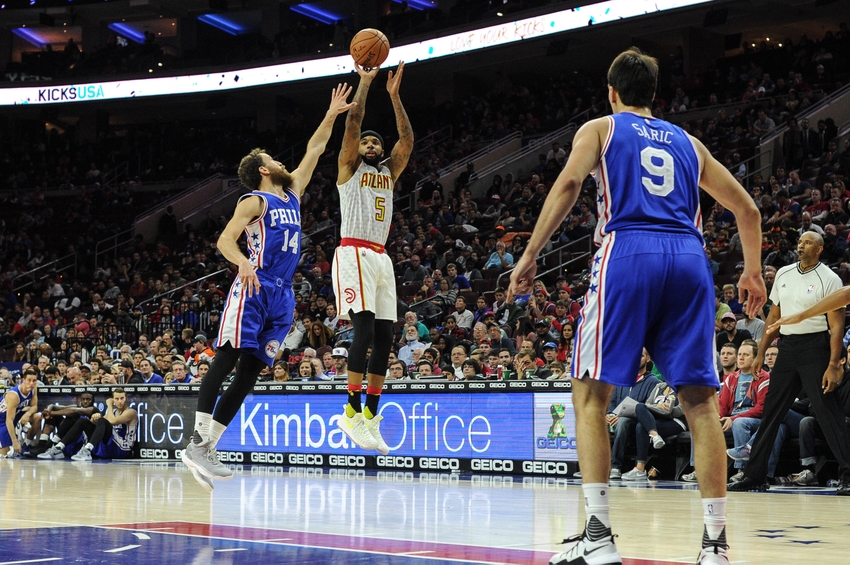 Malcolm Delaney can't win Rookie of the Year.
Right?
He's a 27-year old score-first point guard, who went undrafted in 2011. No ROY winner in the modern history of the award (1980) has been drafted after the 18th pick. Delaney went undrafted, then "sat out" of NBA ball for nearly five years. Delaney isn't your average rookie. But, there's no reason to believe that his unorthodox path to the Atlanta Hawks hasn't given him an even bigger opportunity to end the 2016-17 season with the Rookie of the Year award.
Why can't Malcolm Delaney win Rookie of the Year?
Hype
Or in Delaney's case, the lack of hype. With draft coverage at an all-time high, a player whose draft eligibility is six years removed is at an immediate disadvantage. A majority of casual NBA fans just aren't talking about Delaney the way they talk about Joel Embiid, Brandon Ingram, or even an injured Ben Simmons. This hurts his ROY stock immensely, as a combination of skill, which Delaney has showcased throughout the beginning of his NBA career, and hype, which he currently lacks, leads to votes.
Reserve Role
Since the award has existed, no ROY-winning player has started in less than 49 games (Vince Carter in a lockout-shortened 1999-00 season). Barring a long-term injury, there is no way Delaney starts that many games. This hurts his cause once again, but there is one parallel: Ben Gordon. Out of UConn, he won Sixth Man of the Year in 2005, which was his rookie season. As a shoot-first combo guard, he and Delaney's games are somewhat similar.
Why can Malcolm Delaney win Rookie of the Year?
"Veteran in a rookie's body"
Even though he's a rookie, Malcolm Delaney (5 yrs in Europe) has been referred to as a veteran by both Budenholzer and Sefolosha.

— KL Chouinard (@KLChouinard) September 26, 2016
Delaney may be a rookie in the NBA, but his pro basketball career has been going on for over half a decade. After starring all four years at Virginia Tech, he made stops all over Europe. He was named MVP in both the Ukranian and German Leagues, before being named to the All- Euroleague First Team after the 2016 season. There are no rookies in this class that can boast such an impressive resume. This gives Delaney an extra sense of stability and confidence in his abilities.
"Linsanity Effect"
The NBA, at its' finest, is entertainment. And a little-known player who comes in and takes the league by storm is entertaining. If Jeremy Lin's big 2011-12 season proved anything, it was that even the most casual fan can fall in love with a talented underdog. Delaney's talent is evident. All that it takes for him popularity to skyrocket is a few memorable games and we may be seeing MalcolmMadness begin.
Why Malcolm Delaney will win Rookie of the Year
Team Success
The objective of the NBA Draft is for bad teams to get good players. In a sense, the Hawks beat the system three times over this offseason. Taurean Prince, Deandre' Bembry and Delaney are all seasoned basketball players whose impact will be heard. In Delaney's case, he has solidified the Hawks' backup point guard spot. As the team (hopefully) wins upwards of fifty games, and he showcases the abilities that made him one of Europe's best guards over the past five years, his case for the award will only grow bigger.
With all the talent in this rookie class, can Malcolm Delaney take a step above the rest and take home the 2017 Rookie of the Year Award?
More from Soaring Down South
This article originally appeared on