Shooting Still a Problem for an Improved Boston Celtics Offense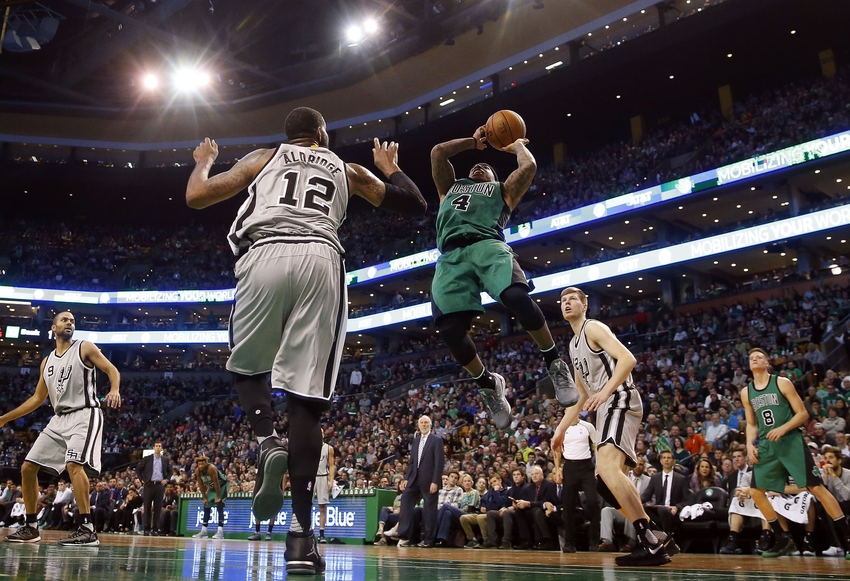 Despite improvement across the board, shooting continues to be Boston's biggest weakness
There is no doubting that the Boston Celtics are a much improved shooting team this season. They were bottom dwellers a season ago, and have seen multiple players step their game up in a big way. That being said, shooting continues to be the biggest problem for them on offense, and will be one of the biggest factors holding them back the rest of the way.
Offensively, the Celtics have been phenomenal in all other areas. They are playing with a strong pace, they are sharing the ball, they are limiting their turnovers and they are getting multiple players involved on that end. Across the board, the Celtics are finding a great balance between aggressiveness and decision making, and they have shown flashes of an offense that could be dominant.
Unfortunately, having a dominant offense will not be a reality for the Celtics until they fix their shooting problems. They can live with 36 percent from three, but 44.8 percent overall is below average, and that is unacceptable for a team that wants to be taken seriously as a contender. When looking at the top teams in the league, there is too much talent and too much dominance to expect to be able to win as a one dimensional team. The Celtics realize that defense is their strength, but they need to be winning on both ends of the court to have a chance at making and contending for the finals.
The Celtics have multiple players that have drastically improved on offense this season, but they still have four players taking at least five shots per game that are all shooting less than 45 percent. The two that stand out the most are Isaiah Thomas and Marcus Smart, because they are taking 18.6 and 10.4 shots per game. Kelly Olynyk is also there with 7.1 and Terry Rozier with 5.3 shots per game. In addition to them, Al Horford, Avery Bradley and Jae Crowder are the only players who also take more then 5.3 shots per game, meaning the majority of their volume shooters are hitting less than 45 percent of their attempts.
For Thomas, it is the one area he has struggled in since joining the Celtics. His balance of scoring and distribution with his ball protection is as good as it gets in the NBA, but he has always left more to be desired with his shooting percentage.
With Smart and Rozier, it is hard to be upset with where they are. While they are still holding the Celtics back from being a great shooting team, them have been significantly improved. Smart, however, has seen his great start fizzle off a bit. After being above 30 percent from three for the majority of the season, he had dipped just under. That, however, is still much better than his mark of 25.3 percent from last year.
Rozier is in a similar situation, but has excelled in fewer opportunities. With a three point shooting percentage above 40 percent, it is impossible to be upset about his offensive production. That being said, he does not take enough threes to be a game changer in that area, and 44.4 percent overall is not helping push the Celtics over the top.
Olynyk, on the other hand, still has not returned to his great form from a season ago. 34.2 percent from three is still helping the Celtics, but it has not reached his average from a season ago and the Celtics need him to be a key contributor if they have any chance to become one of the better three point shooting teams in the league.
Right now, the Celtics would like to see more efficient shooting form both Olynyk and Thomas. They both have room to improve and if they are going to be much more than an average shooting team it has to come from Thomas and Olynyk.
It is unrealistic to expect Smart or Rozier to improve a lot more given where they were a season ago. And Horford, Crowder and Bradley have all been great shooters this season, but the Celtics lack the consistency across their lineup.
More from Hardwood Houdini
The problem is still not the open looks. The Celtics have great ball movement with a phenomenal assists to turnover ratio of 2.01. Thomas, Smart and Rozier have all done a solid job of keeping the offese in rhythm, and that is a great reason why they have been much improved from a season ago. Going from one of the worst three point shooting teams to the 10th best in the league is a great sign, but their overall percentage of 44.8 ranks 15th in the league.
The Celtics are discovering a lot of the balance that they lacked last season, but they still have not reached their potential on either end. If the Celtics can start to do a better job of finishing their opportunities, then they can start to put together the kind of performances that are needed to take down the best teams in the league when it matters most.
The Celtics are incredibly young and it would be unrealistic to expect them to be a top shooting team after they were last year. Where they are right now is encouraging, but it continues to be the biggest weakness on this team. Now that the Celtics have solidified their interior with Horford, the one area of concern left is shooting.
This article originally appeared on