Shooting is the key to ending Orlando Magic's offensive woes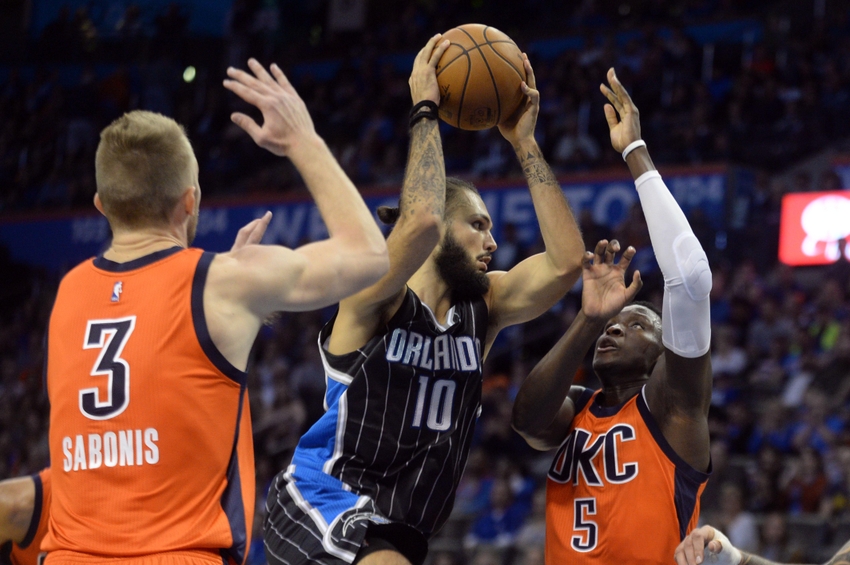 The Orlando Magic offense has not gotten off to a strong start. It is one of the worst in the league. There are signs though the shooting will turn around.
The Orlando Magic are not a good offensive team. Not right now at least.
The team has the 28th best offense by offensive rating, scoring 96.4 points per 100 possessions. They score the fewest points per game and have the worst field goal percentage in the league.
Their 88-69 loss to the Indiana Pacers on Monday was just the 14th time in franchise history they gave up fewer than 90 points and lost by more than 15 points. They followed that up with an 89-point game against an Anthony Davis-less New Orleans Pelicans. These are not games anyone expected the Magic to struggle offensively, as both teams had bottom-five defenses by defensive rating entering the game.
There is only one conclusion. The Magic are struggling mightily on the offensive end. The stats do not lie here. Neither does the tape.
So while the defense has been getting better and has begun climbing the rankings among the league and rounding into form, the offense still seems stuck in neutral and holding the team back.
"You have to score the ball," coach Frank Vogel said. "Our vision of this team is not to be first in defense and 30th in offense. It's a two-way game, we have got to score the basketball, and we have got to execute on the offensive end. When you are making shots, your defense is stronger. We're working to get better on the offensive end."
Vogel said part of the problem has been execution and part of the problem has simply not been making shots. He said Wednesday's game saw the team execute well without the payoff of making shots. Vogel said the team's execution Wednesday in scoring 89 points was the same as in Sunday's win over the Oklahoma City Thunder.
The Magic did get 43 shot attempts categorized as open or wide open by NBA.com in Wednesday's game (making just 14 of those attempts). Sunday against the Thunder, the Magic got 40 such attempts and made 20. They made 10 of 20 3-pointers against the Thunder categorized as open or wide open as opposed to 7 of 24 3-pointers against the Pelicans.
The Magic average 40.0 shot attempts per game categorized as open or wide open including 21.3 3-point attempts of this type.
Vogel does have something there. The Magic were generating the same kind of open looks they created in their offensive breakthrough at Oklahoma City. And both were in line with their season averages for these looks. In one instance they made them, in the other they missed them.
Orlando's offense still has moments of stagnation and a heavy reliance on isolations. But the Magic's offense was generating at least an average amount of open shots against the Pelicans and just could not hit them.
Sometimes the game is simple.
"We're doing really good things," Vogel said. "Last night's game was a game full of good execution without the payoff. We either did an extra pass late in the possession, we missed shots at the rim or got our shot blocked at the rim, or we missed open threes. That's sometimes going to happen.
"I'm concerned with our guys making the right play no matter what your name is, no matter what your role is on the team. If that's happening, we're going to make a whole lot of basketball plays."
Throughout the season though the defense has seen a drop off when the offense struggles. Most recently against the Pacers, the Magic let a close game slip away thanks to turnovers and a brief lapse on the offensive glass and defense.
Jeff Green still settling into new starting role
Vogel has often criticized his team for not trusting the pass and succumbing to isolation plays. The team seems aware when this happens too postgame.
Orlando's margin for error on the offensive end is very small. But the offense remains an important feeder into the defense.
The point of the game is to make baskets after all, so the Magic have to find a way to make that work to bolster their defense and give it the support it needs to win games, now that it appears to be rounding into progressive form.
"It's going to be hard," D.J. Augustin said. "We can play great defense, but if we can't score, I don't think we can win in this league. I think we have all the talent we need to score and score in the 100s every night. It's just a matter of putting it all together, being unselfish out there together. Our defense is coming and our offense is coming."
The defense at this point is well ahead of the offense. No one is expecting the Magic to become world beaters on offense. Their shooting percentage though should regress to the mean at some point. Nikola Vucevic is not likely to shoot 42.8 percent from the floor. He is a 50.8 percent career shooter after all.
Eventually all things regress to their mean. At some point they have to.
Either that or the Magic have to put players like Nikola Vucevic, Evan Fournier and Serge Ibaka in positions to succeed. In some of the same ways they have done with Aaron Gordon to free him up.
The Magic have slowly  begun to round into some form defensively this season. They are still seeking their form offensively.
"I think the main thing is being patient," Evan Fournier said. "When you have new guys, it's natural everyone is trying to be aggressive and look to score. We have so many new plays and new guys, it's going to take time to be confident in our offense. When everyone is struggling and the spacing is bad and the defense is getting to us, the first thing as a player you do is say, 'OK, I'm going to attack the basket, try to score and try to get fouled.' When it should actually be let's make the right play, find the open guy and have better spacing and trust in what we do."
The team recognizes this problem, it would seem. Solving it will be another task entirely.
And solving it may be as simple as making shots and doing those seemingly simple things offensively to succeed.
The Magic are not going to transform into offensive juggernauts overnight. But they can certainly make some of these good shots they are getting and continue to work to improve to support their defense.
"You can still be a great defensive team with a bad offense," Vogel said. "I don't want to have teams like that. When the ball is going into the basket, your defense is stronger. It's not that we can't do it, but it's going to help things."
Once the shots start falling — and signs indicate that they certainly will — the Magic offense should be more than good enough to support this burgeoning defense.
More from Orlando Magic Daily
This article originally appeared on