Sheriff Williams Paces Suns to Win Over Indiana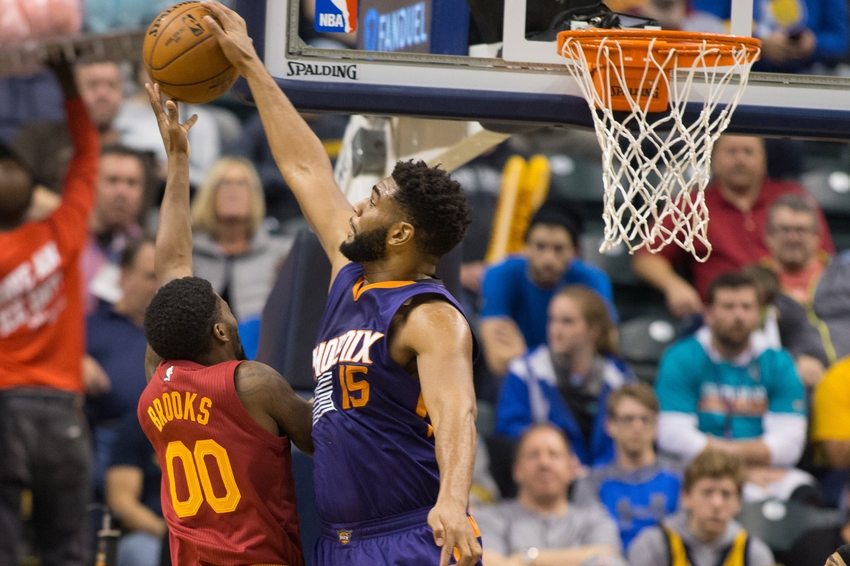 Looking for a spark, the Suns turned to an unlikely hero: Alan Williams.
Playing the most minutes, and certainly and the most important minutes, of the season for him, Williams followed through with a 15 point and 15 rebound double-double and a +20, the second highest on the team behind Jared Dudley's +25.
Dudley, who finished second on the team in scoring with 16, played 32 minutes, his high energy and two big three-pointers helped to set the pace that they carried into their big second half.
Alex Len recorded his first double-double on the season as he started again with no Tyson Chandler. His 10 points on 5-7 shooting, 10 rebounds, 3 blocks, and 1 steal was easily his most complete game of the year. Len also recorded a technical foul for arguing a foul call.
Eric Bledsoe was also tee'd up for arguing a foul, but was otherwise unheard from. Bledsoe is not the same point guard he was before his injury last season. Tonight in only 13 minutes, he finished with 6 points, 3 rebounds and 2 assists.
T.J. Warren also disappeared again. Tonight he only played 9 minutes, scoring two points.
The Suns bench was overall magnificent carrying the starters with 78 bench points.
Indiana was paced with 22 points by Myles Turner and 21 by Jeff Teague. No other player scored in double figures. Myles grabbed 6 rebounds, the high for Indiana, and Teague dished out 7 assists, a game high.
Up next is Philadelphia tomorrow night, November 19.
VS.
| | | | | | |
| --- | --- | --- | --- | --- | --- |
| | 1 | 2 | 3 | 4 | T |
| Pacers | 18 | 31 | 33 | 14 | 96 |
| Suns | 27 | 30 | 32 | 27 | 116 |
Thoughts from the Valley of the Suns
Adam Maynes
The Suns starters are becoming maddening inconsistent. Tonight the bench carried them, but as no one of note comes out of the reserves for the Suns, tonight was an aberration at best.
Eric Bledsoe, T.J. Warren, Devin Booker – these are players that should be counted on to score 18+ and add at least 3-5 in any secondary category every night, and yet they do not seem to be able to string together two games together at any given time, and almost certainly all together.
I hate to come off negative after a big – and truly exciting – win tonight, but I cannot help but feel like if Bled, Warren, or Booker were any larger of a factor than the Suns would have won by 30+, giving hope that there was a corner to be turned, and it was close.
Whats worse – for me, at least – is that Paul George didn't play tonight. Had he been I the lineup, would the outcome have been different?
Follow Valley of the Suns on Twitter at @ValleyOfTheSuns and on Facebook at Facebook.com/PhoenixSunsBlog
The Phoenix Suns are now 48-36 vs the Indiana Pacers, all-time. How many times have the Suns WON while scoring LESS than 100 points?
4 Times!
November 12, 1981 – 95-93
January 26, 1995 – 92-86
January 6, 1998 – 81-80
January 11, 2001 – 93-85
More from Valley of the Suns
This article originally appeared on