Sergio Rodriguez Can be a Long-Term Piece if the Sixers Want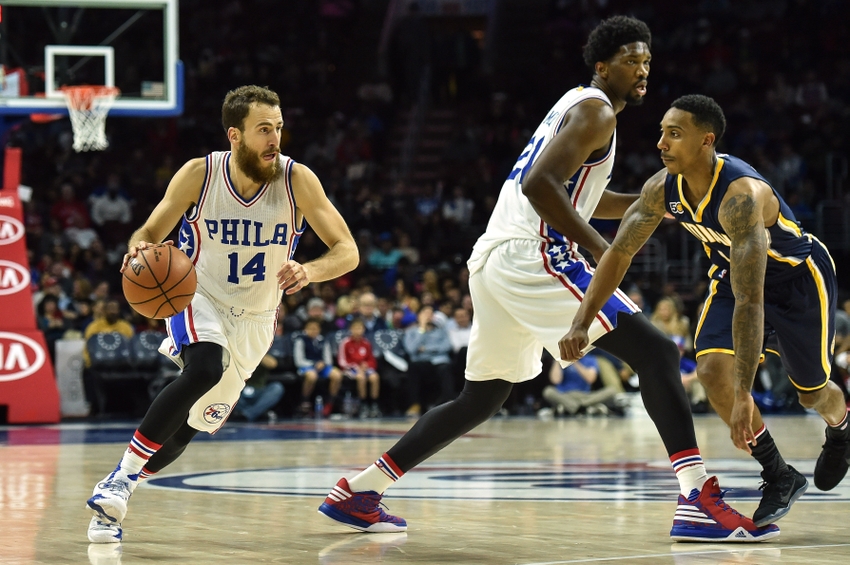 The Philadelphia 76ers could use point guard Sergio Rodriguez for more than just this season if they decide they want to.
The Philadelphia 76ers signed Sergio Rodriguez to an $8 million, 1 year contract this offseason in the hopes that he would prove to be a solid stop-gap player for them as they built the rest of their roster. He's proving to them so far this season that he can be so much more than that.
Coming into this season, a one year deal with Sergio was a smart thing to do. Giving him the money they did was practically no risk since the Sixers were far under the salary cap, and if he turned out to be a good player, they would look very wise for having signed him after seven seasons off from the NBA.
There was a bit of a mystery with how well Sergio would play with that much time off. Rodriguez wasn't completely removed from basketball during that time, since he was playing for the Real Madrid team in his home country of Spain. He was playing decently over there, but there's always a bit of question as to how well international skill will translate over to the NBA.
More from The Sixer Sense
In just the first few games of the Sixers season, we saw that Sergio was a good player, and had learned a lot over in Spain. His first stint in the NBA wasn't necessarily a failure, but he never quite lived up to be the player that people hoped he would be.
With the Sixers, though, he was doing well. He was running the point guard spot like a true leader, and setting his teammates up with looks that were actually sinkable. Although assist numbers have been skewed over the last few seasons with the Sixers since they have had poor shooting ability, Sergio has known exactly where the ball needs to be, and known who has been set up well to hit their shots. The team looked more cohesive when he was on the floor, and he looked like a real NBA point guard, something the Sixers haven't exactly had over the past few seasons.
So far this season, Rodriguez is averaging 9.2 points, 3.7 rebounds, and 7.1 assists per game. He's shooting 38 percent from the floor.
Things by the numbers are better with Sergio on the floor as well. Rebounds, steals, and blocks are all higher with Rodriguez on the floor, and turnovers are down while he plays. Although the team overall has a worse offensive rating when he plays, so do opponents. The difference between them results in an overall positive offensive net rating when Sergio is on the floor.
Overall, despite what his 3-point percentage says about him (he's shooting just above 37 percent from beyond the arc) he doesn't look to shabby from the 3-point zone, and it seems like when the team really needs him to hit a 3-pointer, he can be a player that can do so with confidence. That's not to mention that he's looked strangely good from deep, so good, in fact, that he's hitting deep shots that it only seems like players like Stephen Curry should be able to hit.
On top of all of the practical gameplay reasons to attempt to sign him for longer than just this season, Rodriguez also seems to genuinely appreciate the opportunity with the Sixers, and his fairly lucrative deal from the Sixers this year indicates that he might have had other options around the league. With that in mind, it seems like Sergio is here because he wants to be, not because it was his only NBA opportunity.
Rodriguez also seems to genuinely like the city of Philadelphia, which is an added bonus.
Looking towards the offseason, although the Sixers will certainly have to pay Rodriguez more than the $8 million they're paying him this year, it's not unreasonable to expect that they can get a decent deal for him. No, Rodriguez probably shouldn't be relied on as a starter for years to come, but he's a solid player who could come off of the bench and really give the Sixers' second unit a spark.
There is a lot of talk in the Sixers world about building a solid five that will work long-term. Don't get my point twisted — building a solid starting five is probably the most important thing moving forward. But just because that's most important doesn't mean that nothing else should be focused on, and doesn't mean that a bench isn't important. The Sixers are going to realize that, and should be building a plan for the offseason that addresses both a starting five and a point guard role.
As they look to build their team with as many good players as possible, Sergio will absolutely be considered.
This article originally appeared on