Serge Ibaka-Victor Oladipo, a win-win trade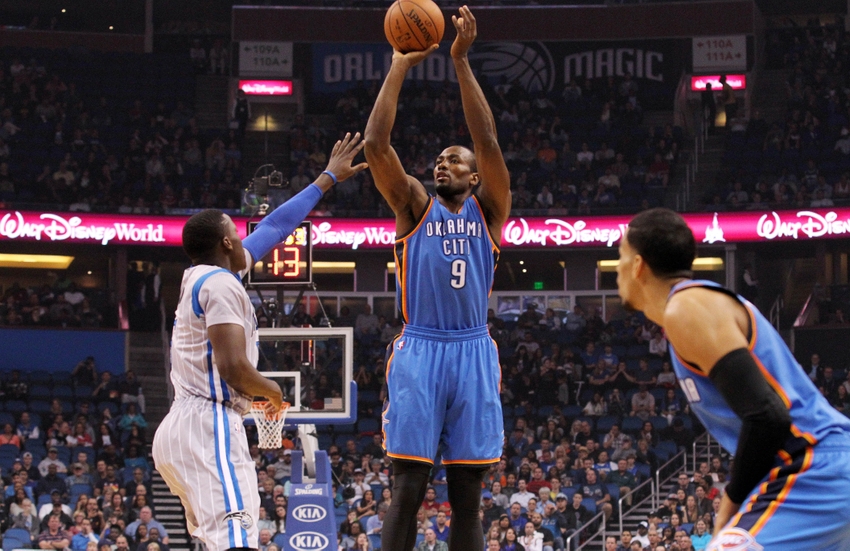 The Orlando Magic and Oklahoma City Thunder completed one of the biggest trades of the summer on Draft night. It might be a true win-win for both teams.
On June 23, the Orlando Magic set the tone for their summer in one fell swoop.
Conversations that had begun earlier in the day intensified quickly. The Oklahoma City Thunder were shopping Serge Ibaka and the Magic were looking for a splash.
As Rob Hennigan said later that evening on draft night, the deal came together as the draft unfolded and was not even completed until after the Magic selected Domantas Sabonis — although it leaked shortly before the Magic's pick became official.
What was done was done. Orlando sent out Victor Oladipo, Ersan Ilyasova and the draft rights to Domantas Sabonis for Serge Ibaka. It was a deal that hurt because Oladipo was a fan favorite and the franchise's most recognizable player. But also one that brought on a player with an elite skill, filled a definite need and helped the Magic form a firmer identity.
Orlando went after defense and rim protection through much of the team's free agency. The Magic grabbed Bismack Biyombo to further bolster that front court.
The deal though that will get the most attention throughout the season will remain that big one to start things off on Draft Night.
It was an odd trade in that Oladipo is a player seemingly continuing to get better and Ibaka is a player seemingly heading on the way down.
What is coming out of this deal is the opinion that both players needed a new situation and a new opportunity and, in reality, the trade will benefit both in their careers.
That was part of the conclusion I came to in a discussion about the big offseason move with Fred Katz of Locked On Thunder on the latest episode of Locked On Magic:
It seems clear both Oladipo and Ibaka could benefit from new situations. And that the Magic got the best player in the deal — Sports Illustrated seemed to think so, naming Ibaka the 42nd best player in the NBA.
That is down from 25 and there is reason for that. Ibaka's scoring, shooting, rebounding and block numbers have all decreased in the last few years. His defensive win shares and defensive box plus-minus have also declined, although they are still very good. This all seemed to suggest he was on the decline.
There were reasons though. Ibaka's role increasingly became one of a spot-up shooter. His 3-point field goal attempts per game jumped from 0.7 per game in 2014 to 3.2 per game in 2015 and 2.4 per game last year. All while keeping his field goal attempts per game around 12. Oklahoma City pushed him further and further away from the basket.
So too did the changes in the NBA. Playing him at the 4 and relying more heavily on Steven Adams at center and in the paint. That is what made him expendable to Oklahoma City.
Katz said in the podcast some of Ibaka's problems were quite simply how he became ignored in the offense. He has never used more than 20 percent of possessions and his 17.6 percent usage rate last year was his lowest since 2012.
It was the kind of situation that Ibaka might have well been desperate to escape. And so the Magic seem to be giving him an opportunity to do more.
The Magic are going to score by committee. Who gets the ball most may very well change from game to game.
But the Magic also have a lot more flexibility to use Ibaka in multiple ways. With Nikola Vucevic able to pop out and hit jumpers, Ibaka should be able to return to the post more often.
Ibaka actually averaged only 0.4 post-ups per game last year, fewer than Kevin Durant and Russell Westbrook. He scored 1.00 points per possession on post-ups, according to NBA.com.
Ibaka could use a larger role. And certainly the Magic seem willing to give him that. Especially if it will bolster his defense.
There is a logjam in the post with the Magic, but they clearly see Ibaka as a core piece to feature on both ends of the floor.
More from Orlando Magic Daily
It is a risk for the Magic. But not a costly one if Victor Oladipo cannot take the step up to stardom. He was not doing that in Orlando. Last year, facing the questions of whether he can become a number one option, his scoring dropped from 17.9 to 16.0 points per game. His shooting slightly improved, but it was not significant.
It may have confused some that Oladipo moved to the bench in late November. But it made sense for the Magic to field an effective lineup at the time and it worked for both parties.
Oladipo, in other words, struggled to advance his career. The Magic were asking many of the same questions of Oladipo that they were a year ago. With his contract year upcoming, that made him a little more expendable. Especially as Orlando needed to fill a need for a veteran presence in the starting lineup and a rim-protecting big.
That does not mean Oladipo will not find success in Oklahoma City.
On the contrary, playing alongside Russell Westbrook could help unleash his game more. Oladipo's perceived problems may not have been on him as much as it was the team that surrounded him.
Oladipo, quite simply, may not be a primary scorer on a winning team. He may work better as a secondary player. And so pairing him with another strong driver like Russell Westbrook could give him more space to be a better shooter and more room to attack as defenses shift back from Westbrook's attacks.
Like Ibaka taking on a larger role, Oladipo could find himself a bigger contributor and more effective getting more help and taking a lesser role.
If that is the case, then the Magic and Thunder may have swung that rare win-win deal. At least if both teams make good on the roles they are looking to fill.
Be sure to follow Fred Katz on Twitter @FredKatz for the latest on the Oklahoma City Thunder. Also be sure to follow Locked On Thunder on iTunes and AudioBoom. You can subscribe to Locked On Magic on iTunes, AudioBoom and Stitcher.
This article originally appeared on