SCS Film Room: Houston Rockets lose to Champs – 3 video lessons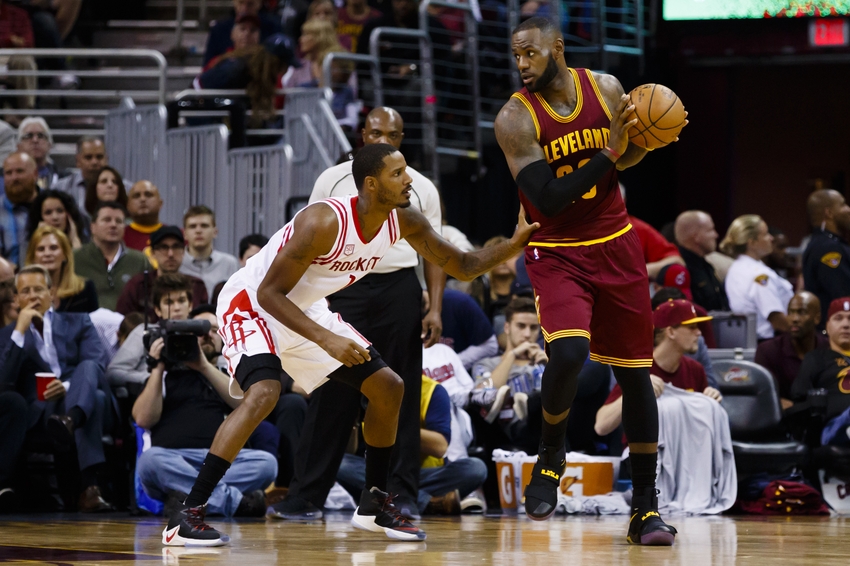 SCS Film Room examines the Houston Rockets loss to the Cavaliers dissecting the video for lessons learned in the loss.
Arguably the Houston Rockets played their best game of the season, but ultimately fell short after a massive fourth quarter by the champs.
On tap a grueling 5 game road trip for the Houston Rockets which began November 1st in Cleveland with a tough loss to the Cavaliers.
Here's how the game broke down by individual quarters:
VS.
| | | | | | |
| --- | --- | --- | --- | --- | --- |
| | 1 | 2 | 3 | 4 | T |
| Cavaliers | 29 | 34 | 22 | 43 | 128 |
| Rockets | 32 | 27 | 25 | 36 | 120 |
In fact the loss in the Q is of the kind that makes you optimistic for the remainder of the season.
For starters the Rockets had only 7 turnovers whereas the Cavaliers had 11. The team also managed to contain LeBron James to just 19 points. Finally H-town's bench scored 32 points merely 2 points less than Cavs' bench (34).
Indeed what played a huge part in Houston Rockets defeat was the Cavaliers long ball. The reigning champs were 16-for-32 from beyond the arc for a smashing 50%. J.R. Smith went 5-for-11 and Kyrie Irving 4-for-6 from three point range sealing the deal for Cleveland.
Kyrie Irving in particular had another off the charts performance finishing with 32 points despite  strong defense by Eric Gordon.
As for Houston, James Harden continued his MVP journey with 41 points, 15 assists, 7 rebounds and just 1 turnover.
Conversely Ryan Anderson remains a no-show. Although Ryno registered 12 points his presence on both ends of the court is barely felt. The team still lacks a strong power forward to protect the paint, skirmish and tussle against offensive powerhouses like Kevin Love for example.
Eric Gordon keeps being the second-best offensive weapon Houston has in its arsenal. And he might even feel robbed of some great defensive plays tonight as we'll show ahead.
SCS Film Room offers 3 lessons learned accompanied with video straight ahead!
Eric Gordon on the Rise
For anyone covering the Houston Rockets' free agent moves the defensive apocalypse was predicted when Eric Gordon got signed.
However 4 games in and we're yet to see that so called deficiency on defense. Tonight as well as in the 3 games prior Gordon keeps impressing with some solid defense.
Sure he ended up with a +/- of -16, but to make my point ake a look at the following clip: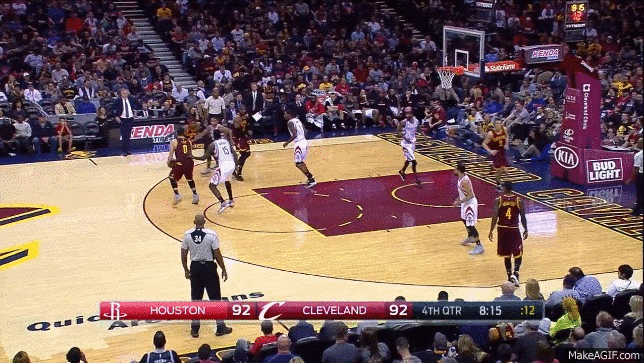 Can anyone blame him for the high pressure defense on Irving? That's not bad defense, that's just amazing offense.
But if you're not convinced, take a look at the next play:
Gordon reaches in for ALL BALL… and gets called for the foul!
Now the odds of anyone defeating an already strong Cavs team whenever steals like that are called for foul greatly decreases.
The former Pelicans shooting guard ended up with 5 fouls of which at least 2 of them were absolutely clean including the one you see above.
Offensively Gordon had a superb 12 point fourth quarter, finishing with 16 points, 2 steals and 3 assists. Furthermore the shooting guard remains Houston's biggest threat from long range and knocked down 4-of-9 shots against Cleveland.
Nene's Overall Skills
In my last SCS Film Room I raised some question marks regarding Nene's fitness and overall performance. Since then however, Nene's been a revelation.
As an illustration against the Cavaliers the Brazilian powerhouse surprised us all with a three-point shot! Only the 5th of his career.
Nevertheless, what particularly stood-out from the big guy was his passing skills. Take a look below at two spectacular assists by Nene against Cavs: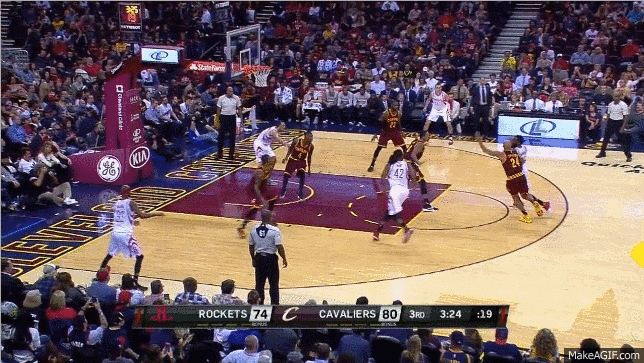 The Brazilian ended up with 4 assists to go with his 13 points and 5 rebounds. Indeed the center's ability passing the rock could very well become a strong addition for Houston Rockets arsenal going forward.
James Harden's Road to the MVP Award
There's only so much you can talk about the Rockets without inevitably circling back to James Harden.
Not only is the Arizona St. product dominating games and filling stat sheets, rather he seems to be on a mission. A mission to erase last year's failures, rumors, Shaqtin- a-fool award, and doubts that constantly plagued his 2015-16 season.
Harden got SMASHED last season. His relationships on and off the court got scrutinized and his position as a franchise-player was called in to question.
That did not sit right with Harden and apparently he's now on a path to single-handedly (if need be) force his Rockets team to gain success.
To that end, Rockets highlights were all Harden  as the shooting guard turned point guard takes part in even more plays.
For instance let's check out his impact distributing the basketball. Harden draws so much attention and double-teams from opponents that he can easily find an open man. Watch below as he effortlessly assists Capela and Nene for the dunk shot: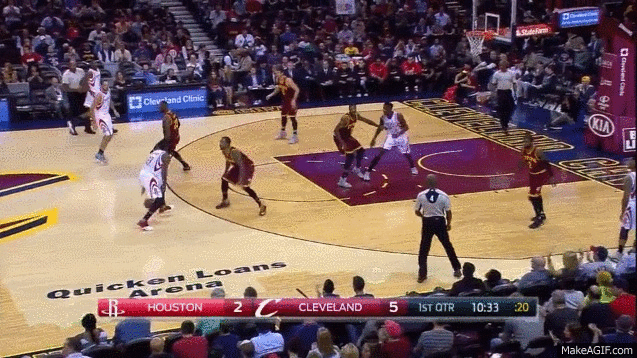 Yet that's only the tip of the iceberg. With opponents worried about  the threat of an assist it ends up clearing the lane for a lot of easy drives by Harden.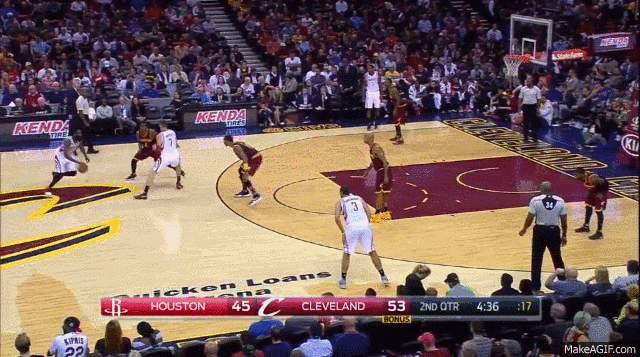 Harden's offensive potential looks limitless with Mike D'Antoni. Can he take the Houston Rockets to greener pastures? Clearly Harden can move mountains, but he still needs help.
Up next the Houston Rockets will face the New York Knicks tonight in the second game of their first back to back series. Here's the team profiles for your perusal.
Want your voice heard? Join the Space City Scoop team!
Enjoy the season Red Nation and be sure to stay connected with Space City Scoop as our amazing team of writers keep you abreast of all things Houston Rockets.
More from Space City Scoop
This article originally appeared on