SCS Film Room: Houston Rockets line-up change results in success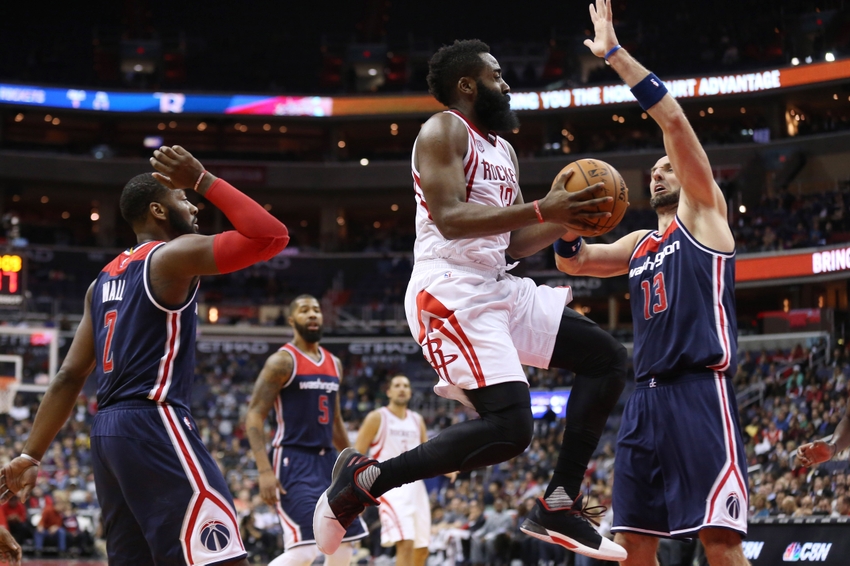 Despite early defensive issues the Houston Rockets persevered for a win in Washington. SCS Film Room breaks down the contest.
Granted, It wasn't easy but the Houston Rockets returned to their winning ways. After being mauled by Atlanta, the Texan team faced the struggling Wizards. And despite a slow start the Rockets were successful nullifying John Wall in the final frame and took home the win.
VS.
| | | | | | |
| --- | --- | --- | --- | --- | --- |
| | 1 | 2 | 3 | 4 | T |
| Wizards | 30 | 17 | 36 | 23 | 106 |
| Rockets | 23 | 33 | 28 | 30 | 114 |
Truth be told Houston started the game exhibiting the same issues the team had against the Hawks. Too many turnovers and no paint protection.
Specific areas the Wizards bested the Rockets in were rebounding (45 to 37 including 16 offensive rebounds to 6) as well as doubling the Rockets steals: 12 to 6.
However, due mostly to the efforts of Ryan Anderson who exhibited a hot hand from beyond the arc (5-for-8) Houston stayed in contention.
In the same fashion James Harden who started the game cold and not handling the ball well finished the game with 30 points and 15 assists.
It's also well worth noting Mike D'Antoni's decision of moving Eric Gordon to the bench in favor of a stronger second unit was the correct move. With Brewer starting and Gordon leading the bench we could clearly observe more balanced units.
From the Wizards' side Otto Porter Jr. had a remarkably strong game with 20 points, 8 boards and 3 steals. Wall and Beal played to their usual best, both finishing with over 20 points. It's interesting to point out nevertheless that Wall had only one basket in the final quarter of the game.
SCS Film Room offers three takeaways with videos from Houston Rockets clash against the Wizards.
Passive Covers
There's no way around it. Even though the Rockets won we must assert, yet again the team's defense was a huge letdown.
It's not even particularly D'Antoni and Jeff Bzdelik's system that is entirely flawed. It's the little things. For example sometimes it's simply the players lethargic stance, being Inattentive and apathetic.
For starters take a look below: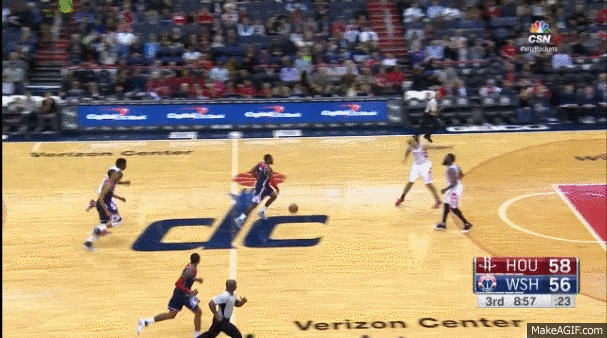 Considering this is the speedster John Wall this is a 'slow' fast break. Observe the Rockets as they transition quickly to defend. The problem is everybody stands still as Wall throws a dime to Porter for the uncovered, unmarked easy three. Particularly annoying in this play is the three players jogging behind both Porter and Wall while covering absolutely nobody.
Next up is  a rather ordinary pick and roll play by John Wall. As Wall rolls off Gortat's pick he has the option of three wide open Wizard players. He could follow the pick by Gortat with feeding him in the paint or chose to send a dime to either Markieff Morris or Porter who both line up beyond the arc. As the play progresses Gortat is open until Capela shifts to him,  but both Porter and Morris remain completely undefended. Most frustrating is how Harden and Ryan Anderson become spectators as they stand watching the play.
Despite those serious defensive issues at least the Rockets had something to celebrate as one player showcased some solid defense…
Clint Capela's Defensive Impact
In his last game against Atlanta, Clint Capela got exposed badly by Dwight Howard.  Capela atoned for that poor outing and is one player who can't possibly be faulted versus the Wizards.
Despite the Rockets' defensive struggles, last night the Swiss big man excelled. He protected the rim beautifully and registered 4 blocks. Likewise Capela drew offensive fouls, deflected shots and shooed players away from the paint.
I've selected a couple plays where Capela displays some excellent defense. In this trio of sequences Capela draws an offensive foul off John Wall, blocks Bradley Beal and covers John Wall's drive.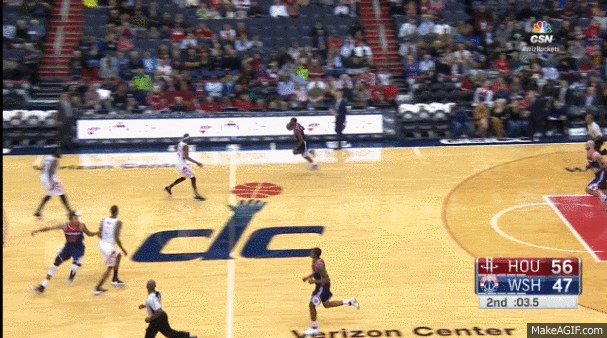 Ryan Anderson Opens His Tool Box
If you are a Red Nation supporter than there's a good chance you haven't been pleased with Ryan Anderson's performances so far. To date, Ryno's defensive struggles as well as his one-note offense has led to questions regarding  the amount of money spent on the stretch four.
But truth be told, Anderson is capable of great things. And last night's game against the Wizards showcased why the Rockets aggressively recruited him in free agency.
He still came up short on the defensive end, but this time Anderson was able to answer almost every opponents points with a trey of his own. Moreover, there was visible defensive effort where previously there had been none.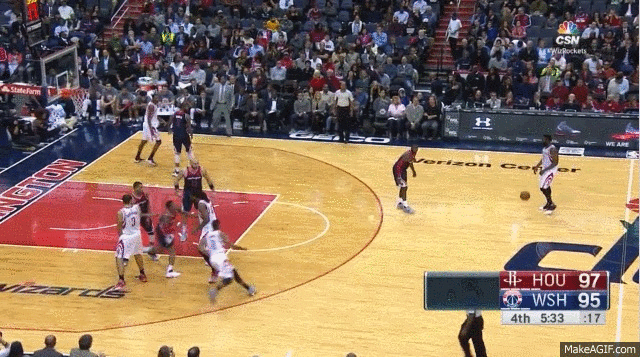 In the clips not how Anderson showcased his full arsenal of weaponry. Ryno scored on layups, tip-ins, put backs and finished the game with a plus-minus of plus +13,
More from Space City Scoop
By game end his report card included 23 points, 7 boards (including 3 offensive ones), 2 assists and a steal.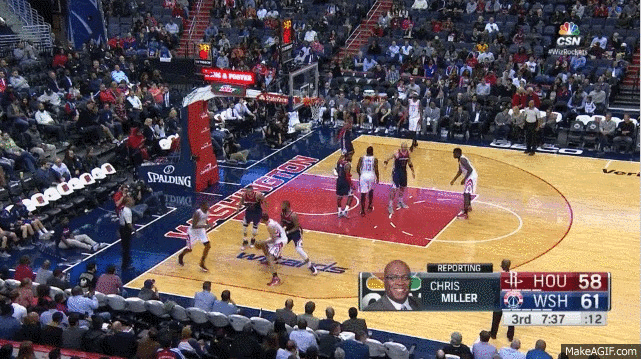 Ultimately I believe Red Nation can live with Anderson's below average defensive ability provided he can put together nights like this more often.
Anderson definitely has the skills and will have countless opportunities to thrive within the Houston Rockets system. Let's just hope night's like these occur more frequently as figures out his role in the offense..
Want your voice heard? Join the Space City Scoop team!
Enjoy the season Red Nation and be sure to stay connected with Space City Scoop as our amazing team of writers keep you abreast of all things Houston Rockets.
This article originally appeared on