SCS Film Room: Houston Rockets Destroy the Knicks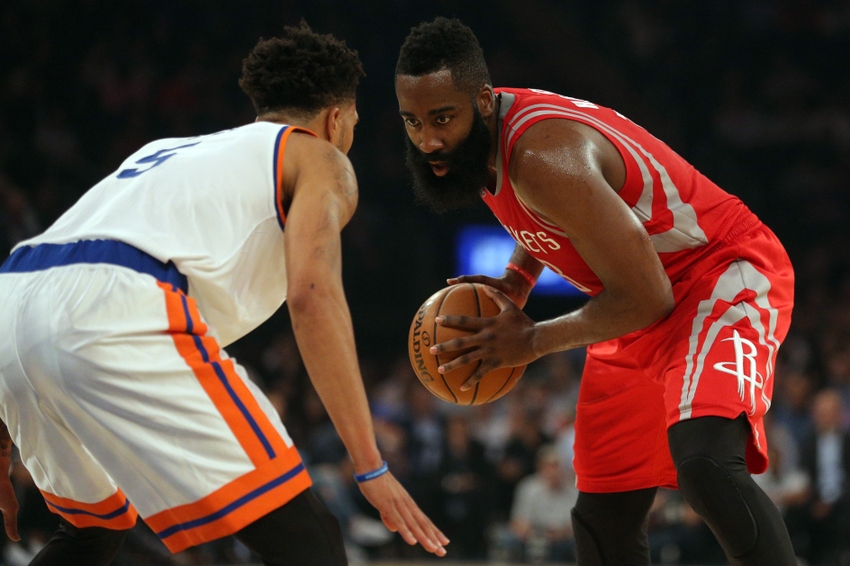 Houston Rockets took care of business obliterating the New York Knicks 'super team' (?). SCS Film Room breaks it down.
It wasn't even close. Even with an improved roster the Knicks were no match for Houston Rockets' firepower. Truthfully the discrepancy between both teams was so big tonight that the Texan team sealed the deal by the 3rd quarter.
VS.
| | | | | | |
| --- | --- | --- | --- | --- | --- |
| | 1 | 2 | 3 | 4 | T |
| Knicks | 25 | 26 | 27 | 21 | 99 |
| Rockets | 33 | 35 | 32 | 18 | 118 |
The Rockets entered the game coming off a loss to the reigning champions and needed the win to be in a stronger position going forward on their arduous road trip.
Such tasks were not made any easier with the staff's decision to rest center Nene for the day. Nevertheless the Texan team pushed the pace from the start and buried the Knicks on the glass.
Specifically on rebounds the Rockets absolutely murdered the Knicks as H-Town grabbed 54 total rebounds. Remarkably 20 boards more than the hosts.
More importantly of those 54 rebounds, 19 were offensive boards. As a comparison, the Knicks registered only 7 offensive rebounds.
The Rockets also led the Knicks on total assists: 25 to 18. And steals: 12 to 10.
Leading the Texan team once again was James Harden with 30 points and 15 assists, as well as Eric Gordon who shot 4-for-7 from beyond the arc and registered 21 points.
Defensively we had huge performances by Trevor Ariza with 4 steals, K.J. McDaniels with 4 blocks and finally Nene's replacement, Montrezl Harrell took his opportunity and registered the first double-double of his career, 17 points and 10 rebounds.
As for the Knicks, no one particularly stood-out positively. Kristaps Porzingis especially under performed with only 3 points and 8 boards on 28 minutes of playing action.
Without further ado, SCS Film Room offers 3 lessons accompanied with video from Houston Rockets road win.
The Trevor Ariza Effect
It's a recurrent theme since the Rockets brought Trevor Ariza back to Houston. He is a consistent player. He rarely misses games, he is durable and plays both ends for over 34 minutes on most nights. Finally Ariza is the Rockets best defensive weapon and quite often guards the opponents best player.
Still last year some of the magic seemed to drown along with the rest of the team's issues. Ariza kept playing for large periods during the game but his efficiency wasn't there anymore.
This season however Ariza looks to be once again that same player we've grown accustomed to. He can knock down shots whenever he is required to do so, but his impact is felt in many ways during the game, particularly on defense.
For example, take a look below: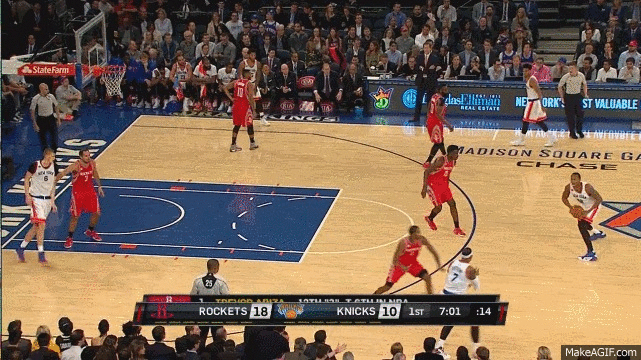 On the gif above you can see how Ariza with his high pressure defense on Carmelo Anthony can lead to great things. First he is able to steal the basket away from Melo and on the other play he forces a turnover.
Ariza finished up with a plus/minus of  plus +15. Trailing only Gordon (+20) and Harden (+21). To wit, Ariza filled his stat sheet with 8 points, 4 boards, 3 dimes and 4 steals.
K.J. McDaniels Block Show
In all honesty,  K.J. McDaniels had a relatively regular game tonight. Not to say KJ was invisible, it was just a quieter game than normal. That is if you don't take into consideration his massive blocks.
With his athleticism, explosiveness and leaping ability McDaniels can become one of the best shot blockers in the league.
On Wednesday night he completely embarrassed Derrick Rose with two huge blocks coming from behind. Take a look: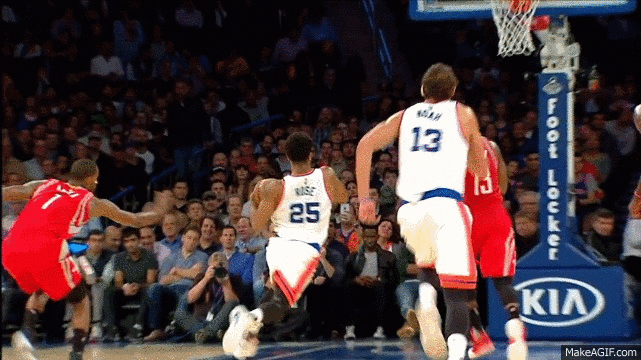 However KJ saved his best for last as Mindaugas Kuzminskas took home the denial of the night: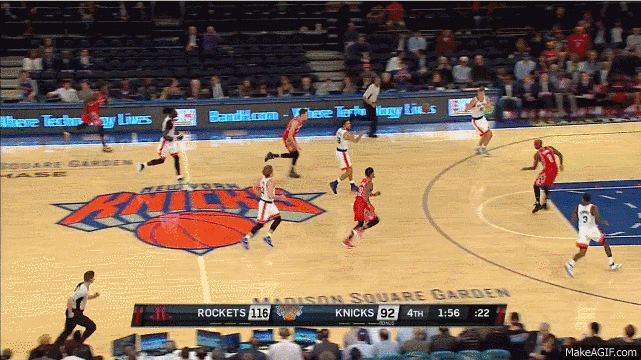 Montrezl Harrell's Career Night
The game against the New York Knicks may become a turning point on an otherwise quiet season so far for Montrezl Harrell.
Filling in for Brazilian center Nene, the Louisville alum didn't disappoint. In fact he actually turned this opportunity into a career night. To wit Harrell registered a career high 10 rebounds. And matched his career high in points, 17. That led to his first ever double-double in the league.
Granted Montrezl Harrell might still be raw on most aspects of his game and there is the issue of  his height. Nevertheless he makes up for all those shortcomings with hard-work, hustle and effort.
Particularly what I like about Harrell is his speed. For instance take a look at how quickly he transitions to the other side of the court to finish this Harden play: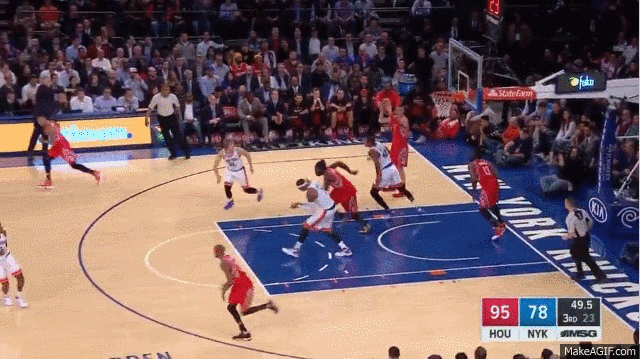 Then on this final gif I really want to emphasize his tenacity and persistence going for the offensive rebound and the put back.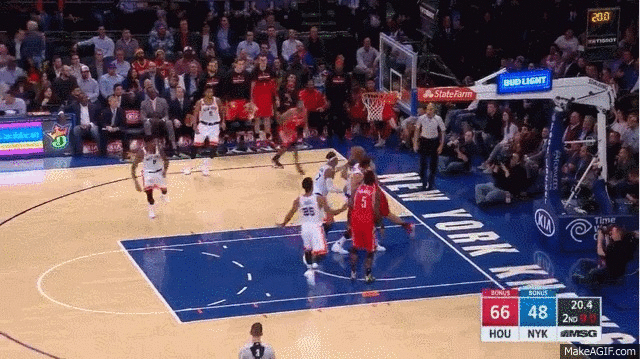 Harrell is not afraid to do the dirty work, to tussle below the rim as I said on the last SCS Film Room. That's something the Houston Rockets desperately need and Montrezl Harrell could become the obvious solution.
Want your voice heard? Join the Space City Scoop team!
Enjoy the season Red Nation and be sure to stay connected with Space City Scoop as our amazing team of writers keep you abreast of all things Houston Rockets.
More from Space City Scoop
This article originally appeared on