Santa Cruz Warriors Will Benefit from Golden State Experience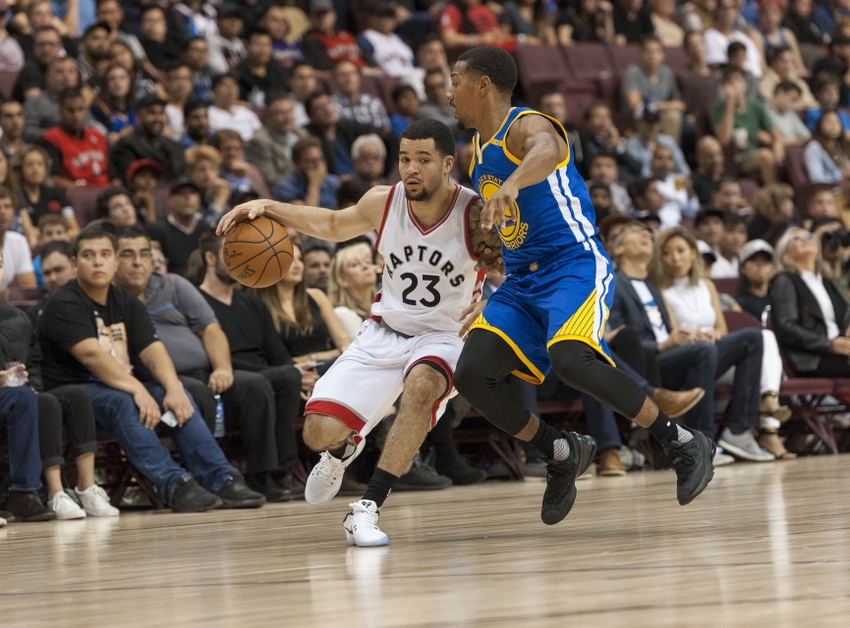 Santa Cruz's season is right around the corner & the team knows that they'll benefit from a few of their players having experienced the Golden State system.
The Golden State Warriors' season is underway. Stephen Curry, Kevin Durant and company are continuing their pursuit of an NBA championship after their seasons ended in heartbreak, but all of that can now be put in the past.
A new season has started in Oakland but 60 miles south of Oracle arena, another Warriors team is getting ready for theirs to begin. The Santa Cruz Warriors held their annual media day on Friday and among the 13 players listed on the roster, there were four that also spent time with Golden State during their training camp last month.
Getting time with a franchise that just set the NBA's single-season wins record would be beneficial for any player and for Cameron Jones, Elgin Cook, Scott Wood, and Phil Pressey that is exactly what they got.
With four Sea Dubs players having experience with the Golden State team so recently, it is bound to yield positive results for this season in Santa Cruz. At least that is what Head Coach Casey Hill and his staff are hoping.
"[It will help] immensely. I think having guys who spent legitimate time with the Golden State Warriors, they can come down here and really be the foundation for our philosophies," coach told us, "Having four guys who were really able to marinate in that awesome system for a couple of weeks really helps. It provides the rest of the team with the confidence, a sense of the system and they can activate it when we need them to."
Elgin Cook is a 6'6″ small forward who spent three seasons at the University of Oregon where he held averages of 11.7 points, 5.1 rebounds and shot over 50 percent from the field. After going undrafted in the 2016 NBA Draft, Cook was a member of the Sacramento Kings Summer League roster. Golden State signed him and invited him to camp which paved his path to a Santa Cruz uniform.
"Training camp was amazing. I had a great time there. Met a lot of great people. The players are phenomenal there," Cook said, "After I got cut I already knew that I was probably going to be with Santa Cruz so [I'm] just trying to have a lot of fun here."
Phil Pressey was key pick up for Santa Cruz as they hope to return to their championship ways this season. Pressey was consistently one of the highest ranked D-League players and has even spent two years with the Boston Celtics. Pressey knows the value that an NBA training camp can have for himself and others.
"Guys play unselfish. If you play unselfish, everybody likes you. You're getting open shots and everybody is feeling good, so the chemistry is going to be there," Pressey told us, "When you have guys shooting bad shots or guys really going one-on-one, nobody likes that. There's five guys out there playing with one basketball. So they really preached making the extra pass [in Golden State]."
Even some of the young players who didn't have the luxury of going to camp with the 2015 NBA champions and the back-to-back MVP, Steph Curry, can tell that these guys can be leaders for Santa Cruz this season.
"You can see it on the floor the level of confidence they have. It's only been a couple of days since we've been here," second year player Terrence Drisdom told me, "They know how it's done. They have that experience under their belt so I learn from them."
Cam Jones is a familiar face to Santa Cruz. After spending two seasons from 2012-2014 with the Sea Dubs, Jones left the country to go play overseas. This season he decided to make a return to Santa Cruz after securing a training camp invite from Golden State. He too shared the sentiment of his teammates and coaches on how important that will be for this club this season.
"I think it was a tremendous experience. Learning the offense and the stuff they do up there, we kind of have a leg up on everyone else," He said, "[Between] the camp invites and the guys we have here now, it's a pretty close nit group and I'm pretty excited to see what we have."
Chemistry has been talked about as a big reason for Golden State finding so much success in the NBA. Jones even shared the fact that a cohesion that strong is palpable from the second you walk into the building, and like everyone else on the team, hopes to bring that same energy to Santa Cruz.
"Right off the bat. It starts from the GM and the coaching staff down. Steve Kerr is a good guy and his staff are all great people. [The camp invitees] were there two weeks before everybody got there so we were on our own and bonded together. As soon as everybody came into camp it was a pretty close nit group. It didn't matter if you were the 21st guy or Steph Curry, everybody was really close with each other."
Only time will tell if Santa Cruz can return to it's dominance they once showed over the D-League. With players like Seth Curry, James Michael McAdoo and others having successful careers in the NBA, it is time for a new wave of talent to march down Front Street and leave their mark on this already successful franchise.
More from Blue Man Hoop
This article originally appeared on