Santa Cruz Warriors Go Undefeated in Preseason Tri-Game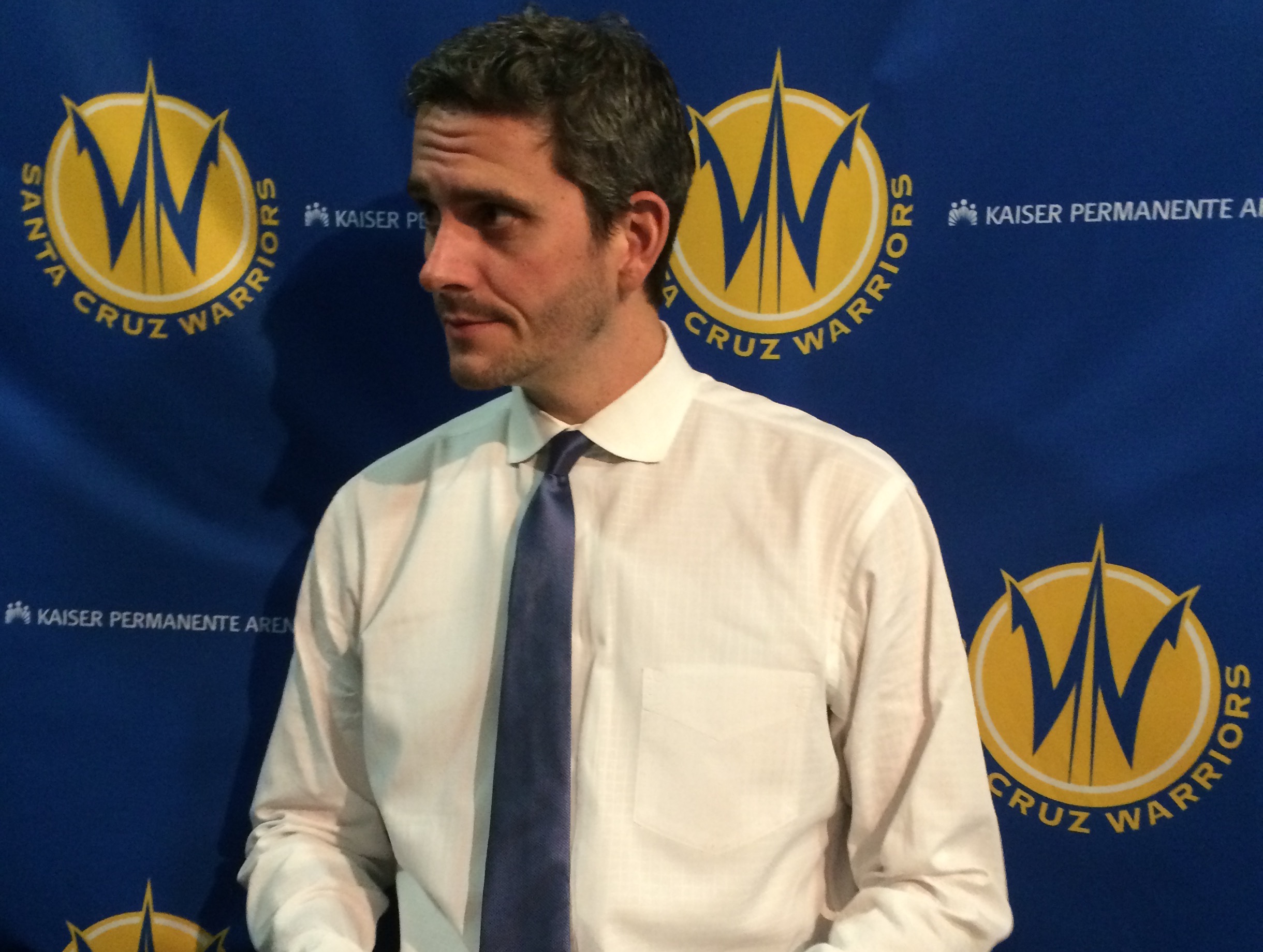 The Santa Cruz Warriors go undefeated in their preseason tri-game against the Salt Lake City Stars and Reno Bighorns.
SANTA CRUZ, Calif. — Hosting both the Salt Lake City Stars and the Reno Bighorns at Kaiser Permanente Arena for a preseason "tri-game" on Sunday, the Santa Cruz Warriors successfully defended home court over the course of four straight periods of exhibition play.
Over the course of both games, Elgin Cook — whom many may remember was one of the players that participated in training camp with the Golden State Warriors earlier this year — led Santa Cruz with a combined 21 points. Scott Wood — another 2016 Golden State training camp participant — added a combined 17 points. SCW returning player Terrence Drisdom had a near double-double, posting 11 points and nine rebounds.
Santa Cruz opened the night with a match against the Salt Lake City Stars, formerly known as the Idaho Stampede. Thanks to an early scoring run initiated by Scott Wood, the D-League Dubs were able to continue building on a lead that resulted in a 52-38 victory over the Stars.
Following a 15-minute intermission, Santa Cruz closed the night with two periods against the Reno Bighorns.  Much like the first contest, the Warriors started firing on all cylinders, getting out to an early 9-4 lead off three straight buckets from beyond the arc. Santa Cruz would eventually earn a 55-40 win over the Bighorns.
When reflecting on the team's performance after Santa Cruz's night was over, Coach Casey Hill said that while the team may still have a couple things to work out on both sides of the ball, the team chemistry and overall ball movement proved to be a positive takeaway from both games.
"I mean I think the dynamic of our team is pretty good: like they like playing with each other, and I thought they moved the ball real well; they played pretty unselfishly," said Hill. "Defensively, I thought they showed some organization. I thought there were a couple things we needed to work on, but it's preseason. Both of those teams are still organizing themselves. So tonight was definitely better than the alternative, but we still got a long ways to go in terms of being a complete team that can finish close games and things like that."
Asked about what he hoped to focus on next practice, Coach Hill kept it simple, saying it's really just about tweaking the minor details on both ends.
"Well I still have to watch the film, but we missed a couple contests defensively. Offensively, we're getting pushed out on the floor a little further out on our early offense that I would like, so we'll work on that kind of stuff," Hill said.

"We'll just continue to work on the minor details on both sides of the basketball, and we'll be ready for LA come Saturday."
Santa Cruz Warriors Opening Night will be at Kaiser Permanente Arena on Saturday, Nov. 12 at 7:30 p.m. Pacific against the Los Angeles D-Fenders.
For context, the "tri-game" was created in response to the D-League's short preseason. Whereas the NBA has a lengthy preseason to help prepare for the regular season and make roster cuts, D-League teams are unfortunately not afforded such a luxury. Santa Cruz hosting both Salt Lake City and Reno in a three-way contest was beneficial for each squad, acting as an efficient way to see what exactly has been working in training camp, and who exactly isn't quite ready to endure the grind of the NBA.
The tri-game consisted of six 12-minute periods. Santa Cruz faced Salt Lake City in the first two periods, later going against Reno in the next two periods. Reno and Salt Lake City then met in the final two periods, which resulted in the Stars winning 60-50 over Reno.
Mychel Thompson watching the Santa Cruz Warriors take on the Reno Bighorns #SeaDubNation #Warriors #DubNation #NBA #NBADL pic.twitter.com/w7GYt3Ojk8

— Angelo Mendoza (@iAMgoldenstate) November 7, 2016
More from Blue Man Hoop
This article originally appeared on