San Antonio Spurs: Lessons learned in Games 1 and 2
The Golden State Warriors have a 2-0 lead in their series against the San Antonio Spurs. Here are some of the reasons why, and what can change going forward.
The San Antonio Spurs are in a tough spot, down two games to the best team in the league, and with the health of their best player in question.
It's easy to say that they would have won Game 1 if Kawhi Leonard was in the game until the end, and that may be true.
But the Golden State Warriors are also unstoppable when they get going. When you've got Stephen Curry and Kevin Durant on your team, any deficit can be erased, no matter how large.
They got down by as many as 25 points early in the third quarter, but took advantage of the Spurs once Leonard went down.
A lot to look at with that table, but something important to note is that the pace picked up when Kawhi wasn't on the court. Being their leader on both ends, he makes sure the offense isn't rushed and that they take advantage of the full shot clock.
On the other end, the Warriors had more space to move quickly into their own offense, and forced the Spurs to play at that pace. They missed him on the boards, and on both ends of the floor. They may have been able to make it work in one game against Houston, but this is Golden State. That's why nobody was surprised when the Warriors dominated Game 2 from start to finish.
Game 2 was a bloodbath
It may sound obvious, but Leonard being out forces other players to play roles that they aren't used to. Jonothan Simmons getting the start for Game 2 was just one example, and he played pretty well in that game. Manu Ginobili looked like he was going to come apart at the seams.
LaMarcus Aldridge scoring eight points in 27 minutes is… not ideal. They need him to play the way he did early in Game 1, and sustain it, if they're going to have a small chance in any game. He kept going to his fallaway jumper, and when that didn't go down, he wasn't crashing the glass like he did when Leonard was in.
People have been hard on Aldridge in these playoffs, and I don't think it's warranted. He was never a guy who was a dominant rebounder, or a guy that was great at passing out of double teams. With the defense focusing so much on him, he's going to have to get the ball moving early, and get open looks for other guys.
But those guys also need to hit those shots. Danny Green and Patty Mills missed oodles of wide open shots, and when that happens, the Warriors get out and run. Teams in the NBA make a decision either to crash the offensive glass, or to get back hard in transition. Considering people can't be in two places at once, there really aren't any teams that do both of those things at an elite level.
The Spurs are going to have to slow it down, and crash the offensive glass. I mentioned on the podcast I did on Monday, Raptors Unscripted, that rebounding is a swing factor for them with or without Kawhi in the game.
(Side note: this was my podcast debut, and it was awesome. We talked about the Eastern and Western Conference playoffs, the Raptors' future, and much more. I had a lot of fun doing it, and would love to jump on any basketball podcast. Check out Raptors Unscripted more often with the host, my friend Aaron Zeifman.)
So Aldridge and the shooters need to be better. What else?
Going Forward
The Spurs were doing a great job of anticipating the next pass in the first half of Game 1. Obviously a lot of that was Kawhi, not just guarding guys like Kevin Durant and Klay Thompson one-on-one, but doing everything on that end.
There were quite a few possessions where Kawhi helped or switched on to 2-3 GSW players on D. Completely disrupted their O

— Haralabos Voulgaris (@haralabob) May 15, 2017
I do think the rest of the team can do a little more, even without him. The Warriors turned the ball over a lot in the first half of Game 1, and the Spurs need to get them out of sync again.
That means disrupting screens, denying the pass all the way out to the three-point line, and getting loose balls. They also need to try to switch as little as possible. Danny Green is their preferred matchup on Stephen Curry, and when they switch a big onto him, Curry just abuses him.
All of this is rendered totally irrelevant if the Chef is hitting shots like this one:
The Spurs can play the best defense of all time, and Curry can just hit a crazy shot. That isn't something they can control, and it looks like Curry and KD have found a great chemistry in the playoffs.
Gregg Popovich will continue to adjust, and as everyone has been saying, Mike Brown is no match for him. With the Spurs, we've come to expect the unexpected, especially in these playoffs.
Wait, here's a live look at Brown making in-game adjustments: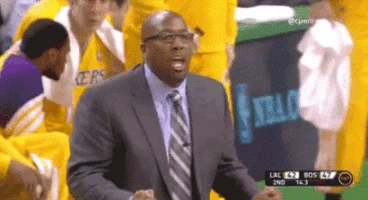 (I love the internet.)
What I Think
I don't think the Warriors are going to run away with every game left in the series. The Spurs don't just get blown out time and again. They'll bring it every game, play smart, and they aren't going to beat themselves. If Kawhi can play, I still believe they can win one of Games 3 or 4.
If not, the Spurs are going to be hitting the golf course pretty quickly.
This article originally appeared on