Report: The Spurs 'will explore ways' to sign Kevin Durant this summer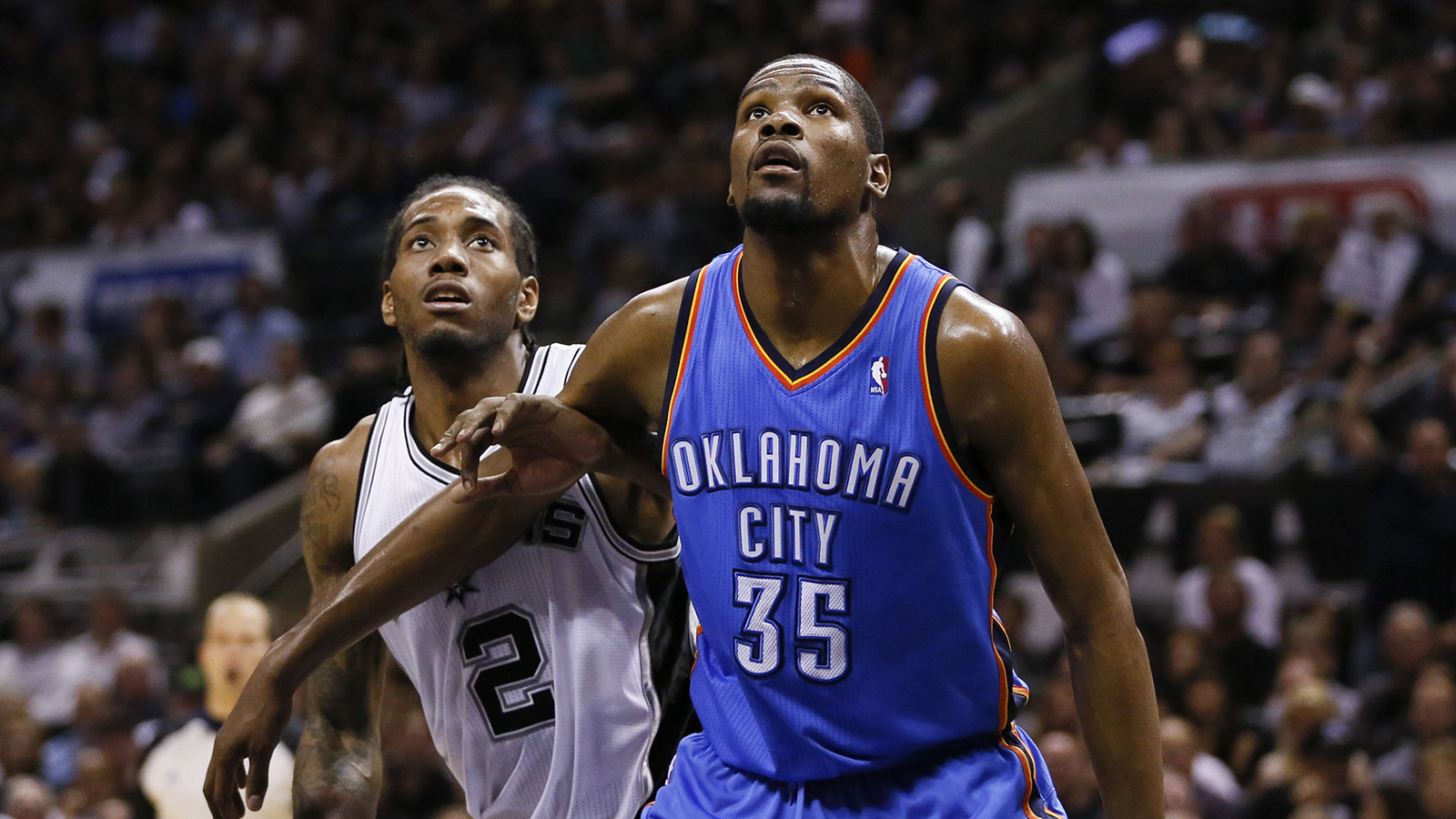 In a season that's been entirely consumed by Steph Curry and the Golden State Warriors, Kevin Durant's upcoming free agency is once again the No. 1 storyline in the NBA.
Where will he go? The rising salary cap (it's jumping from $70 to as high as $92 million this summer) has helped create a long list of potential suitors, including teams that honestly should not be allowed to add a player that good.
Maybe Durant will stay with the Oklahoma City Thunder. Maybe he'll join the Warriors, resuscitate his hometown Washington Wizards or lift the Boston Celtics to another level.
Kevin Durant on Boston. "It's cold but they love sports here. It's a family atmosphere I feel when I walk around the city." #FreeAgency

— gary washburn (@GwashburnGlobe) March 16, 2016
Or, maybe Durant shocks the universe and signs with the smartest, most progressive organization in professional sports. Maybe he becomes a San Antonio Spur.
It sounds ridiculous, right? Well, apparently it's not. They're interested (via The Vertical):
San Antonio has rebuilt its dynasty, but rival executives believe the Spurs will explore ways of adding Durant to the mix, and the franchise's culture makes it intriguing.
If you haven't passed out yet, the first question you're probably wondering is "um, how is any of this possible?" It's a good thought. The Spurs just signed LaMarcus Aldridge and Kawhi Leonard to maximum contracts last summer. They're loaded at just about every position and tossing in a third max deal feels like too tight of a squeeze.
But let us not forget one critical detail: It's the Spurs! No, they don't have enough cap room at this very moment, but they can somewhat-easily shed enough salary to afford Durant if he is really interested in teaming up with Leonard, Aldridge and Gregg Popovich.
It gets tricky if Tim Duncan picks up his $5.6 million player option, but even then San Antonio still has enough flexibility to make it work.
This means, out of all their players who're under contract next year, Danny Green and Boris Diaw would all but definitely have to be traded/bought out. That stinks. Both are critical members of this year's 57-10 squad. They helped San Antonio win a championship two years ago and bring a steady combination of accurate three-point shooting, inventive passing and useful versatility to the table. Swapping them for Durant is a no-brainer, but moving their contracts for cap space and the mere hope of landing him would be a huge risk.
(The Houston Rockets tried the same thing a few summers ago when they shipped Jeremy Lin and a first-round pick to the Los Angeles Lakers so they could afford Chris Bosh. At the 25th hour, Bosh spurned them to stay in Miami.)
But if the Spurs lose to the Warriors in this year's Western Conference finals, a swing for the fences might be worth it. Stagnation will cripple this team. San Antonio's core won't be better next season. Tony Parker will be one year older, and LaMarcus Aldridge will be 31. Duncan and Manu Ginobili may retire, and David West can become a free agent.
It sounds surreal, but to keep their window open as wide as possible for as long as possible, the Spurs should do everything they can to add one of the three best players in the universe.