San Antonio Spurs: 3 Lessons From Game 1 Victory Vs. Grizzlies
The San Antonio Spurs defeated the Memphis Grizzlies 111-82 in Game 1 of their first-round series. Here are some lessons to be learned from their big win.
After many predicted the San Antonio Spurs would struggle in their first round series against the Memphis Grizzlies, they made a statement on Saturday night, winning easily at home, 111-82. They won every quarter except the first, and seemed to get better as the game went on. Their defense was as suffocating as expected, and Memphis did not have a consistent answer for it.
Marc Gasol had an excellent game, scoring 32 points on 11-of-18 shooting, but got little help from Mike Conley and others on that end. Meanwhile Kawhi Leonard also scored 32, as the Spurs got contributions all over the lineup.
Here are three lessons learned in the game one massacre:
Marc Gasol Is Unstoppable
Little brother Marc has become the superior Gasol brother in recent years. This year in particular, he's played an offensive style that we previously have not seen from him, and it's paid off with a career year.
The Spurs learned that the hard way in the first half, as he torched them for 25 of his 32 points in the game.
There is a lot of delicious, Dirk Nowitzki-like scoring in this clip, but the one play that really stands out is at the 1:22 mark of the video. Marc fakes big bro Pau out of his shoes before driving into the lane and scoring like he's a guard. It's the prototype for how he's adjusted his game this season.
Live look-in on what Marc thinks of his brother's defense:
The problem for the Spurs is that they don't have anyone to stop the guy. Dewayne Dedmon looks a little overmatched coming all the way out the three point line, and neither David Lee nor Pau has a chance. If Marc can play like this all series, he just needs the rest of the team to shoot better than the 39 percent they did in Game 1, in order for them to have a chance in this series.
Tony Parker Is The X-Factor
For Tony Parker to score 18 points on 8-of-13 shooting in just 21 minutes of play seems normal to us. But remembering that this isn't 2012, it's actually something that jumps off the page in the scoresheet. Not only that, but after reviewing the tape, the most shocking part if the way that he was scoring.
Parker had a floater at the 7:05 mark of the third quarter that looked like it could have been from seven years ago. He's been inconsistent this season to say the least, and the Spurs haven't suffered because of it. But when he plays this way, the Spurs go to another level.
Parker only scored 18 or more points nine times this season, before tonight, and the Spurs went 8-1 in those games. The problem for teams is that Parker and Patty Mills are such different players, and when they both play good basketball, the Spurs' biggest weakness, their guard rotation, becomes a strength. When head coach Gregg Popovich can rely on 48 minutes of strong point guard play, the Spurs offense looks like the basketball version of Mozart.
Considering Parker isn't even one of the Spurs' five best players anymore, when he plays like his younger, spicier self, they become unguardable. Mike Conley had the much better season between the two point guards, but if Parker outplays him all series, then the Grizz are going into hibernation quickly.
Kawhi Leonard Can Breathe Fire
The argument for Kawhi's MVP case this season in a nutshell is as follows: He was the best defensive player on one of the best defensive teams, and then he was also the best offensive player on one of the best offensive teams. He doesn't turn it over, he scores as efficiently as anyone in the league, and he plays as close to perfect defense as one can play. Oh and the Spurs won 61 games, with no other All-Stars on the team.
Game 1 was basically the perfect Kawhi game, and it showed how he can score at will against teams without an elite perimeter stopper. Tony Allen is out indefinitely, which could mean anything from missing the playoffs to him starting in Game 2. But if the Grizz don't have someone to throw at Kawhi, he's gonna feast all series.
At one point in the third quarter, 40-year-old Vince Carter was guarding Leonard. The bucket that he scored looked so easy it was almost cruel, as Leonard got the and-one. Truth be told, he made all his defenders look bad in this game, and it should be more of the same as long as Allen is out.
Defensively, he was his usual, terrifying self, basically deflecting every pass within a few yards of his body. The big mitts are just such an obstacle for opposing players to make clean passes around, especially guys without too much playoff experience.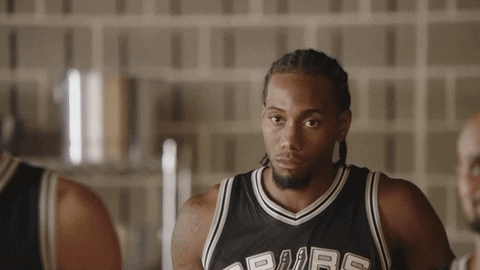 The Grizz are hoping for better contributions from some fringe players, especially sixth man Zach Randolph. Both teams will make adjustments as the games progress.
But the Spurs have a formula that won 61 games for a reason. They came out looking like the better team in Game 1, and if they maintain that level of play, it looks like it will be a short series.
This article originally appeared on