Sacramento Kings Point Guard Rankings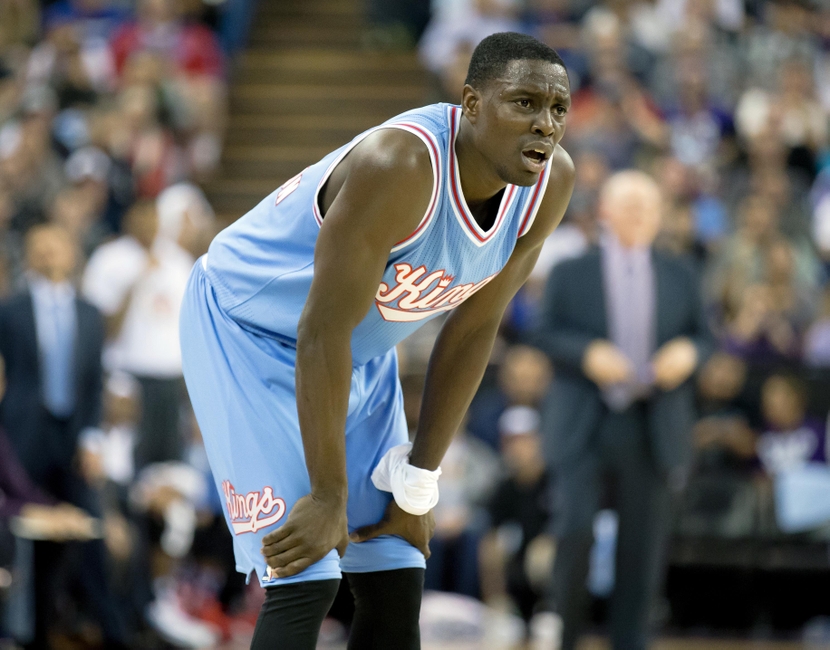 This article takes a glimpse into the point guard depth chart for the Sacramento Kings.  This is the first installment in our positional rankings series.
Today, we are going to take a deep dive into the point guards on the Sacramento Kings roster.  This is an interesting position group for the Kings.  Last year's starter Rajon Rondo departed in free agency, but they have a former starter who was last season's number two point guard returning. They acquired two free agents and drafted a point guard in the 2nd round of the draft this offseason to round out the position.  We will explore the depth chart and try to address the issue of Darren Collison's impending suspension in the process.  Without further ado, here is how the roster breaks down for this season at the point guard position.
Next up: Starting Point Guard
Starting Point Guard- Darren Collison
Darren Collison returns to the top of the depth chart this season after playing off the bench most of the last NBA season.  As a starter in his career, Collison averages 14.0 points, 3.0 rebounds, 5.8 assists, 1.2 steals, and 0.9 3's per game on 46.7% from the field and 85.3% from the free throw line in 33.2 minutes per game.  I could see Collison settling in around 30 minutes a night.  I expect his numbers to look similar to his career averages as a starter.  Below is a highlight video from Mister Collison's 2015-2016 season where he was the Kings starter.
Collison will not be the King's starting point guard on opening night, though.  This offseason Collison pled guilty to a domestic violence charge and is facing a suspension from the league.  I wrote a recent article here about the precedent set by other major professional sports leagues and predicting the length of Collison's suspension.  It could be a lengthy suspension.  The Kings may have to hand the starting job over to the next player on opening night.
Next up: Backup Point Guard
Backup Point Guard- Ty Lawson
The Kings first free agent point guard signing this offseason was Ty Lawson.  Lawson is at a crossroads in his career.  He went from starting four consecutive years for the Denver Nuggets to backup in Houston before being cut and then backup in Indiana.  The off-court issues have piled up for Mister Lawson in recent years as well.
Will he be able to rebuild his value and play a meaningful role on the Kings?  My colleague Rafe Wong wrote a great piece on what to expect from Ty Lawson this season here.  If you care to read more about that topic it is a great read.  Below is a highlight video of Lawson from 2015 with the Denver Nuggets to give you a glimpse at his spectacular moments.
Ty Lawson will most likely begin the regular season as the starting point guard.  If he can return to his Denver form during that stretch he will probably stick as the starter all season.  I am skeptical that happens after what I saw from Mister Lawson last season, but the Kings had a point guard on their roster in this exact situation last season.  Rajon Rondo went on to start 72 games and lead the NBA in assists per game.  All stats courtesy of Basketball-Reference.  Here is to hoping the Kings get that kind of production out of Ty Lawson and he returns to his Denver form.
Next up: 3rd string Point Guard
3rd String Point Guard- Jordan Farmar
The Kings recently signed Jordan Farmar to add to their point guard depth.  Farmar is a career reserve player.  His most recent stint was playing for new Kings Head Coach Dave Joerger in Memphis last season.  That leads me to believe that Kings signed Farmar with the intent of him playing a role this season.   Farmar should have a familiarity with Coach Joerger's system.  Below is a video of one of Farmar's best games from last season, so you can get a look at what he is going to bring to Sacramento.
Farmar should begin the season as the backup point guard and then slide to number three when Collison returns from suspension.  I expect Farmar to play if he is healthy because he brings experience and leadership to Sacramento.  Farmar will not produce spectacular numbers on the court, but is part of the veteran crop the Kings hope brings cohesion to the locker room.  I wrote an entire article about why Farmar was a good fit for the Kings here if you care to read more about it (Note: I wrote the article before he signed with the Kings).
Next up: D-League Point Guard
D-League Point Guard- Isaiah Cousins
Isaiah Cousins is a player to keep an eye on during the preseason.  The Kings could use a 3rd point guard during Darren Collison's suspension, but Cousins has to earn that job.  Cousins was a 4-year college player at Oklahoma and the Kings selected him 59th overall in the NBA Draft.  He would not be the first 2nd round pick to earn a role on an NBA team from day one, but certainly, he is probably ticketed for Reno.
Playing all the minutes he can handle in Reno is probably the best thing for his development.  Let him get the experience of playing point guard and running your offense in the D-League.  If he proves he is ready and you have some playing time for him, then bring him up and let him gain that NBA experience.  Below is a highlight video from his time at Oklahoma to give you a glimpse of his game.
I am excited to see what Cousins brings to the table this preseason and if he proves he can move ahead of Farmar or Lawson on the depth chart this season.  Stay tuned.
Next up: Summary
Summary
The Sacramento Kings point guard group does not exactly inspire the greatest confidence heading into the preseason.  The presumed starter faces what will likely be a lengthy suspension and behind him are a lot of question marks.  Lawson has been cast aside by 3 NBA in just over a year. Farmar is a career back-up who has never averaged more than 24.6 minutes per game in his career.  Isaiah Cousins is a 2nd round rookie flyer.  It is difficult to have a phenomenal amount of confidence about this group.
The group isn't lacking in upside, though.  Lawson could return to the average of his career play where he rates as a well above average NBA player according to Basketball-References win shares per 48 metric.  Farmar can play a competent backup point guard and not hurt your team.  Cousins could show to be the next Jordan Clarkson.  Clarkson was selected 46th overall in 2014 and played a meaningful role every season of his short NBA career, so far.  Collison himself rates as a well-above NBA player using the same metric once he returns from his suspension.
This will be an interesting group to monitor in the early going.  Where are the Kings heading with this point guard situation?  Who is going to step up and demand minutes?  These are questions the preseason will answer.  I look forward to following along and bringing you the information I notice.  I expect it to be Collison, Lawson, Farmar, and then Cousins at the start of camp, but things could change in a hurry for the Kings.
More from A Royal Pain
This article originally appeared on