Sacramento Kings: New Season, Old Story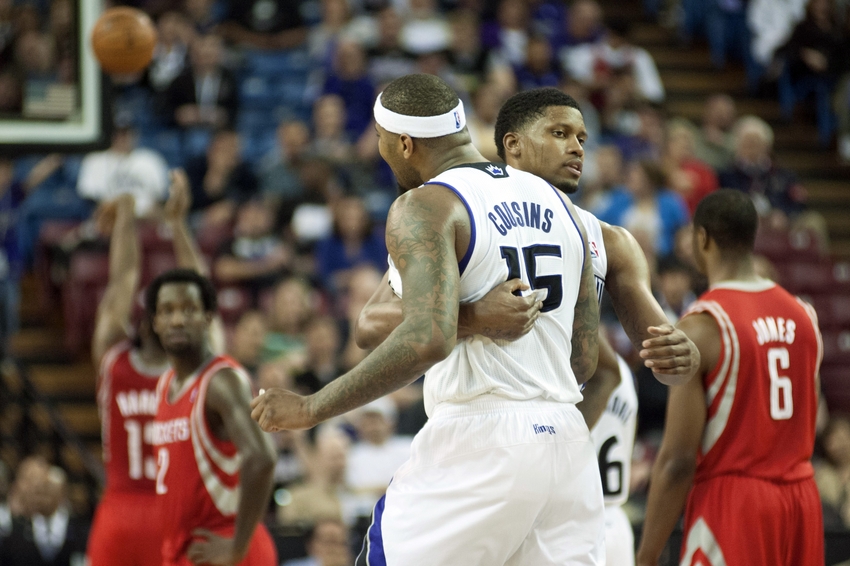 Eleven games into the season, the Sacramento King are 4-7 and likely to miss the playoffs again unless more players step up.
Eleven games into the season, the Sacramento Kings are playing the same broken record from the last few seasons. They have the best center in the league in DeMarcus Cousins. They have a quality small forward in Rudy Gay.
Last season they had the best assist man in the NBA in Rajon Rondo. This season they don't even have that, and they appear to be going nowhere fast again. Too much is again being left to too few.
Last season, Cousins and Gay accounted for 41 percent of Sacramento's points (45.1 of 106.5 per game) and rebounds (18.0 of 44.2 per game). They also accounted for 47 percent of the blocks per game (2.1 of 4.5) for the season.
Cousins is having another standout year. Over 11 games, Cousins is averaging 33.5 minutes, 26.6 points, 8.6 rebounds, 2.9 assists, 1.1 steals and 1.1 blocks per game.
In 10 games Gay is averaging 34.7 minutes, 22.3 points, 6.5 rebounds, 2.5 assists, 1.4 steals and 0.8 blocks per game.
The only other player on the Sacramento Kings squad who is averaging 10.0 points per game is Darren Collison at 11.8 points per game. However, he has only played three games.
Arron Afflalo is averaging 9.8 points per game and 2.6 rebounds per game. Otherwise his statistical line is pretty bare.
Ty Lawson is averaging only 5.6 points but is leading the Kings in assists with 5.5 per game. I am discounting Collison's 5.7 assists per game due to the fact that he has only played three games.
This means that the starting backcourt of Afflalo and Lawson is averaging 15.4 points, and 6.3 assists and 5.6 rebounds per game.
Live Feed

sacramento kings
To put this in context, Russell Westbrook of the Oklahoma City Thunder is averaging 30.9 points, 9.4 assists and 8.9 rebounds per game. James Harden of the Houston Rockets is averaging 30.6 points, 13.0 assists and 7.8 rebounds per game.
Why I am comparing the Sacramento backcourt to two of the best back court players in the league? Because the backcourt duo of Lawson and Afflalo cannot even compare to one of these players.
It is not like the Thunder have one or two players who stand out and the rest struggle. There are four players on the Thunder averaging over 10.0 points per game. It is the same for the Rockets, they also have four players who are averaging 10.0 points per game.
The Thunder are sitting third in the Western Conference, the Rockets are sitting fifth. Where are the Kings? They are sitting in 11th in the West. They also have the fourth lowest points per game output in the West at 99.8 points per game.
I can see tough times ahead in Sacramento. The next five games are against the San Antonio Spurs, the Los Angeles Clippers, the Toronto Raptors, the Thunder and the Rockets. None of these teams are below fifth in their respective conferences.
Yes, the Kings have beaten Toronto this season but I can imagine that Sacramento could have a 4-12 record. If they win two games, which is possible, then they will have a 6-10 record. This will then be a very difficult task to make the playoffs from there.
Sacramento needs to either trade for a player who can be a difference maker or get other players to step up. If they can't they will be back in the lottery for the 11th straight season, probably drafting another center.
This article originally appeared on