Sacramento Kings: Game 41 Preview vs Indiana Pacers
Tyler Watts/FanSided via A Royal Pain

Fansided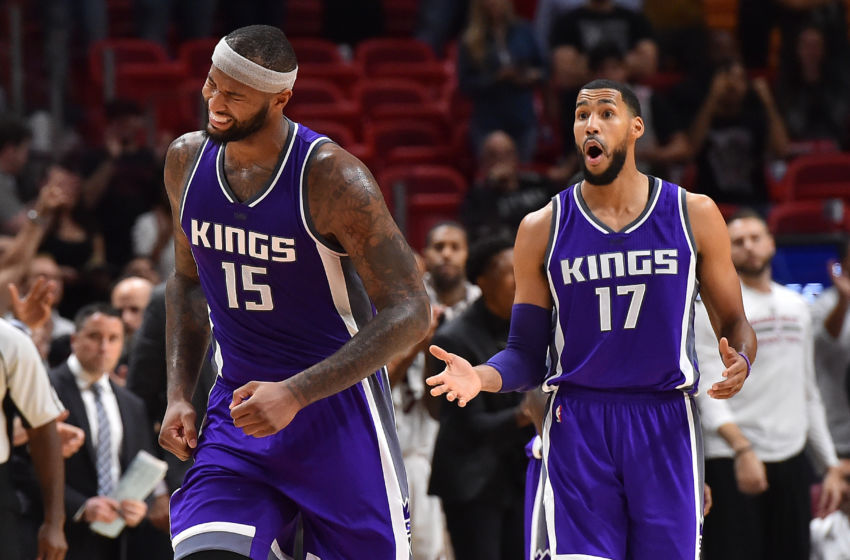 The Sacramento Kings host the Indiana Pacers on January 18, 2017. This article provides a preview of that game from a Kings' perspective.
The Sacramento Kings end their seven-game homestand against the Indiana Pacers tonight. This is the first of two meetings between the teams this season. In a scheduling quirk, the second meeting is next Friday, January 27th in Indiana.
Do not forget to tune into TNT's NBA Tip-off on Thursday to hear the announcement of the All-Star Starters. DeMarcus Cousins was 6th in the Western Conference Frontcourt voting at the last update, but with the media and players having a say in the voting so anything can happen. Cousins is more than deserving of being an All-Star starter, so I will be tuning in and hoping he gets the recognition he deserves.
Without further ado, below is the preview of tonight's game between the Sacramento Kings and Indiana Pacers.

Injuries
Sacramento Kings
The Sacramento Kings announced some disappointing news on Tuesday. Omri Casspi is set to miss 1-2 weeks with a calf injury. He injured himself during practice on Monday.
Ty Lawson is also on the injury report as of this writing. Lawson is listed as probable with an ankle injury. That means he has a 75% chance of suiting up, so expect Lawson and the rest of the Kings to play tonight.
Indiana Pacers
The Indiana Pacers injury report features only one player. Rodney Stuckey has a hamstring injury and is set to miss about one additional week. That looks to be the only Pacers player out for tonight's contest.
Stay Alert
Be sure to check twitter or watch the pregame show for any late breaking news you will need to know before tipoff.

Indiana Pacers' Scouting Report
The Indiana Pacers enter tonight's game with a record of 21 wins and 19 losses. That is currently good enough to be the 6th seed in the Eastern Conference and just 2.5 games back of hosting a first-round playoff series.
The Pacers have struggled on the road this season, especially for a playoff caliber team. Indiana has just 5 wins in 19 road contests this season. That is a very disappointing road record and the Kings will look to exploit that road deficiency tonight in Sacramento.
Last time out, the Indiana Pacers defeated the New Orleans Pelicans 98-95 in Indiana. Below is a highlight video from that Martin Luther King Day matinee to give you a glimpse at the Pacers' most recent form.
The Pacers are led in scoring this season by All-Star Paul George. George is having a down statistical year despite shooting his highest field goal percentage since 2011-2012. The influx of talent on the Pacers has allowed PG13 to be more efficient and the team has become less reliant on his exceptional talent.
This is truly a fun team to watch with immense talent. Buckle up because it should be an entertaining contest tonight at Sacramento's Golden 1 Center.

What to Watch for?
Cousins vs Turner
Indiana Pacers' starting center Myles Turner is just 20 years old, but he is slowly blossoming into one of the NBA's elite centers. This season through 39 games, Turner is averaging 15.6 points, 7.7 rebounds, 0.7 three-pointers made, and 2.4 blocks per game while shooting 52.3% from the field and 79.7% from the free throw line. This kid has the potential to be a truly elite NBA player in the near future.
Tonight, he comes to Sacramento to match-up against the NBA's best center, DeMarcus Cousins. Expect Cousins to be fired up and attempt to put the kid in his place tonight. I believe Cousins will produce a big statistical line while leading the Kings in this contest.
If you want to see the statistical line I predicted for DeMarcus Cousins or any other Kings' player then check out my predicting the box score column found here. It is a quick and informative read on tonight's game if you are so inclined. Thank you.
Taking Matt Barnes' Comments to Heart
After Sunday's loss to the Oklahoma City Thunder, Matt Barnes called his team out. He gave his opinions on what the Kings need to do in order to be successful. Here is a link to the video featuring Barnes' comments courtesy of the Sacramento Bee if you want to take a listen for yourself.
Will the Kings take what he said to heart and look to make changes? Will they quit complaining to the refs and worry more about the other team?
I will be monitoring this tonight because those are the type of comments that can spark a team and I am interested to see if the Kings allow it to spark them tonight. Be on the lookout.
All Signs Pointing Kings
Tonight, the signs look to be pointing in the Kings favor. I mentioned already that the Pacers struggle mightily on the road this season. Add in the fact that the Kings have not lost to the Pacers in the last two seasons. That is correct the Kings are riding a four-game winning streak against the Pacers.
Not enough? Well, how about the fact that the Pacers traveled to London last week for a Thursday game, came home to Indiana for Monday's game, and now head out west to Sacramento for a Wednesday game. This could be a tired Pacers team who is bad on the road and lost 4 straight games to the Kings. Three strikes and you are out.

Summary
There you have it, my game preview for tonight's contest between the Sacramento Kings and the Indiana Pacers. Hopefully, you plan on tuning in and enjoying tonight's action.
I expect an uptempo game between two teams fighting to be playoff bound. Here is to hoping the Kings finish up the homestand strong and continue their playoff push.
Be sure to check back to A Royal Pain for postgame content and all the information you need about the Sacramento Kings this season. Thank you for reading.
This article originally appeared on