Sacramento Kings: Game 17 Preview at Brooklyn Nets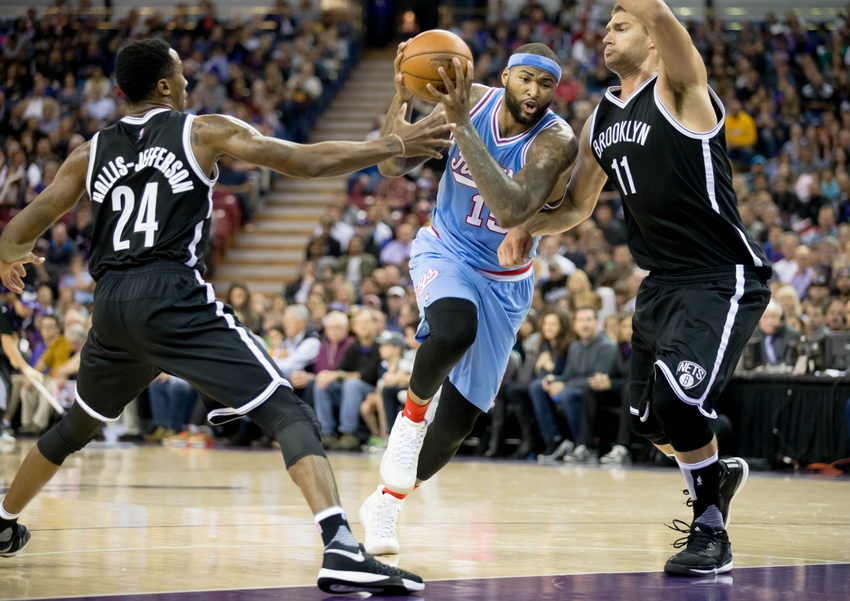 The Sacramento Kings travel to take on the Brooklyn Nets on November 27, 2016.  This article examines everything Kings fans need to know about tonight's game.
Tonight, the Sacramento Kings invade the Barclays Center to take on the Brooklyn Nets.  The game tips off at 3 pm Pacific Time, so be prepared from some late afternoon basketball.
The Kings have struggled on the road this season with only 2 wins in 7 attempts, but the Nets enter with the 3rd worst record in the NBA.  This should be a winnable contest for the Kings if they bring their A game.
Without further ado, let us get to the essential things you need to know about tonight's contest against the Brooklyn Nets.
Injuries
The Sacramento Kings enter tonight's game with a clean bill of health.  It is worth mentioning that the Kings sent Skal Labissiere, Georgios Papagiannis, and Malachi Richardson back to the Reno Bighorns in the D-League.  They could be recalled before tonight's contest, but do not expect to factor into the rotation either way.
The Brooklyn Nets are without starting point Jeremy Lin in tonight's contest.  Lin suffered a strained hamstring earlier this month and has already been ruled out for tonight's contest.  Starting shooting guard Rondae Hollis-Jefferson is listed as questionable with an ankle injury as well.
Brooklyn Nets' Scouting Report
The Brooklyn Nets are a team in transition this season.  They have a first-year head coach in Kenny Atkinson and are slowly building the pieces around him to be successful.  Skilled offensive big man Brook Lopez is their star player and at only 28 years old is a luxury for a rebuilding franchise.
This season has not been kind to the Nets.  They have a record of 3 wins and 4 losses at home this season, but overall have just 4 wins in 15 contests.  A heavy road schedule and injuries have not helped the team's cause.
The Nets traveled to Indiana on Friday and were dispatched by the Pacers 118-97.  Below is a highlight video from that game to give you a glimpse at this Brooklyn squad.
Now let us shift our attention to what we should watch for on the Kings in tonight's contest.
What to Watch for?
DeMarcus Cousins Tear Continues
Expect another monster performance from DeMarcus Cousins in tonight's game.   I wrote my predicting the box score column found here and it details why I think tonight could be especially big for Cousins.  If you care to read more about this topic or just what I am predicting from every Kings player tonight give it a read.  Thank you.
Rotation Madness
Omri Casspi played in the last game for the first time in two weeks.  He received four consecutive did not play by coach's decision in that time and then boom 28 minutes on Friday.
Coach Joerger has been doing that with the bench players all season and now he is even bleeding it into the starting lineup.  The good news is Coach Joerger is running out of players to surprisingly bring in for big minutes.  That should mean he has the rotation just about worked out, so continue to monitor who gets the run in tonight's contest.  I am hoping he finally figures it out and gets some continuity going.
Schedule Ahead
This is the first in a six-game road trip for the Kings.  The Kings play again on Monday in Washington against the Wizards.  It is worth monitoring if the Kings plan ahead and decide to back off the starter's minutes slightly.  It is a long and grueling season and the Kings just had a cross country flight.  Something to think about for tonight's game.
Summary
There you have it, my preview for tonight's contest against the Brooklyn Nets.  This should be a fun game to watch.  The Nets are a fast paced team that wants to create excitement.  Here is to hoping the Kings come to town and walk away victorious tonight.
Check back to A Royal Pain for the game recap and everything you need to know about the Sacramento Kings this season.  Thank you for reading.
This article originally appeared on