Sacramento Kings: Game 11 Preview at Portland Trail Blazers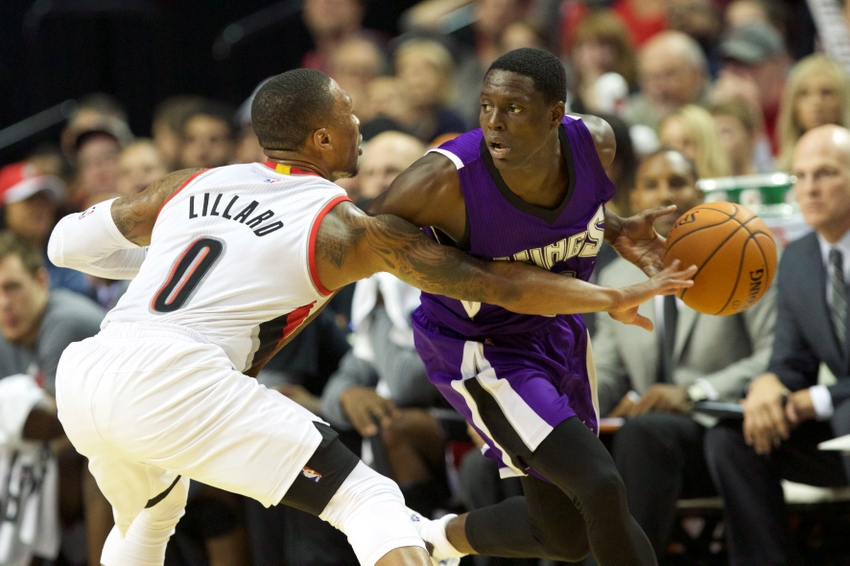 The Sacramento Kings travel to Portland for a contest against the Trail Blazers on November 11, 2016.  This article examines everything Kings fans need to know about tonight's game.
The Sacramento Kings make a trip to Portland to do battle with the Trail Blazers tonight.  The Kings are coming off a tough loss to the Los Angeles Lakers on Thursday 101-91.  It will be a difficult contest for the Kings tonight given the circumstances.
Let us now jump into the game preview for tonight's game against the Portland Trail Blazers.
Injuries
Sacramento enters tonight's contest with a clean bill of health.  They have no reported injuries, but it is the second of a back-to-back, so stay tuned to the late breaking news just in case something pops up at the last minute.
Portland Trail Blazers' Scouting Report
Portland is led by their dynamic backcourt duo of Damian Lillard and C.J. McCollum.  Lillard is averaging 30 points per game in this early season and McCollum is chipping in 21.2 points per game of his own.  Expect the Blazers to get a big chunk of their scoring tonight from their backcourt.
The Trail Blazers enter tonight's contest with a record of five wins and four losses this season.   Their most recent game, they lost by 31 points to the LA Clippers, but Portland had won three straight games heading into that contest.  Below is a highlight video from their win against the Phoenix Suns on Tuesday to give you a glimpse at what they will bring to the court tonight.
Playing the Blazers in Portland can be a scary proposition for any NBA team.  The Blazers are a jumping shooting team.  If they get hot early, they can race out to an insurmountable lead.  The Kings need to be ready to play tonight especially on the defensive end of the floor.
What to Watch for?
Energy and Intensity
Not only is this the second of a back-to-back for the Kings, but they traveled from Sacramento to Portland overnight.  Throw in the fact that this is the Kings eighth game since Halloween night and it appears the Kings may have some tired legs.  It is hard to believe this is the Kings eighth game in twelve nights, but they have to push through and muster up any energy they have left.  The team gets a nice break after tonight because they will not take the court until Wednesday, November 16th at home against the San Antonio Spurs.
Be on the lookout for how the team looks early in tonight's contest.  Hopefully, they can somehow muster up the energy to knock off the Trail Blazers.
Exploiting the Opposition
Portland is often forced to win shootouts because of their struggles on the defensive end of the floor.  Star point guard Damian Lillard has a defensive rating of 109.2 points per 100 possessions his team allows while he is on the court according to NBA.com/stats.  Fellow starters Moe Harkless (107.7), C.J. McCollum (105.1), and Mason Plumlee (110.0) do not rate much better in this category.  Sacramento needs to come out and score early and often if they want a chance to notch victory number five in this young season.
Point Guard Rotation
I discussed this topic briefly in my Predicting the Box Score column found here if you are interested.  Coach Joerger opted for Collison to get the lion share of the minutes in his return game, but Ty Lawson got more minutes against the Lakers.
I am not sure which way Coach Joerger is leaning at this point with his point guard minutes.  I, personally, would be giving thirty plus minutes to Collison and marginalize Ty Lawson.  Lawson has struggled in every statistical category to my eyes.  I heard on the TNT broadcast last night that Lawson rated well on the defensive end, but Lawson has a 104.4 defensive rating compared to Collison's 90.4.  Collison seems to be the far superior player, so I am hoping Coach Joerger makes a definitive switch to giving him the big minutes.
Summary
There you have it, a preview of tonight's contest in Portland.  It will be interesting to see how the Kings perform tonight.  The deck seems stacked heavily against them, but the Kings seem to play some of their best ball in those situations.  Here is to hoping, they play like they did in Toronto and come away victorious in tonight's contest.
Check back to A Royal Pain for the game recap and everything you need to know about the Sacramento Kings this season.  Thank you for reading.
This article originally appeared on