Russell Westbrook tried to tear the rim down with this dunk (Video)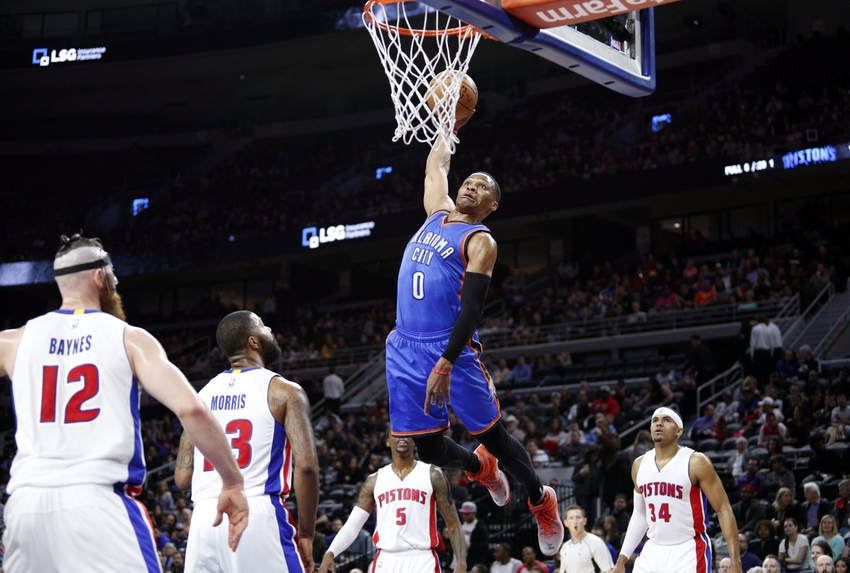 Russell Westbrook's vendetta against basketball rims continued on Monday night against the Pistons
There are a lot of things that you realize when you watch the immense talent that is Oklahoma City Thunder guard Russell Westbrook. One of the things that has stood out the most over the years, however, is that he has a serious personal vendetta against basketball rims. When he dunks, he legitimately tries to tear them off the backboard.
Well, Monday night he was at it again, and by god, this might be the closest that he has ever come.
As the Thunder were taking on the Detroit Pistons on Monday night, Westbrook drove the lane and everyone just got right the hell out of the way, which was a good idea. Russ came in with reckless abandon and threw down one of the most thunderous dunks that you will ever see.
Russ literally flew through the air on that dunk, and it ended up with one of the best finishes to a slam that we will ever see. That's just what the man does and this will stay on his highlight reels for the rest of his career — and then even after that.
We knew coming into this season with Kevin Durant gone that it was gonna be so much fun to watch Westbrook take over games by himself like this, and early on in the season he has not disappointed one bit. He's put together many highlights this year, and you can just add this one to the list.
One of these days, the man is going to tear one of those rims right off the backboard. At this point, you can almost see it coming sooner or later.
This article originally appeared on