Russell Westbrook records fifth straight triple-double (Video)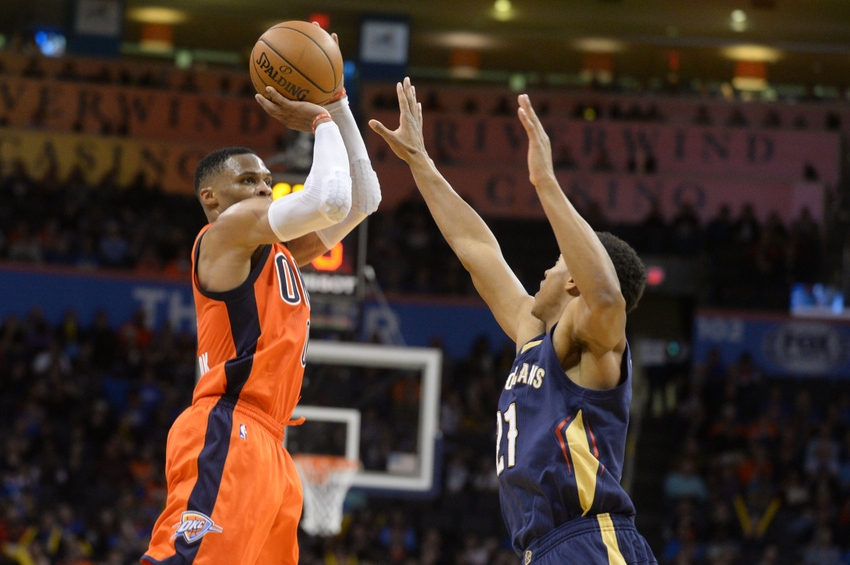 With his fifth straight triple-double of the season, Oklahoma City Thunder point guard Russell Westbrook now has 10 on the season.
Currently averaging 31.0 points, 11.3 assists and 10.8 rebounds per game, Russell Westbrook has been the second coming of Oscar Robertson so far in 2016-17.
Through his first 21 games, Westbrook is averaging a triple-double, making him the only player other than the "Big O" to still be averaging a triple-double in December, and setting himself up to join Robertson as the only players in NBA history to average one for an entire season.
There's still a long way to go for Russ to achieve that unreal benchmark, but the fact that he's done so through the first 21 games is remarkable. His latest game was no exception, with Westbrook recording his fifth straight triple-double.
Playing the New Orleans Pelicans on Sunday, Westbrook put up 28 points, 17 rebounds (tied for his season-high) and 12 assists for his 10th triple-double of the season.
By recording his fifth straight game with at least 10 points, 10 rebounds and 10 assists, Westbrook became the first player since Michael Jordan in 1989 to record five consecutive triple-doubles.
In his last five games, the Brodie is averaging 28.4 points, 14.6 rebounds and 13.8 assists per game. The Oklahoma City Thunder are 5-0 in those games, and 8-2 on the season in games in which he's recorded a triple-double.
More on FanSided:
With Kevin Durant gone, the Thunder are no longer a legitimate championship contender. But if there were any silver lining to that crappy situation, it'd be the unleashing of Russell Westbrook and the rest of the poor, unsuspecting league.
Sunday marked the 47th triple-double of Westbrook's career, putting him at sixth on the NBA's all-time list. He has two more than LeBron James (45), and next up on the list is Larry Bird at 59.
If Westbrook can record a triple-double in each of his next two games, he'll tie Michael Jordan's mark of seven straight triple-doubles from that 1989 season. At this point, every time Russ takes the court, there's a chance we're witnessing history.
This article originally appeared on