Russell Westbrook linked with blockbuster New York Knicks trade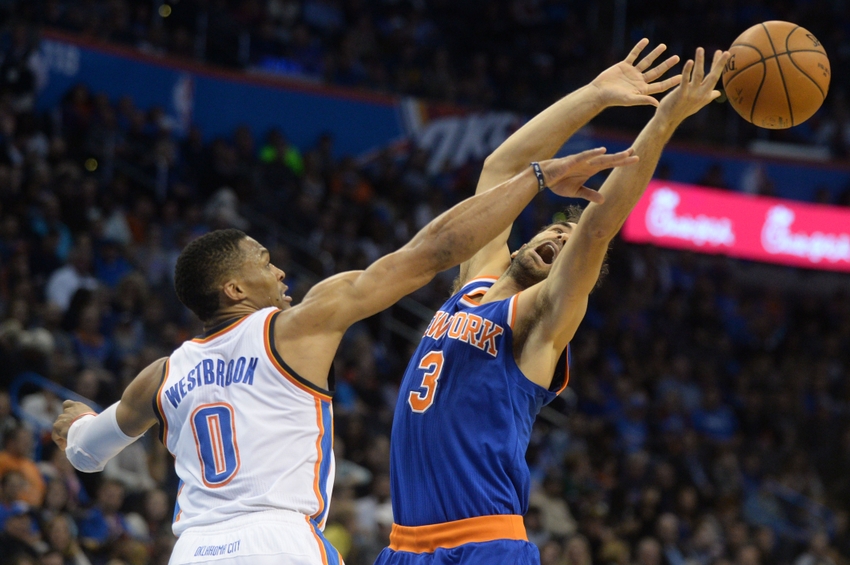 When Russell Westbrook signed a new contract with the Thunder in August, fans of Oklahoma City thought it would be last of trade rumors involving their star point guard.
Well maybe that isn't true. According to sources including Inquisitr and the Parents Herald, Westbrook could be on his way to the New York Knicks in a deal that would send Derrick Rose and Kristaps Porzingis to the Northwest.
The All-Star guard is currently the favorite for this year's Most Valuable Player award, with odds of around 11/4. Curry sits at 16/5 and LeBron is around 9/2.
With that considered alone it baffles to mind to think that Sam Presti and Co. would consider trading their , especially after the departure of Kevin Durant. Westbrook is expected to be the driving force in any success the Thunder have this season too.
Furthermore, any potential trade wouldn't be able to take place until December, with Westbrook's $85.7 millon dollar, three-year contract having been signed just six weeks ago. This stumbling block makes the trade all but impossible, with the Thunder unlikely to want to get rid of any starting players once the new season starts in October.
What's more, the trade itself doesn't make a whole lot of sense. Even if he does make an incredible comeback, Derrick Rose is unlikely to match the points returns of Westbrook, let alone the double-figure assist average the former UCLA man will likely achieve.
In addition, Oklahoma City are stacked when it comes to big men. With Steven Adams and Ersan Ilyasova likely to start, and Enes Kanter, Joffrey Lauvergne and Domantas Sabonis all in reserve it's unlikely they'd want to add more, as talented as Porzingis is.
The Thunder may already have to waive Mitch McGary in order to trim their 16-man roster, making it all the more likely they'd want to bring in more players. Unless a fantastic trade offer comes in, OKC are unlikely to make any serious plays before the new season starts.
More from Thunderous Intentions
This article originally appeared on