Russell Westbrook is putting on a show we've never seen before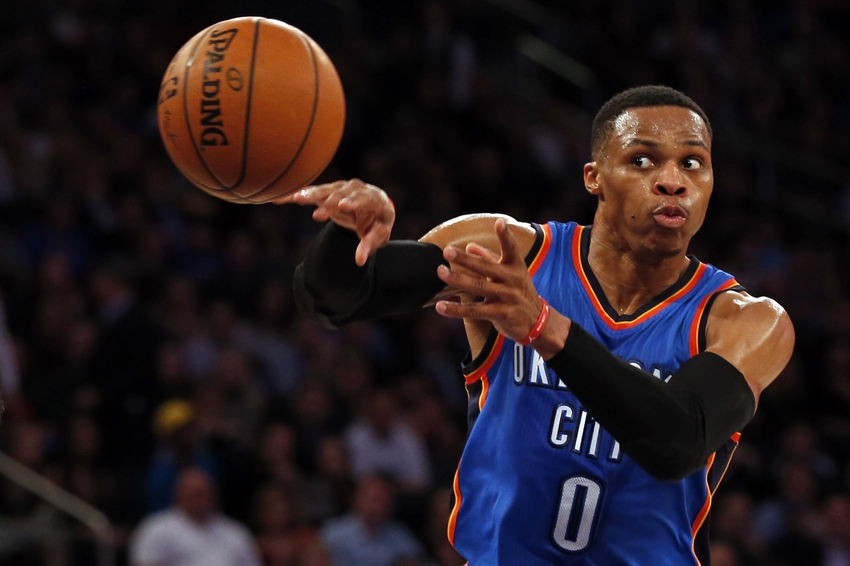 As a general rule, NBA basketball over the last decade-plus has become a more complex game. Offensively, teams have gone away from schemes that are heavy with isolations and rote post-ups; they've largely cut the simple stuff out of their diets and replaced it with intricate pick-and-roll play.
To be successful now, you have to read defenses, play creatively in open space and find ways to involve all five players — the less predictably, the better. In turn, defenses have also become more elaborate, experimenting with different ways to guard the pick-and-roll and deny opponents easy looks both inside and out. All of these changes have come about by necessity. The league is embroiled in a decades-long chess match, with both sides adjusting and counter-adjusting their strategies in a never-ending quest to outwile one another.
What makes Russell Westbrook fascinating is the fact that he defies all that complexity, all that evolution, all that adjusting and readjusting. Westbrook possesses so much raw talent that he has no need for the tactical nuances of modern basketball. It's the extremely rare player who can simply eschew strategy and beat NBA defenses with sheer, brute-force awesomeness, but Westbrook at this point has made it clear — he's that player.
That's Westbrook taking it right at John Wall — an All-Defense-level point guard with more speed and lateral quickness than just about anyone. And yet even against Wall, who should be one of the toughest matchups in the league for him in theory, Westbrook needs no strategy more complicated than just "take it to the hole." His speed and explosiveness alone have made him the greatest one-man highlight reel in the game today. Westbrook is the reason that every Thunder game is appointment television, and he's also the reason that Oklahoma City has never needed a complicated offense. Why get fancy when the simple approach works so well?
Read More: Meet the crazy outlier NBA outlier players who inspired rule changes
The Thunder this season, according to SportVU tracking data, use less ball movement than any team in the NBA. They attempt just 268.9 passes per game; the league's other 29 teams all fall somewhere between 273 and 351. Conventional wisdom would have you believe that ball movement is good and stagnation, bad; with Westbrook, though, the Thunder are anything but stagnant. They are quick and to the point. It works.
Opposing defenses that try to contain Westbrook are put in an impossible situation. If you try to guard Westbrook's superhuman bursts of speed one-on-one, he inevitably burns you, even if you put a great defender like Wall in his path. If you bring a second defender, you've got to leave somebody else with an inch of daylight, and Westbrook's become such an impeccable passer that an inch is all he needs. Watch Marcin Gortat take a couple of steps up to help Wall, trying to contain Westbrook at the elbow. He's toast — the moment he ventures that far out, Steven Adams is guaranteed two points. This is how the Thunder have an above-average NBA offense despite no real offensive schemes to speak of and only two players on the roster with PERs above 15 — they succeed because Westbrook's attacking makes it happen.
Westbrook is the only player in league history for whom the #TripleDoubleAlert begins eight hours before the opening tip. With most normal humans who play NBA basketball, the hashtag begins to show up in the third quarter when the guy has, say, six assists and six rebounds; with Westbrook, there are TV pundits and bloggers and Twitter eggs alike buzzing about his stats-to-be the morning before each game. This is not normal. Westbrook's per-game averages of 31.0 points, 11.3 assists and 10.9 rebounds aren't just statistically dazzling. They're the reason the Thunder are excelling. Two weeks ago, OKC was 8-8; since then we've seen six Westbrook triple-doubles and six wins to move them to 14-8.
While his teammates may be helping Westbrook pad his rebounding totals with uncontested defensive boards, it's a strategy that actually helps their transition game. The Thunder superstar is doing everything in his power to help his team win, and it's working. It just so happens that Westbrook's greatest basketball skills happen to be ones measured by the game's most popular counting stats. Westbrook scores, creates for teammates and rebounds; this is what he does. It always has been. His go-to move is to attack the basket; when presented with a chance to score, he takes it. When denied, he dishes to the open teammate and prepares to snag the rebound if he misses. He's proven by now this is a winning formula; the gaudy individual numbers are just a happy byproduct.
Consider this: Despite running an offense that dishes out fewer passes than any other team in the NBA, Westbrook is still on pace to post the best assist rate in NBA history. Westbrook has created 57.8 percent of his teammates' baskets while on the floor this season, No. 1 all-time per Basketball-Reference; spots 2 through 12 on that list all belong to seasons posted by John Stockton, Chris Paul and Steve Nash. Right now, Westbrook looks as good as any of them.
As for the rebounds, it's not like Westbrook is stealing them from teammates for the sake of himself. The whole Thunder team is better when he's around; Oklahoma City snags 53.8 percent of all available rebounds when Westbrook is on the floor and 47.6 when he's off, per NBA.com, a pretty sizable difference. These aren't just empty boards, either — with his court vision and aggressiveness, Westbrook has an uncanny knack for turning rebounds directly into scoring opportunities. He does this frequently on the offensive end, even when careening in from 20 feet away:
This is impressive enough, but it's even more so when Westbrook goes from coast to coast after a defensive rebound. Somehow, he makes even that look easy:
There were plenty of doubts about how well this Thunder team would hold up post-Kevin Durant, but it seems so far that they'll be just fine. At 14-8 through their first 22 games, they're on pace to win 52, which would put them just three wins behind last year's 55-27 squad. Any worries about Oklahoma City filling the void Durant left this summer have been largely quelled — we now know where the Thunder are getting the extra points and rebounds from. Most of them come directly from Russ himself, and the ones that don't come indirectly, as a result of the opportunities Russ creates.
There was never really a legitimate fear of this Thunder team falling out of playoff contention. Westbrook alone wouldn't let that happen, and when you add Victor Oladipo and the Enes Kanter-Steven Adams combo into the mix, the suggestion becomes downright insulting. The Thunder are still a damn competitive team in a damn tough Western Conference, and it's no secret why. Westbrook has reached the next level — he's all-powerful, statistically unprecedented and beautifully simple. It's been a long time since we've seen pure, unbridled talent quite like this.
This article originally appeared on