Russell Westbrook is now averaging a triple-double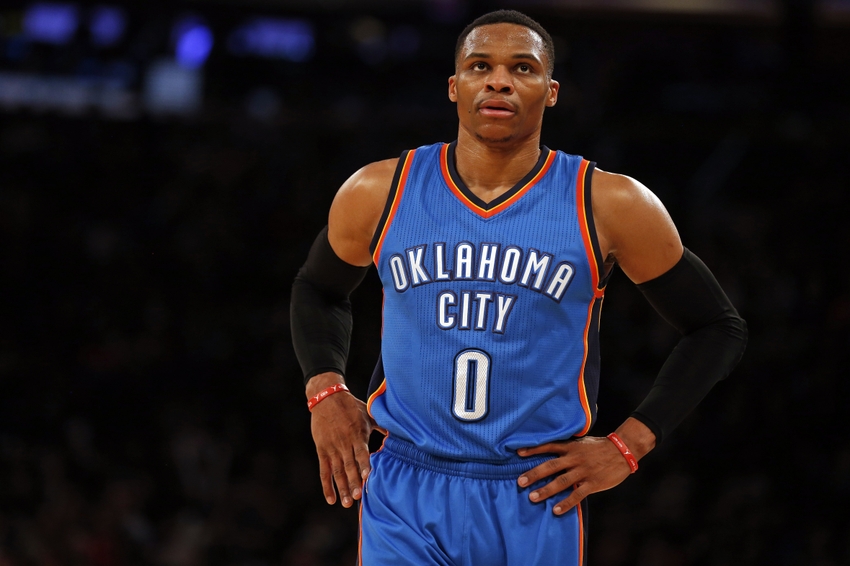 With his eighth triple-double of the 2016-17 NBA season, Russell Westbrook is now averaging a triple-double for the Oklahoma City Thunder.
The Oklahoma City Thunder may only be 11-8 in their first season without Kevin Durant, but the Russell Westbrook Show is still going strong.
Coming off a 27-point, 18-rebound, 14-assist game in a win over the New York Knicks Monday night, Westbrook posted his eighth triple-double of the 2016-17 NBA season. The wins are all that matter to Russ at this point, but the massive performance bumped up his averages to 30.9 points, 11.3 assists and 10.3 rebounds per game, putting him at a triple-double average for the season.
If Westbrook can keep these averages in the 30-10-10 range for just one more game, which would only require four rebounds according to ESPN's Royce Young, he'll become the first player since Oscar Robertson in 1963-64 to be averaging a triple-double in December.
More on FanSided:
The Big O, who is the only player in NBA history to average a triple-double for an entire season, benefitted from a much more willy-nilly pace on the offensive end of the floor, however:
Oscar had 31/12.5/11.4 in triple double season. But NBA avg 107.7 FGApg in '62. Russ is doing it in a league that averages 85.6 FGApg

— Russillo (@ryenarussillo) November 29, 2016
When you adjust Westbrook's numbers for the number of possessions per game during Oscar Robertson's time, his gargantuan 30-11-10 stat line early in 2016-17 somehow has the potential to be even more ludicrous:
Adjusted for Oscar's possessions, Westbrook would be averaging 46.6 points, 17.0 assists and 15.6 rebounds.

— Kelly Scaletta (@KellyScaletta) November 29, 2016
With eight triple-doubles in 19 games this season, Westbrook is tied with LeBron James for sixth place on the NBA's all-time triple-double list at 45.
At his current rate, Westbrook is on pace to pass Larry Bird (59) for fifth place on the all-time triple-double list by OKC's 33rd or 34th game of the season, which would be just before the calendar flips to 2017 in late December.
The Thunder have needed every single one of Russ' triple-doubles this season, since outside of their franchise player, they've had problems getting consistent contributions out of Victor Oladipo, Steven Adams and the rest of the supporting cast.
But regardless of what happens with the Thunder and their overall record in their first season without KD, Westbrook has proven himself as the next face of the franchise and will continue to be a must-watch on a nightly basis for the entire NBA audience.
This article originally appeared on