Russell Westbrook Continues His Assault On NBA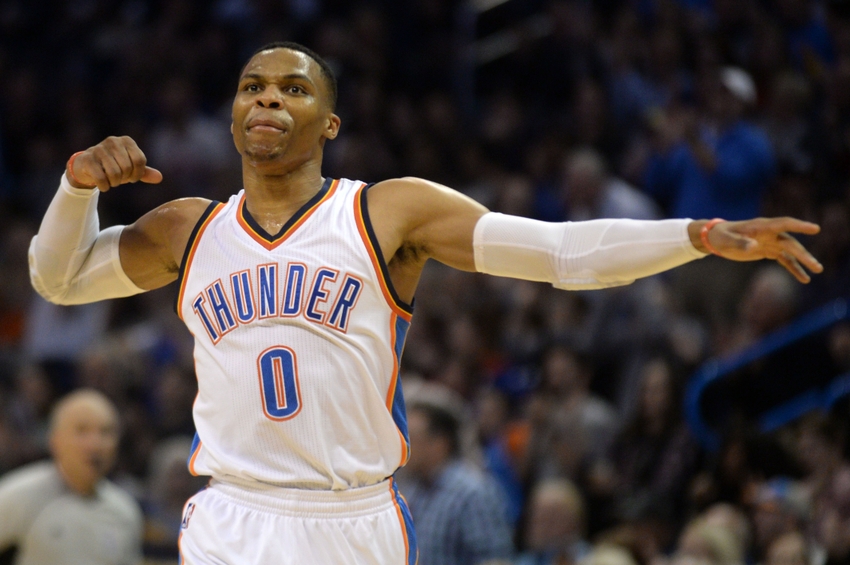 Russell Westbrook continued his torrid pace to start the season against the Detroit Pistons as he climbs the career triple-double list.
Russell Westbrook has been one of the most talented players in the NBA in recent seasons. He plays with a ferocity rivaled by few and brings things to the court that are rarely seen. He combines otherworldly athleticism with a desire to win that makes things difficult for opponents on a nightly basis.
When Kevin Durant decided to leave the Oklahoma City Thunder for the Golden State Warriors this offseason, the Thunder became Westbrook's team. In the past we have seen Westbrook do amazing things whenever Durant was sidelined. With Westbrook now being the unquestioned leader and best player on the team, it was something basketball fans potentially had the pleasure to see on a nightly basis.
Westbrook has not disappointed thus far this season. There are few things that are a certainty in the world. Death and taxes are two that are always mentioned; Westbrook is doing his best to add nightly triple-doubles to that list as well.
Westbrook has been stuffing the stat sheet on a nightly basis for the Thunder. The Detroit Pistons saw that firsthand on Saturady night as the Westbrook carried the Thunder to a 106-88 victory. It pushed the Thunder's record on the season to 10-8 and Westbrook provided yet another triple-double effort.
Westbrook went for 17 points, 15 assists and 13 rebounds against the Pistons. It is the first time in his career that he handed out 15+ assists in back-to-back games, as he handed out 17 in the Thunder's last game, a victory over the Denver Nuggets.
The triple-double against the Pistons gives Westbrook his seventh on the season. It is the fourth one for him in his last six games and the 44th of his career. It also moves him up on the all-time triple-doubles list. He passed Fat Lever with the effort and moved into a tie with LeBron James for sixth place.
The feat is impressive enough, but it is made even more so knowing that he did it in 395 fewer games than James did. It is an impressive feat, but not something Westbrook worries about. All he cares about is winning when asked how much it meant to be alongside such company.
"I mean, nothing. I'm happy we won — that's the most important part for me. But I definitely don't take anything for granted. Like I said, every night I step on the floor I try to compete at a high level and [am] thankful I can play the game I love every night."
Westbrook is responsible for half of the triple-doubles accomplished this season. He is on pace to shatter his mark of 18 triple-doubles last season, which was the most since the 1981-82 season by Magic Johnson. This season, Westbrook is on pace for an absurd 33 triple-doubles, which would be the most since Oscar Robertson had 41 during the 1961-62 season.
This is truly an impressive feat for Westbrook as he is playing in a totally different game than Robertson was.
Billy Donovan is certainly happy to have Westbrook on his team. Donovan called Westbrook a Hall of Fame player and discussed the impact he has on the team as a whole.
"He's extremely rare, just because I've never seen a player be able to impact the game in the amount of ways he can impact it," Donovan said. "And I mean that from a standpoint of analytically or statistically. He's impacting our team in terms of his leadership, he impacts our team raising our energy, he raises when we're down … He can do so many different things. I think that's why he plays so fearlessly, because he knows there are ways for him [to impact the game]. He's not just a one-way limited player."
Westbrook is definitely a rare player. While he is not the only player capable of getting a triple-double, none do it in quite the same manner. Westbrook doesn't scrape by with his triple-doubles, he puts up eye-popping numbers. In his 44 career triple-double games Westbrook averages 25.3 points, 12.9 assists and 11.8 rebounds per game.
While some people may say that Westbrook just pads his stats with lesser talent around him, it just isn't true. The Thunder are very successful when Westbrook registers a triple-double, going 38-6 in those such games.
The Thunder certainly hope there are more in store this season, as they are 5-2 this season when he accomplishes the feat. According to ESPN Stats and Information, Westbrook will pass Larry Bird for fifth place in mid-January on his current pace.
Bird is currently 15 ahead of Westbrook with 59 career triple-doubles. Also ahead of Westbrook are Wilt Chamberlain with 78, Jason Kidd with 107, Johnson with 138 and Robertson with 181.
This article originally appeared on